Update: On Wednesday May 3 the Commission on Appointments (CA) panel rejected the appointment of Environment Secretary Gina Lopez in an executive session held at the Philippine Senate. This decision followed strong criticism of her order to close 23 mines and suspend five others.
Regina Lopez, the Philippine secretary of the environment, recalls precisely the moment when her revulsion at the country's rapacious mining practices started. It was December 2010. Lopez, who had just turned 57, was the head of her wealthy family's ABS-CBN Foundation and already widely recognised as one of the country's prominent environmental activists.
A foundation staff member guided Lopez on a helicopter ride over an open pit mine in Palawan, a magnificent tropical island south of Manila.  "I was shocked. I said, what is that?" she recalls.
"We landed and I talked to the farmers. I was so moved. I'd never seen an open pit mine. You know, I come from the well-to-do class. The Philippines is 7,000 islands. Most of the mining happens in far off, far flung places. I grew up in a bubble. I have beautiful parents. You think that is all there is to life. Then you go there. I was just totally horrified."
Lopez's response was to work with indigenous leaders and activists to organise an anti-mining campaign to collect 10 million signatures in opposition to Palawan mining. The campaign expanded nationally to oppose mining that injured farmland, watersheds, and marine environments across the Philippines. Lopez personally briefed then-President Benigno Aquino III.
In July 2012, Aquino signed Executive Order 79, which prohibited new mines being built in sensitive areas and called for rewriting the country's 1995 mining law to reflect his nation's extreme sensitivity to the safety of its ecological domain, and the need to halt the damage caused by mining.
The Philippine mining industry hoped Lopez would go away. She didn't. Instead Lopez emerged as the industry's most articulate, passionate, and influential opponent.
New powers
Last June she accepted newly-elected President Rodrigo Duterte's invitation to take command of the Department of Environment and Natural Resources, a 16,000-person agency with a long record of feeble oversight of Philippine's US$1.6 billion hard rock mining industry.
In her ten months in office Lopez has turned the job into a crusade meant to achieve two objectives. The first is to transform the DENR into a development agency that views ecological and economic principles as equal priorities.
A law enforcement task force she started last summer has disrupted trade in illegal logging, prosecuted offenders, and promoted sustainable forestry that leads to new businesses. Another project is planting 166,000 hectares of bamboo and mangroves annually over the next six years to control erosion on lakes and seashores, protect against storms and flooding, and provide materials for cottage industries.
Lopez also promotes the conversion of the Philippines electricity sector from coal-fired power to renewable energy, a goal initially opposed but now embraced by the country's energy secretary.
The second objective is to compel Philippine industrial companies, especially those in the mining sector, to obey the law.
On July 1 last year, her first day on the job, Lopez launched a programme of compliance audits to determine how well all 40 Philippine big metals mines were adhering to environmental regulations.
The audit programme has been the bureaucratic equivalent of a wildfire. It burned up the coziness between the agency and the mining sector. It incinerated, at least for a time, the revolving door of DENR secretaries and top administrators landing executive positions in big mining companies. And it caused a global disturbance in the mining sector's biggest wing, the country's 27 nickel mines which supplied China with 95% of the imported nickel ore used to make steel.
With the first audit findings in hand last August, Lopez issued mining license suspension orders to eight mines, most of them nickel ore producers.
She went on to revoke the government licenses for over 100 proposed metals mines, and signed an order that banned any new open pit mines for gold, silver, copper, nickel and other metals. If Lopez's open pit ban takes effect it would halt US$8 billion to US$10 billlon in mine proposals, including the US$5.9 billion Tampakan open pit copper and gold mine in Mindanao.
Though all the stop work orders that Lopez has issued are subject to appeal, and mines still operate, the response in the global mineral trade, especially in nickel ore sales, has been swift and powerful. Global nickel metal prices soared. They reached US$10,500 a tonne in February, US$1,300 a tonne more than in July 2016.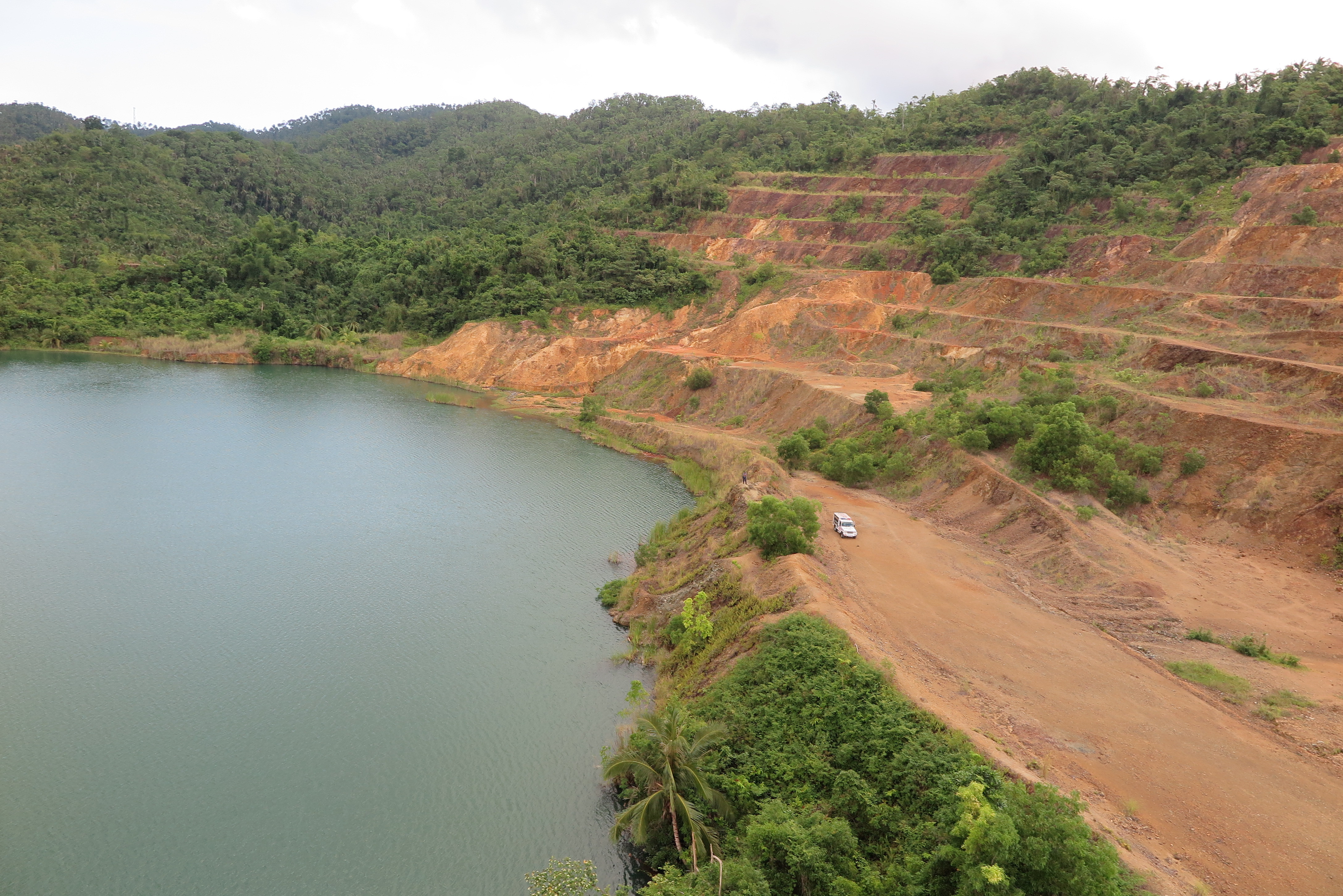 The Consolidated copper mine on Marinduque is one of 14 big abandoned open pit mines in the Philippines. Operated for just five years until 1980 when copper prices collapsed, the leaking mine will be a government liability forever, says Gina Lopez (Image:Keith Schneider)
Shrinking Chinese market
Before July, the Philippines supplied almost all of China's imports of nickel ore. More than 80% of Philippines nickel ore production, valued at roughly US$500 million in 2016, was exported to China.
By January 2017, Philippine nickel ore imports to China fell to 779,000 metric tonnes, according to industry data, a 20% drop from January 2016. The Philippines share of the global nickel trade, once nearly 10%, has diminished to less than 8%. China has turned to mines in Indonesia and New Caledonia for more secure nickel ore supplies.
New green politics
Viewed from a global perspective it's easy to see Lopez as an example of how ecological, economic, and political disruption in the 21st century opened the path for a hard-charging, independent, plain-spoken, and populist leader to shake up the established order.
Lopez is the first woman to direct the Philippine DENR. And her fervour for environmental enforcement, renewable energy, and sustainable development fits the accelerating trend in Asia to pursue much greener principles of economic development.
India and China are cancelling coal-fired power plants and pivoting away from coal to renewable sources of electricity. Mongolia is enforcing new water quality statutes to protect its rivers from gold and copper miners. Vietnam just halted a big proposed steel mill to prevent toxic water pollution.
"We have suffered long enough," said Lopez during a news conference here on April 27 to announce the ban on new open pit mining. "What are we doing? This goes against everything, everything that God wants. People are suffering so much. The Earth is suffering. It's wrong. And it will stop."
The daughter of one of the country's wealthiest and most prominent families, Lopez has displayed a determined streak of independence and caring her entire life. Educated in the United States, her resume includes stints as a spiritualist, yoga nun, and missionary in Africa.
Schoolgirl slim, lithe, boundlessly energetic, and deeply religious she brings to her work a rare consciousness about the moral responsibilities of leadership, and an appealing air of mirth and unpredictability. She starts news conferences with a fervent prayer to "feel the pillar of truth, the magnificent pillar of truth and the common good."
After a long day she races her aides up the stairs to her fourth floor office. During a news conference, for instance, she remarks about the appearance of one of her guests. "Who's the cutest? Isn't he cute," she laughs. "I'm just kidding." Five minutes later she asks the question again.
With the exception of El Salvador, which earlier this year banned all metal mining, no other country has challenged the mining industry with as much persistence as the Philippines has over the last 10 months. Nor is it common for mining executives and their allies in government to be as publicly hostile to a government regulator as they are in the Philippines.
All to play for
The order to outlaw new open pit mines could very well be Lopez's last as environment secretary.
This week a 25-member legislative committee that reviews cabinet appointments is scheduled to vote on approving or dismissing Lopez from her post. The committee includes a number of members that are heavily supported by mining companies. The family of the committee's vice-chairman owns a big metal mine. The committee also recently embraced a rule that allows members to cast their votes in secret.
Lopez is undeterred and mounting a furious campaign on social media to generate enough popular support to swing the May 3 vote her way. "I will not play the game in a way that sacrifices my principles," she said in the interview.
"Where I am non-negotiable is people's welfare. I won't cozy up to the mining companies and sacrifice the welfare of the people. I won't be able to sleep at night. I just won't do it. One of the factors, I think, why people are so supportive is that I just won't do it."