China was the world's biggest importer of recyclable materials when, in January 2018, it banned shipments of plastic, unsorted scrap paper and other waste materials. This policy, called National Sword, turned the global recycling industry upside down. The government blamed the prevalence of contaminated or tainted imports and said it was concerned about the country's ability to manage waste.
Within months, shipments of waste from Europe, Australia, Canada, the United States and Japan started arriving at ports in Southeast Asia, initially to Thailand, Malaysia and Vietnam. This rejig would soon leave a mark on coastal communities and their environments. According to Greenpeace Southeast Asia, between 2016 and 2018 the ten countries within the Association of Southeast Asian Nations (ASEAN) saw plastic waste imports grow a staggering 171% – from 836,529 tonnes to 2,265,962 tonnes.
"Southeast Asia, as a region, was very much unprepared for the shipments that came in after the China ban," says Beau Baconguis, Asia-Pacific coordinator at the Global Alliance for Incinerator Alternatives (GAIA).
This is because many Southeast Asian countries have limited capacity to process domestic waste. According to a 2017 report by United Nations Environment, rapid urbanisation across ASEAN is increasing the quantity of municipal solid waste, leading to more open dumping and burning. Recycling tends to be managed by the informal sector due to the limited capacities of national, regional, and local governments to regulate and manage waste streams.
It's time for other developing countries like Indonesia to follow China's move.
Since China's ban, local NGOs and community organisations have uncovered numerous cases of illegal dumping and waste processing across the region. A report released by GAIA in April 2019 documented several illegal business operations importing waste in Malaysia that previously would have gone to China. In some cases, Chinese businesses or entrepreneurs were directly connected to these businesses.
"There are a lot of unscrupulous entrepreneurs who wanted to make a fast buck from the waste that was stranded," says Baconguis.
According to GAIA, waste shipments began arriving in Malaysia shortly after the ban. Importers soon set up new businesses to process plastic waste, and within a year there were dozens of factories and widespread illegal dumping.
A lot of the Chinese businessmen who set up facilities in Malaysia "partnered with local businessmen who really wanted to make money, without consideration for what was happening in the community," says Baconguis.
The Malaysian government was forced to respond to the public uproar and growing pollution concerns. The Ministry of Environment shut down 139 recycling factories, 109 of which were illegal, and banned plastic waste imports. This will be followed by a comprehensive plastic ban in 2021. Similar moves happened in Vietnam, which banned the issuance of licenses for plastic imports, and Thailand, which will stop plastic waste imports entirely by 2021. This has partly closed the door on waste imports, forcing exporters to find other markets to ship their waste. Since 2018, neighbouring Indonesia has become a preferred destination for imports, despite waste management capacity being, arguably, even lower there.
"Indonesia was unprepared," says Yuyun Ismawati Drwiega, senior advisor at the Nexus3/BaliFokus Foundation, based in Indonesia. "When we started seeing an increase [in the] importation of paper and plastic waste, the government did not respond immediately."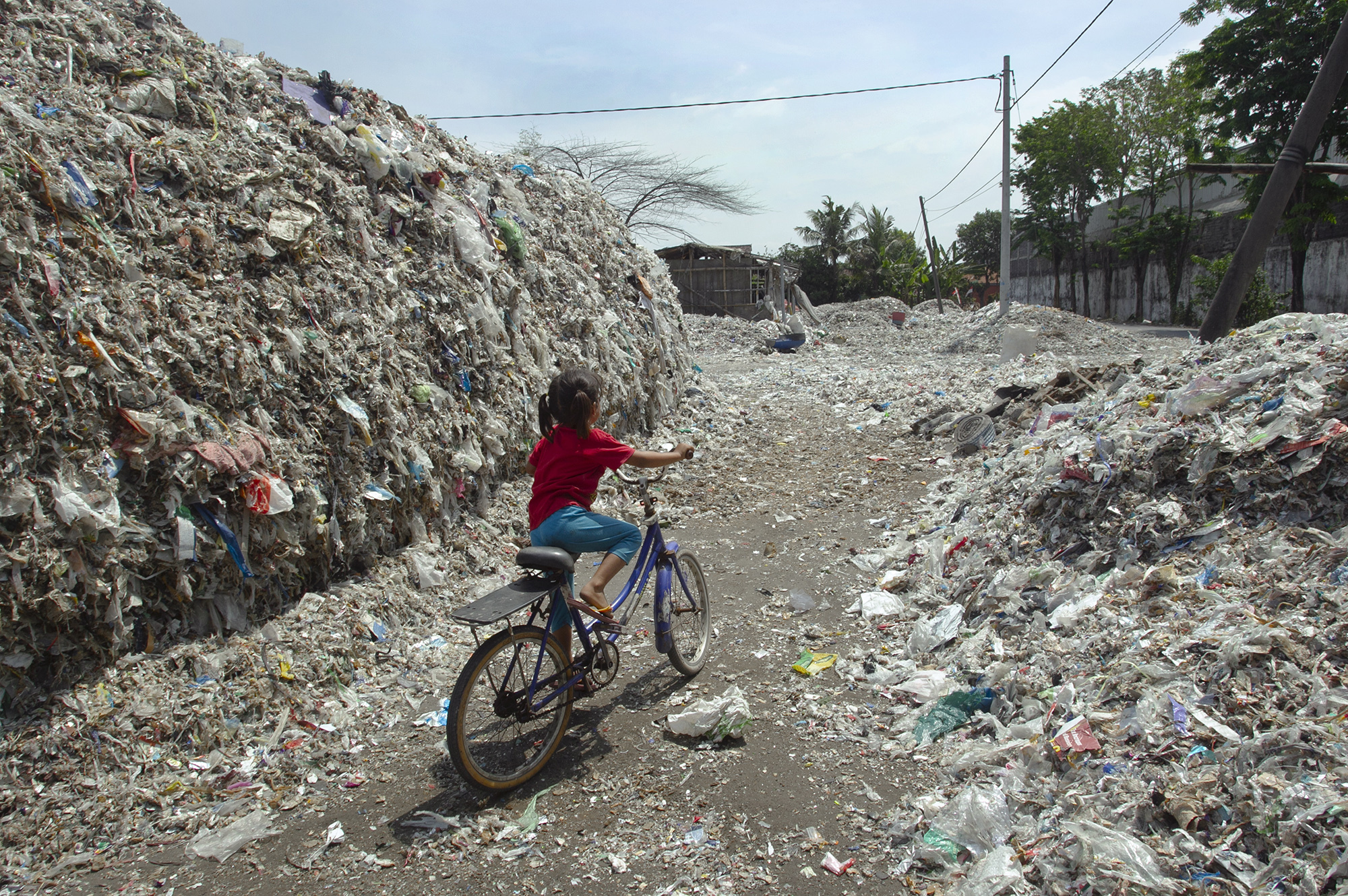 This girl's family make a living picking through imported waste at a dump in Mojokerto, Indonesia, to find recyclable materials. (Image: Fully Syafi/China Dialogue)
Indonesia's lax regulations and limited enforcement capacity allowed local importers to take advantage of loopholes in existing laws to bring in waste legally. BaliFokus and their partners found evidence of companies importing above their quota and processing capability, or using other companies' quotas. Misclassification was also rampant.
"In Indonesia, you can import, in certain amount, plastic waste as a raw material for industrial use," says Fajri Fadhillah, a researcher for pollution management at the Indonesian Center for Environmental Law (ICEL) in the capital Jakarta. "But the problem is that, in reality, what is imported is mixed with household waste which cannot be recycled or used by importers."
In 2018, the Marshall Islands was exporting more waste to Indonesia than the United States. ICEL and others believe the tiny island nation of 50,000 people was being used as an intermediary to disguise imports.
Because Indonesia lacks the capacity to manage even its domestic waste, much of what is imported ends up dumped in places like Gresik and Bangun in East Java province, where GAIA and its partners found huge swathes of land covered in plastic, picked through by locals. (The scene is comparable to Wen'an county in China, which until 2011 was the global centre for plastic recycling.) Some of this waste is even sent to local tofu factories, where it's used as fuel.
After local NGOs exposed the scale of imports and the growth of dumping and burning in East Java, the government released new regulations to limit and better manage waste imports. Concerns persist, however, because imports are still allowed, albeit at lower levels and fewer ports than before. Moreover, there has not been an effort to hold companies accountable for their actions since 2016, and potential loopholes remain.
"We have several problems with the regulations," says Fajri. "For example, the maximum contaminant level is not regulated, creating a loophole for mixed waste to be included in shipments."
Government officials have made high-profile decisions to force shipping containers to return to their country of origin. In May, the Philippines sent back 69 containers to Canada, while Malaysia sent back 3,000 tonnes to the US, UK, Canada and Australia. Indonesia followed suit in September, sending 100 containers back to Australia.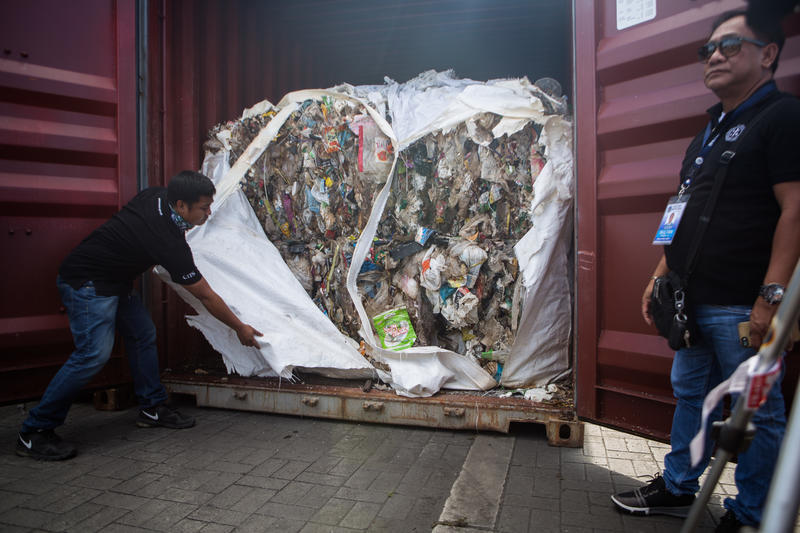 Mis-declared mixed waste having been shipped back to South Korea from the Philippines. (Image: Geric Cruz / Greenpeace)
However, when Nexus3 and Basel Action Network investigated what happened to 58 containers meant to return from Indonesia to the US, they found that only 12 had been returned. Thirty-eight were diverted to India and the rest went to South Korea, Thailand, Canada, Mexico and the Netherlands.
Two years after China's ban, Southeast Asian countries are still figuring out how best to deal with the surge of imports. While progress has been made on reducing illegal dumping and increasing standards for imports, the end result is that waste is ping-ponging between countries – starting from China, to Hong Kong, Malaysia, Thailand, then Indonesia, and now India, highlighting the need for a coordinated regional response.
"We cannot rely on one government. If you want to stop the plastic pollution crisis, you have to stop it at the source," says Heng Kiah Chun with Greenpeace Malaysia. "In Southeast Asia, the governments have to work together to have a joint declaration to reduce all this unnecessary contaminated plastic waste."
Few blame China itself, despite the harm the 2017 policy caused in the region. Yuyun instead sees them as a model for how the region should respond.
"China set a good example, and successfully stepped in with a new environmental policy, a good disruption," says Yuyun. "It's time for other developing countries like Indonesia to follow China's move."