Beijing Daxing airport, which opened to flights on 25 September, was built in response to a growing demand for air travel that has put strain on Beijing Capital airport.
Designed by the late British architect Zaha Hadid, Daxing has been featured in a Guardian list of seven wonders of the modern world.
It is likely to bring new jobs to the south of Beijing but also to play a role in the rapid increase of carbon emissions from the global aviation sector.
Growing supply and demand
The number of people travelling through Beijing Capital airport has risen sharply in the last decade, from 53 million a year to 100 million, partly as a result of the new Terminal 3 built just in time for the 2008 Olympics.
Every day, 300 flights cannot be approved for take-off or landing at Capital because of lack of space. Only 64% of planes depart on time, sending Capital down to 161st in the punctuality ratings for large and midsize airports.
Li Xiaojin of the Civil Aviation University said: "There's a limit to how much Capital airport can be expanded, and a new airport is a better option."
Passenger demand in Beijing is predicted to reach 140 million in 2020, rising to 170 million in 2025 and 235 million in 2040. Though it will increase demand, Daxing is also supposed to help relieve Capital by serving 45 million passengers in 2021, and 72 million in 2025.
While the three runways at Capital can handle 110 take-offs or landings an hour, Daxing's four runways can deal with 141.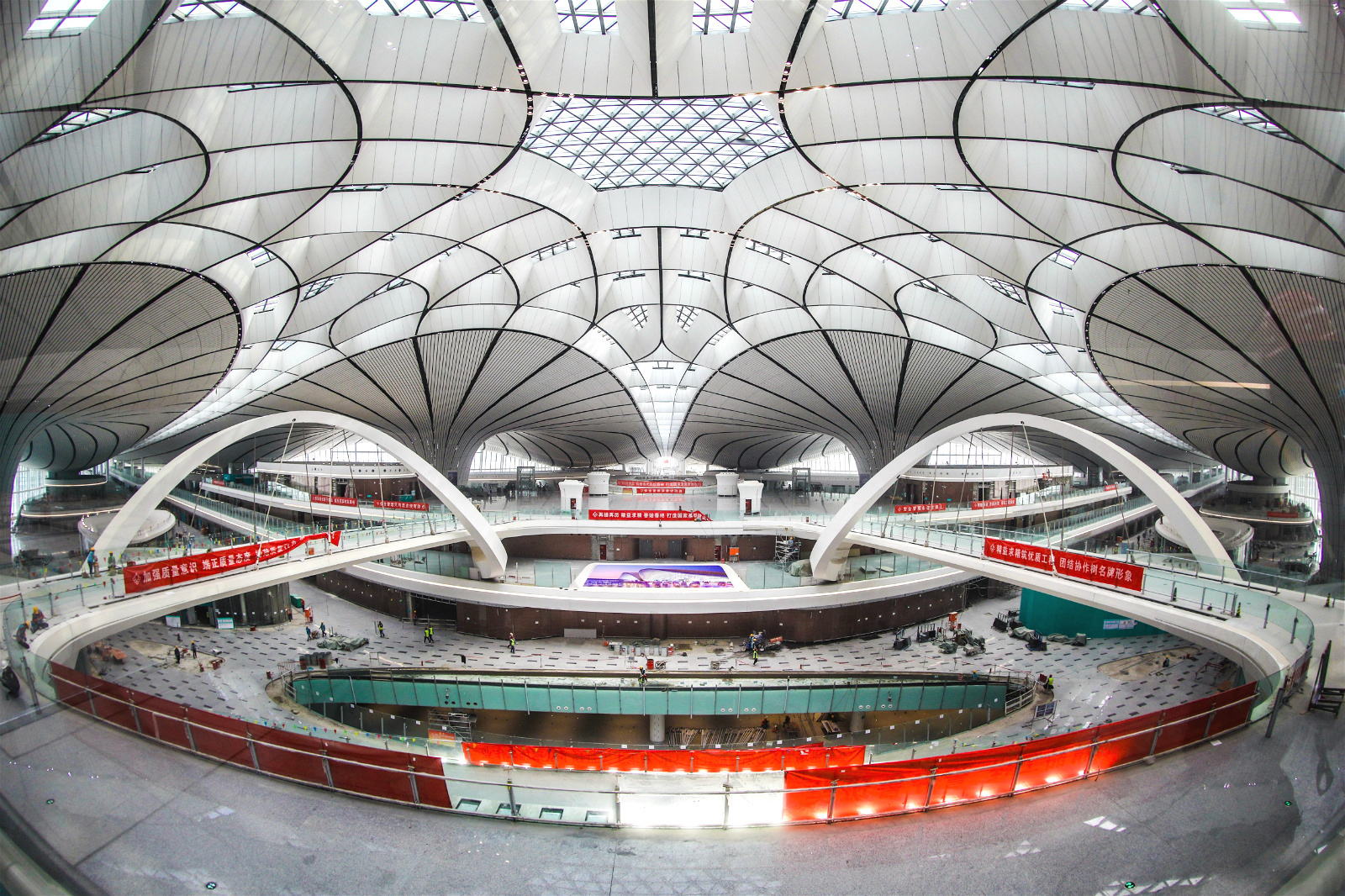 Daxing airport during construction, in April 2019 (Image: Alamy)
The airport economy
Daxing lies to the south of Beijing and its economy has long lagged behind the rest of the city. IN the north of Hebei province, which neighbours Daxing, the situation is similar. Incomes and spending on infrastructure are far behind Beijing and Tianjin. The creation of a first-class international airport is an important part of efforts to reduce economic imbalances across the Beijing-Tianjin-Hebei region.
And so the new airport comes with good transport links to strategic destinations such as Langfang in Hebei and the "city of the future" Xiong'an New District.
The global aviation sector creates five jobs in goods and services supply chains and tourism for every one job directly created in aviation operations, according to the latest report from the Air Transport Action Group, a commercial aviation body.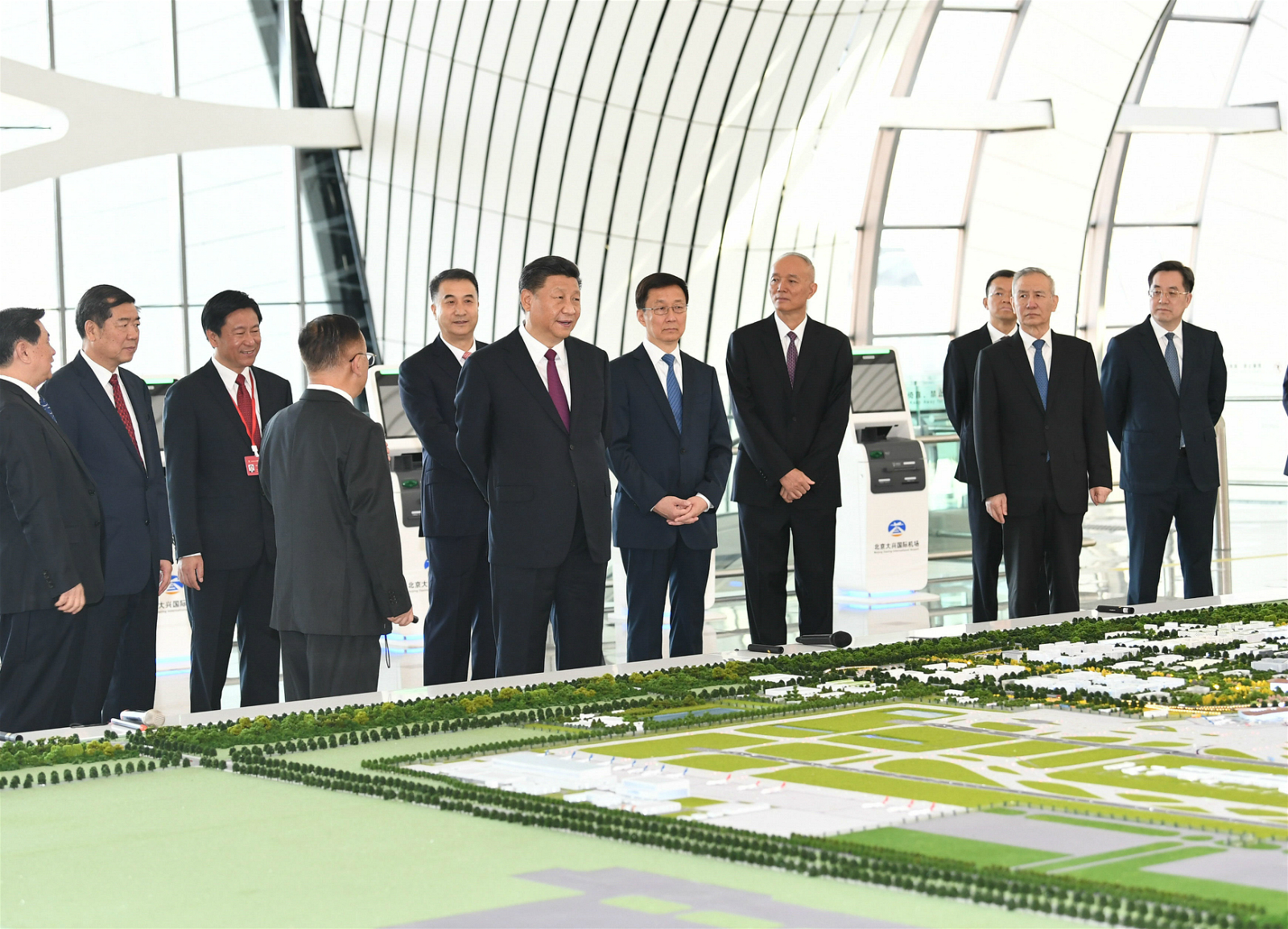 Xi Jinping on the opening day of Beijing Daxing airport (Image: Alamy)
According to Li Xiaojin, because airports concentrate flows of people, goods and money, Daxing has raised hopes for great strides of development in southern Beijing and northern Hebei. Peng Jianbo of Tsinghua Tongheng Urban Planning and Design Institute, said the airport will create 144,000 new jobs in southern Beijing and Langfang, providing a huge boost to the local economy.
What about emissions?
There is a real demand and economic rationale for the airport – but it comes at a time when such projects are increasingly controversial worldwide. In the UK, for example, debate over the expansion of London's Heathrow airport has gone on for over a decade, with environmental groups organising a series of protests in March against a proposed new runway. The expansion of Leeds Bradford airport, in the north of England, runs contrary to the city's climate change commitments. Researchers say the expansion would see passenger numbers double by 2030, with the emissions from flights alone twice the city's carbon emissions target for that year.
Meanwhile Greta Thunberg has targeted aviation emissions during her climate activism, and brough the Swedish phrase flygskam – flight shame – into the lexicon.
Aviation currently accounts for 3% of global emissions, a proportion that is rising rapidly. According to the UN body for flying, the International Civil Aviation Organisation (ICAO), if air travel grows at 5% a year, then by 2050 the sector's emissions will account for one quarter of the carbon budget for keeping global heating to 1.5C – and that is taking only carbon dioxide emissions into account.
New airports mean more and cheaper flights, which means more people will want to fly, which again means more flights. There is a vicious circle of new infrastructure creating demand, and that demand encouraging new infrastructure construction.
As early as 2013, experts were writing that "China does not need any new airports", raising environmental and economic concerns and suggesting energy should instead be spent on integrating existing transportation networks.
See also: Can airlines cap their carbon emissions?
'The billion who have never flown'
Reduction of aviation emissions is already on the international climate agenda, with the ICAO putting forward an emissions reduction plan, key to which is the use of alternative fuels and new technologies, along with better route planning. The aim is to see zero growth in aviation emissions from 2020 onwards.
China, which accounts for 9.5% of global passenger aviation, has repeatedly expressed opposition to that goal. At a 2016 meeting of the ICAO, the delegate for China complained it "lacks scientific basis, fairness and sustainability." Aviation emissions in developed nations have peaked, but developing nations should be given space to grow and expand, according to the delegate.
Though it has been growing rapidly, Chinese aviation has quite a short history. During the 1960s, as aviation was taking off in the US, China had fewer than 50 domestic routes. Ordinary citizens were not able to buy airline tickets themselves until the 1990s; before that, a letter of introduction from a work unit was required. About one billion Chinese people have never flown, and many of the country's small airports are operating under capacity.
According to Li Xiaojin, growth in demand is currently a bit slower than when Daxing airport was being designed, from 2010 to 2015, and so it may have more capacity than needed. But he added that airports need an appropriate degree of future-proofing.
Low-carbon air–rail links?
Will the expansion of airport capacity cancel out the carbon savings made by China's high-speed rail network?
Routes between Beijing, Tianjin, Nanjing, Shanghai and Jinan were once money-spinners for airlines, with numerous daily flights back and forth between the cities. But the advent of high-speed rail has meant there are no more flights between Tianjin and Nanjing, and the number of flights between Tianjin and Shanghai has dropped from 40 to 10 per day. Similar reductions have been seen on other routes.
High-speed rail has an absolute advantage over flying at distances between 150 and 800 kilometres, according to the international aviation industry. A recent World Bank report raised the upper limit to 1,200 kilometres in China, due to higher than average train speeds and journey frequencies.
Better links between airports and high-speed rail could make it easier for travellers to make low-carbon choices. Connections to Daxing airport include the Beijing–Xiong'an Intercity Railway, which meets the high-speed rail routes that run through West Beijing station.
Commenting on the fact that the new airport will increase passenger demand, Li Xiaojin points out that China's green transportation development plans still prioritise growth over the environment, with meeting and boosting market demand the key goals. Growth will not be sacrificed for the sake of greenness, he said.
There are still plenty of airports being built in China. During the current Five Year Plan period (2016-2020), 74 airports have been expanded or newly built. Expansions are already underway in Chengdu, Qingdao, Xiamen and Dalian, and preparations are also being made for new airports in Guangzhou and Sanya.