Crossing the bridge into Koh Pich ("Diamond Island"), a new commercial district in the east of Phnom Penh, 27-year-old Saro Le felt alienated from the city that has been her home for over 10 years.
Once empty swampland, Koh Pich now glitters with luxurious condominiums and mixed-use development projects. The major property buyers and developers here are Chinese.
"One side of the city is a fancy district. The other side is slums with a lot of poor people. The city is kind of split into two unconnected worlds," said Saro, a white-collar worker who was raised in a poor family. She looks at a giant replica of the Arc de Triomphe surrounded by new apartments, some with neo-classical themes.
This "little Paris" is a part of a commercial project called Elysée developed by the Overseas Cambodian Investment Corporation (OCIC), whose owner is of Khmer-Chinese descent.
Poverty affects around 35% of Cambodians, according to a report from the United Nations Development Program (UNDP) and the Oxford Poverty and Human Development Initiative. But there's no sign of scarcity in Koh Pich.
In one corner of the island, construction workers are busy on the US$700 million Diamond Island Riviera, which includes a shopping mall, a hospital and three residential towers linked by a cantilevered garden similar to the famous Marina Bay Sands hotel in Singapore. The developer is a joint venture between OCIC and China-based Jixiang Investment.
Small- to medium-sized businesses run by Chinese entrepreneurs are evident too – restaurants, cosmetics stores, a lighting design consultant. Property brokers display prices in Chinese yuan.

Chinese restaurants in front of a construction workers' camp in Phnom Penh (Image: Paritta Wangkiat)
Property boom
Koh Pich is a snapshot of Phnom Penh's property boom, driven by developers from China, the largest foreign investor in Cambodia.
Construction, real estate and tourism accounted for about 60% of Cambodia's total approved investment in 2018, according to the World Bank.
Approved residential and commercial development projects pulled in US$4.6 billion, up 14% on 2017. Most of it came from China.
China's Belt and Road Initiative (BRI) has amplified the rapid growth in construction and real estate sectors. The global infrastructure strategy launched by President Xi Jinping in 2013, promotes cross-border financial aid and investment.
It rests on government-to-government cooperation based on the principle of non-interference in internal affairs – raising a doubt as to whether China is concerned about Cambodia's de facto one-party rule, and electoral or human rights violations.
Recovering from civil war
Cambodia is in great need of funds. Its infrastructure was mostly destroyed during the brutal civil war of the late 1970s, and many of those murdered in the Maoist-inspired violence were the best-educated, leaving Cambodia short of skilled professionals.
Reconstruction only began in the late 1990s.
Private ownership – abolished by the Khmer Rouge – was permitted again and demand for homes and commercial premises grew. But Cambodia lacked funds to expand its cities and infrastructure until it got help from China.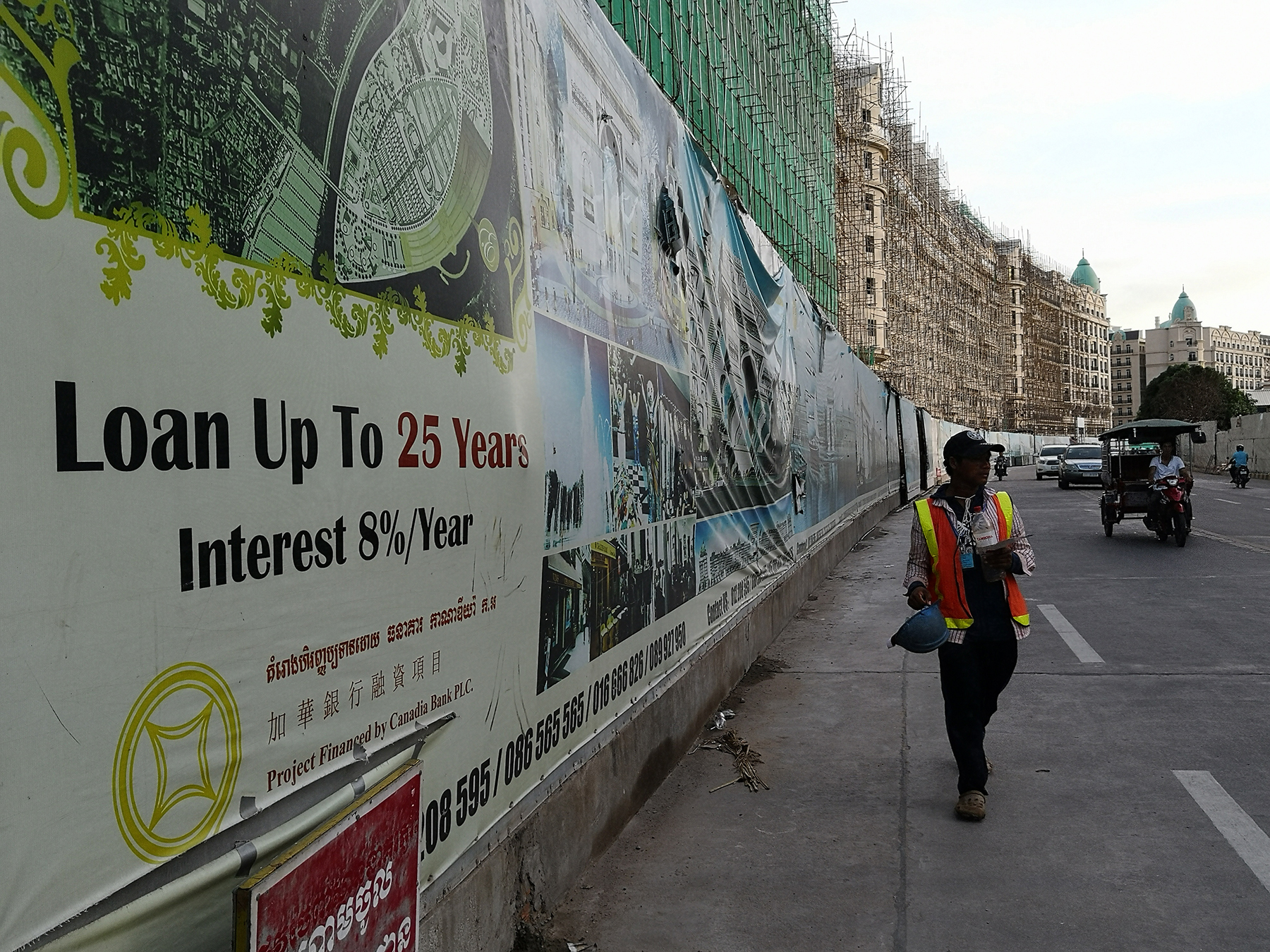 A construction worker beside a development in Phnom Penh (Image: Paritta Wangkiat)
"Having China with us here is good. They've built the infrastructure. They've brought in money. They've given us more choices," said Somethearith Din, a prominent Cambodian businessman and land developer.
"China coming here is better than not coming," agrees property developer Kitti Saengthongpinij. "Its construction and infrastructure development has created jobs and cash flow in Cambodia's economy."
Rapid urbanisation
A US$2 billion expressway linking Phnom Penh and the coastal town of Sihanoukville – which locals now call "new Chinatown" – is being constructed by the China Road and Bridge Corporation. The 200-kilometre road will halve the travel time between the two towns, and support Cambodia's bid to host the ASEAN Summit in 2022.
According to the World Bank, Phnom Penh and Sihanoukville together account for 1,217 buildings of five stories and above.
These buildings are part of a rapid urbanisation process that is creating fresh economic activity and injecting capital in the system. It is similar to China's own early growth model in the 1990s, which was fuelled by foreign investment and boosted by new infrastructure that both facilitated exports and grew the internal market.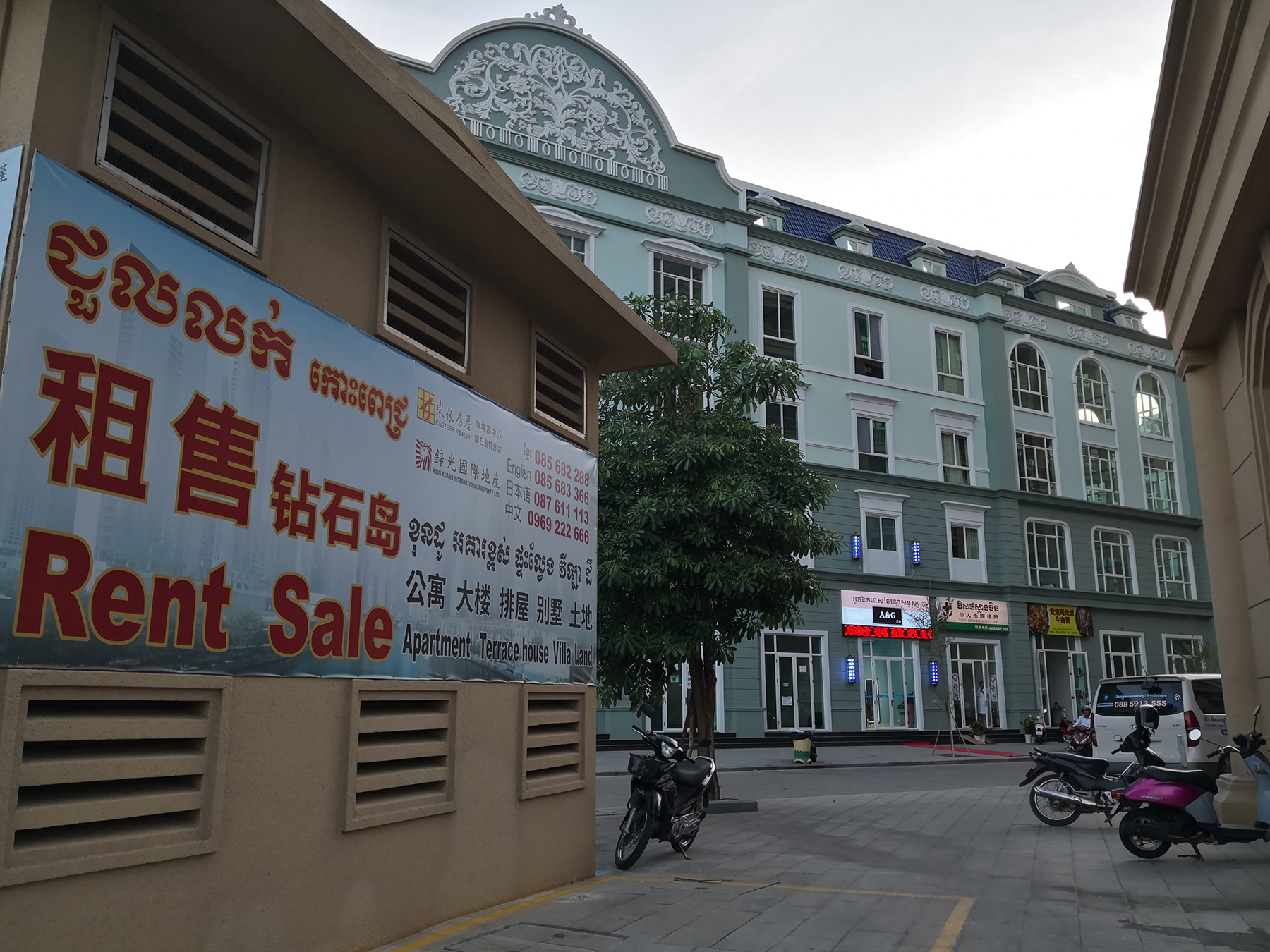 Townhouses avialble in Koh Pich (Image: Paritta Wangkiat)
Widening gap
The presence of Chinese construction workers in Phnom Penh has led some locals to wonder how much benefit they are getting from the boom. Temporary camps house Chinese workers on China-led projects. For some Cambodians, like Saro, the luxury skyscrapers symbolise a widening gap in her society.
In one sign of tension, Phnom Penh locals blamed Chinese incomers for summer power cuts lasting three hours each day this year, arguing the fancy new apartments overload the grid. Other complaints focus on bigger traffic jams and lack of transparency from the Chinese developers.
But there are plenty of benefits for those who have been able to adapt.
Property brokers have increased their earnings by targeting Chinese clients. Mandarin translators earn more than English translators. And tuk-tuk drivers are getting plenty of Chinese customers.
Poor families at risk
Not everyone can share these opportunities.
"The urban poor are the most pressured by the rapid real estate development," said architect "Som Sat" who wishes to conceal his identity because of the government's crackdown on dissent.
He adds that although the city appears modernised, "you can see inequality appearing everywhere in Phnom Penh now."
More than 25,000 families live in 277 impoverished settlements around Phnom Penh: most own no land and could be forced out by development, according to a Japan Times report.
One such group is the garbage pickers who live next to a landfill in Dangkor district, 20 kilometres from downtown. "I've never seen a high-rise building or been downtown," said one, an elderly refuse picker. She earns US$15 a month from recycling waste and cannot afford a bus fare.
Nearby, National Road 3 is being widened with a US$200 million concessional loan from China's government; the upgrade will support Sihanoukville's deep sea port.
The price of land near the road has risen, and the waste pickers may well be forced to move out.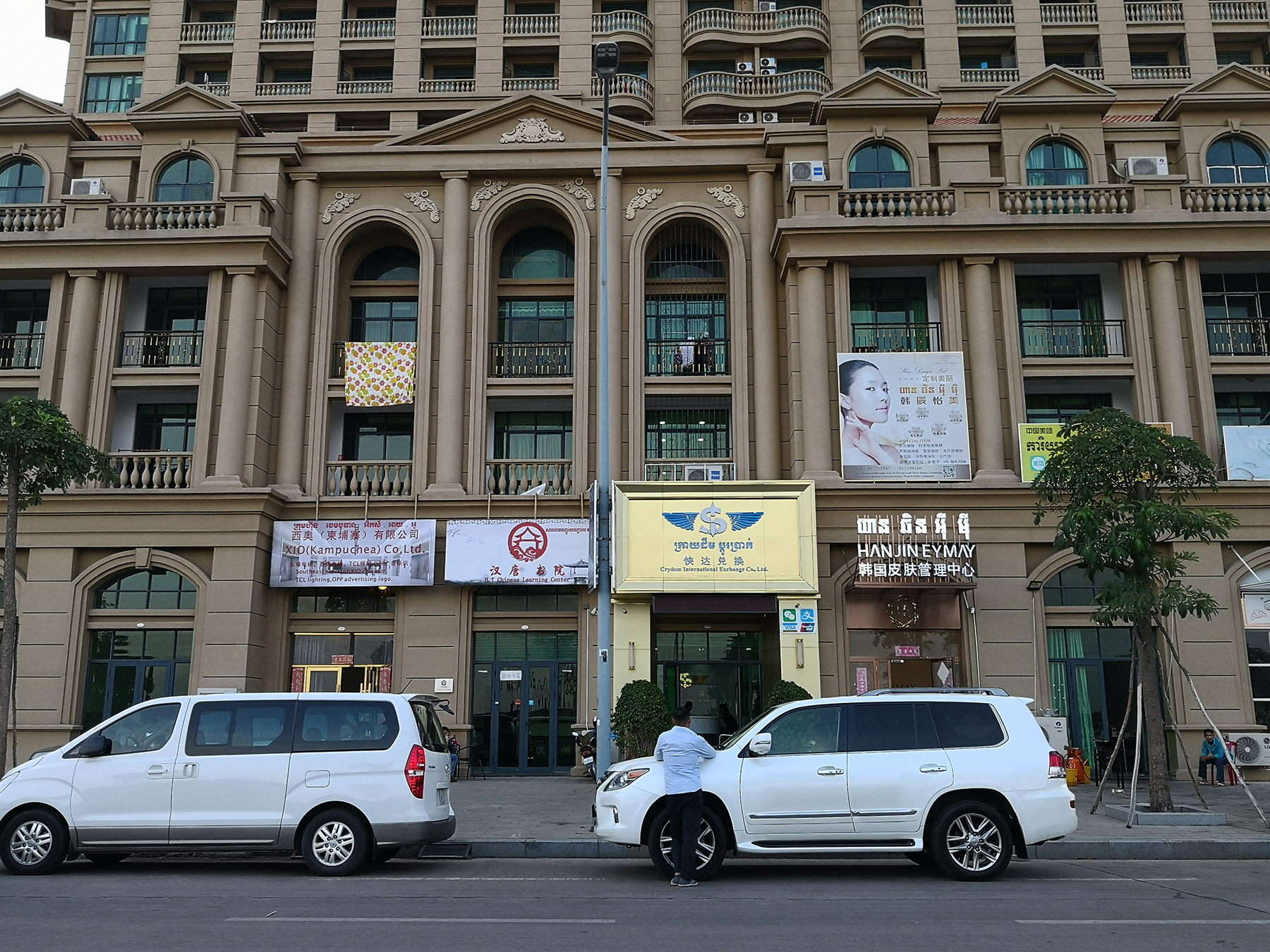 Layers of apartments above a ground floor of small to medium Chinese businesses: a restaurant, cosmetic shop, lighting design consultant and salon (Image: Paritta Wangkiat)
Debt trap fears
One risk is that Cambodia could fall into a debt trap, or face instability if a speculative real estate sector leads to a housing bubble and financial crisis in the banking sector.
These concerns are prevalent enough to have been rebutted by Prime Minister Hun Sen. "Chinese investment is not a trap. It is not even a threat. It is a help," he said in March at a ceremony for a new expressway in Kampong Speu province. He denied that Cambodia would become a "colony of Beijing" and praised China's "no strings attached" aid.
Cambodia's external debt to China was 48.4% of total outstanding debt in the first half of 2018, according to the World Bank. However, the debt distress level remains low because of the Cambodian government's strict adherence to borrowing only on concessional terms.
Apart from concern, Cambodia's robust growth has brought a sense of pride to the people in the country that once fell behind the world.
"Unlike other countries, Cambodia started from minus after the civil war. Now we need to open up. We need easy money," said businessman Somethearith.
"With China, we can catch up with others. Now we have the gap between the rich and poor. But before we were all poor."
This story is produced in collaboration with The Mekong Eye, a media resource for sustainable development, a project of Internews' Earth Journalism Network.