Qi Huahua crafts leather goods by hand for Herbal Heaven, a handbag and wallet maker that sells worldwide in department stores and online, and one type of industry that local officials hope can rejuvenate Luquan district.
Luquan was one of China's foremost cement-making areas until a central government crackdown on air pollution five years ago set in motion sweeping changes. The district is on the outskirts of Hebei province's capital, Shijiazhuang – a city of 10 million that is one of China's most polluted and whose prevailing winds funnel its filthy air towards the huge metropolises of Beijing and Tianjin.

Local officials began closing – and dynamiting – Luquan's cement works
China's State Council acknowledged the health risks from air pollution by declaring a "war on pollution" in September 2013 and launching the National Action Plan for Air Pollution, Prevention and Control (2013-2017). The Beijing-Tianjin-Hebei region became one of three key national battlegrounds. Local officials began closing – and dynamiting – Luquan's cement works.
Some Luquan factories have since been turned into restaurants, galleries and art shops. Qi and her hundred-plus colleagues toil in an airy workspace that looks more like an artist's studio than a factory. Guo Xiaofan, a local volunteer at a nearby tourism exhibition, told chinadialogue, "Now we aim to be a leisure destination for Shijiazhuang".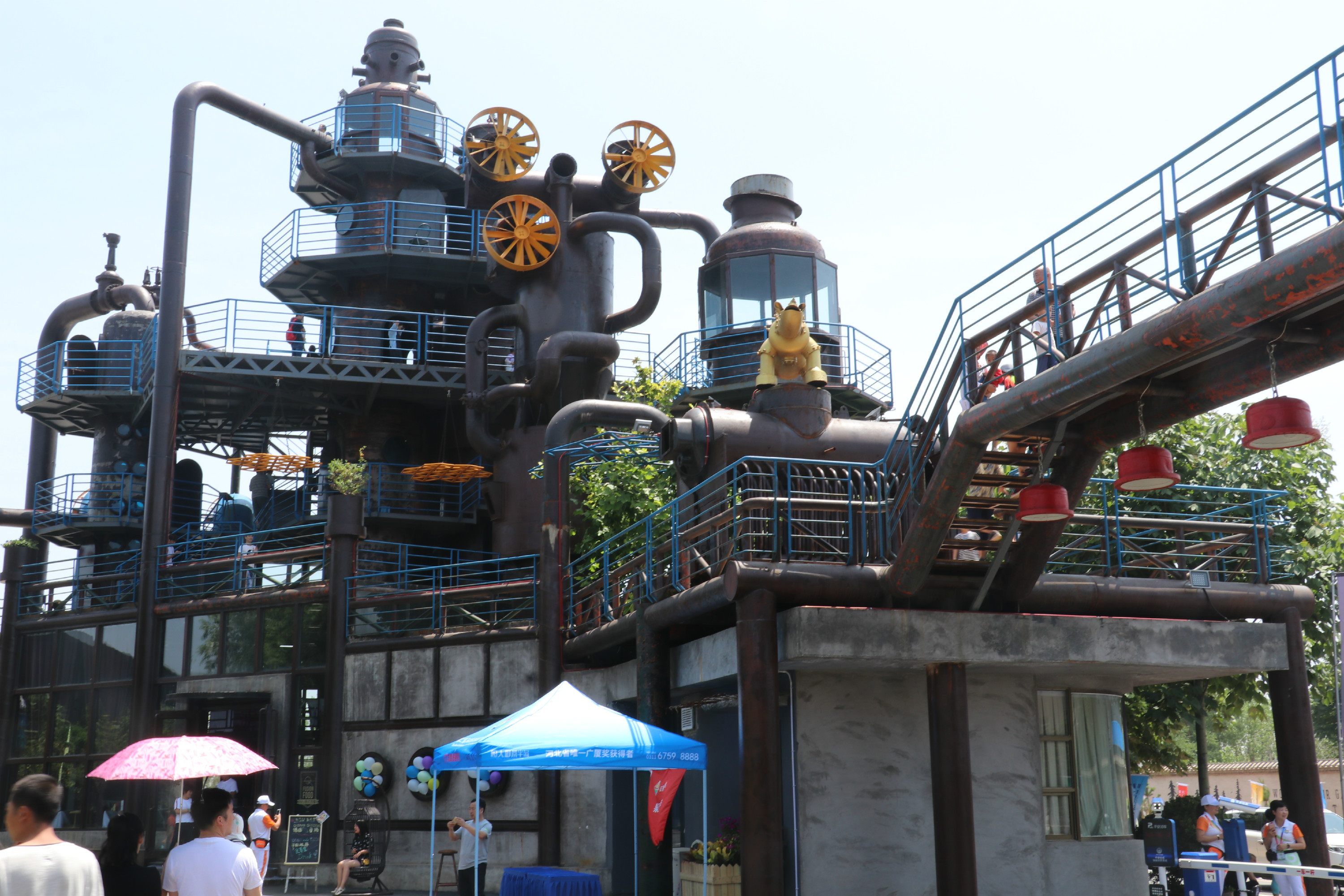 Leatherware firm Herbal Heaven is located in the industrial tourism zone and makes use of abandoned facilities (Image: Feng Hao)
A demanding transition
But while Luquan has attracted big names like Herbal Heaven, shifting a district of almost half a million people from cement-making to leisure and tourism is no easy task.
China produces three quarters of the world's cement and half of its raw steel. With the government tackling smog and attempting to shift the economy away from heavy industry, countless districts like Luquan face an uncertain future.
Coal and coal-reliant heavy industries, such as steel, were China's biggest sources of air pollution. China's 13th Five Year Plan therefore aimed to cut steel-making capacity by 100 million tonnes; to reduce cement-making capacity by 390 million tonnes; and close 540 cement-makers. That placed unprecedented pressure on Hebei, which manufactures one quarter of all China's building materials.
Luquan now has just three cement factories remaining.
Tough standards
Hebei decided to implement even tougher environmental standards than the nationwide rules set by the air pollution action plan. In four years, the province cut steel manufacturing capacity by 69.93 million tonnes – equivalent to South Korea's entire production in 2015.
The government-led conversion of cement plants started in 2007 and gained pace with the efforts to reduce air pollution, explained Cui Zhenhong, who works for the Industrial Department of Luquan. Fifty cement plants were demolished in just six months in 2012 and another 24 between 2013 and 2014.
The cost of clean air
"There used to be a layer of dust over everything – it was in the air, in your throat, and it only got better once they closed the factories," says Guo Xiaofan.
But many have lost out. Zhang Chunying, 52, lives in the Luquan district village of Niushan. She and her husband have been left out of work by the closures. They both want jobs but can't find anything, and so can't afford to build their son and his new wife a home.
Zhang Mijuan, also from Niushan, hasn't worked for two years: "If you've got work, no matter how much it pays, you don't fight with your partner. But if both of you are at home all day, of course, you fight." Zhang is 40, but with so many jobseekers available, many companies set an upper age limit of 35 when recruiting.
Cui Zhenhong says over 2,000 people lost their jobs in the latest round of cement factory closures. Overall, more than 10,000 jobs disappeared locally when related jobs in transportation, logistics and catering are included.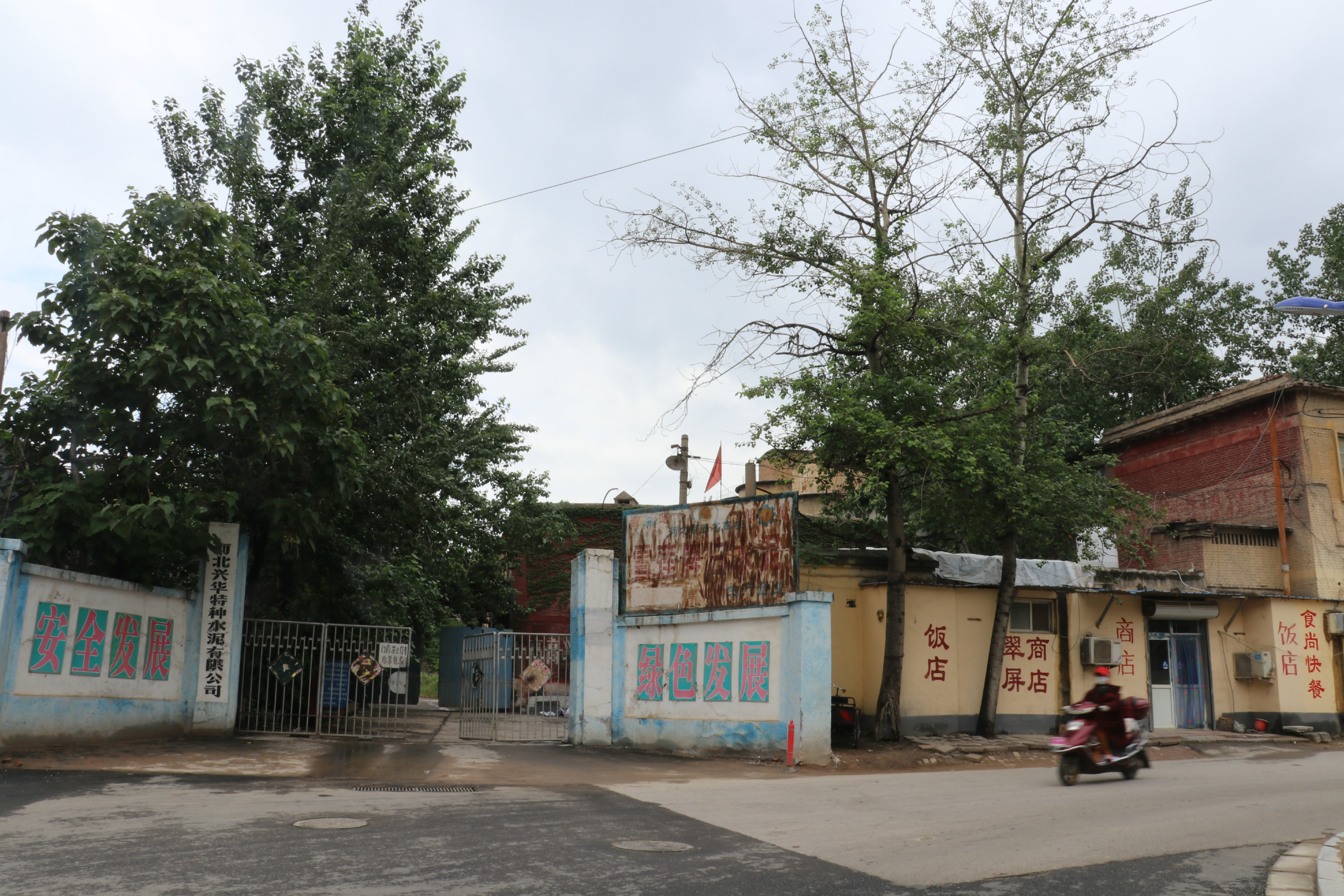 With the closure of the Xinghua Cement plant, neighbouring restaurants and shops also closed down (Image: Feng Hao)
The cost of cement has rocketed too as incomes have fallen, leaving many unable to afford the four or five tonnes needed to build a new home. In China's villages, a new home is regarded as essential before couples can get married, so young people in Niushan find themselves stuck.
Support frameworks are needed to ease people through such complex economic transitions, says Yang Lichao, associate professor at Beijing Normal University's School of Social Development and Public Policy. "If you slam the brakes on and nobody's wearing a seatbelt, they're going to go through the windscreen."
Business worries
Cement factory owner Zhang Jianbin used to own three plants in Luquan and has one left. "Up until 2012 the government preferred to make the factories cleaner by bringing them up to environmental standards. We'd install whatever equipment they wanted. More recently they've decided to just close them down," he told chinadialogue.
Rong Jianqiang, a development official in the Luquan township of Yi'an added: "It's not that we didn't want to upgrade them, but there was just no way to bring them up to the current requirements."
Hebei's tougher environmental standards mainly targeted sulphur dioxide (SO2). Provincial rules for the cement industry limited levels of the gas to 50 milligrams per cubic metre – half the national limit.
The local government says the impact on the cement industry was the result of a determined but painful decision. A 100 billion yuan fund (US$154 million) was set up to help workers affected by cuts in capacity in the steel and coal sectors – but similar provisions were not made for other sectors, such as cement.
A 2014 investigation by the Economic Daily found that the reduction of cement output in the towns of Luquan and Pingshan districts had cost the two local county governments 1.07 billion yuan (US$155 million) in compensation payments. These were given to businesses to distribute to workers through compensation and pensions.
Hao Zhushan, then deputy mayor of Shijiazhuang, says the city government provided over 300 million yuan (US$44 million), and the two county governments a further 700 million (US$101 million). Those are huge sums for a local government to find when the most important local industry is shrinking.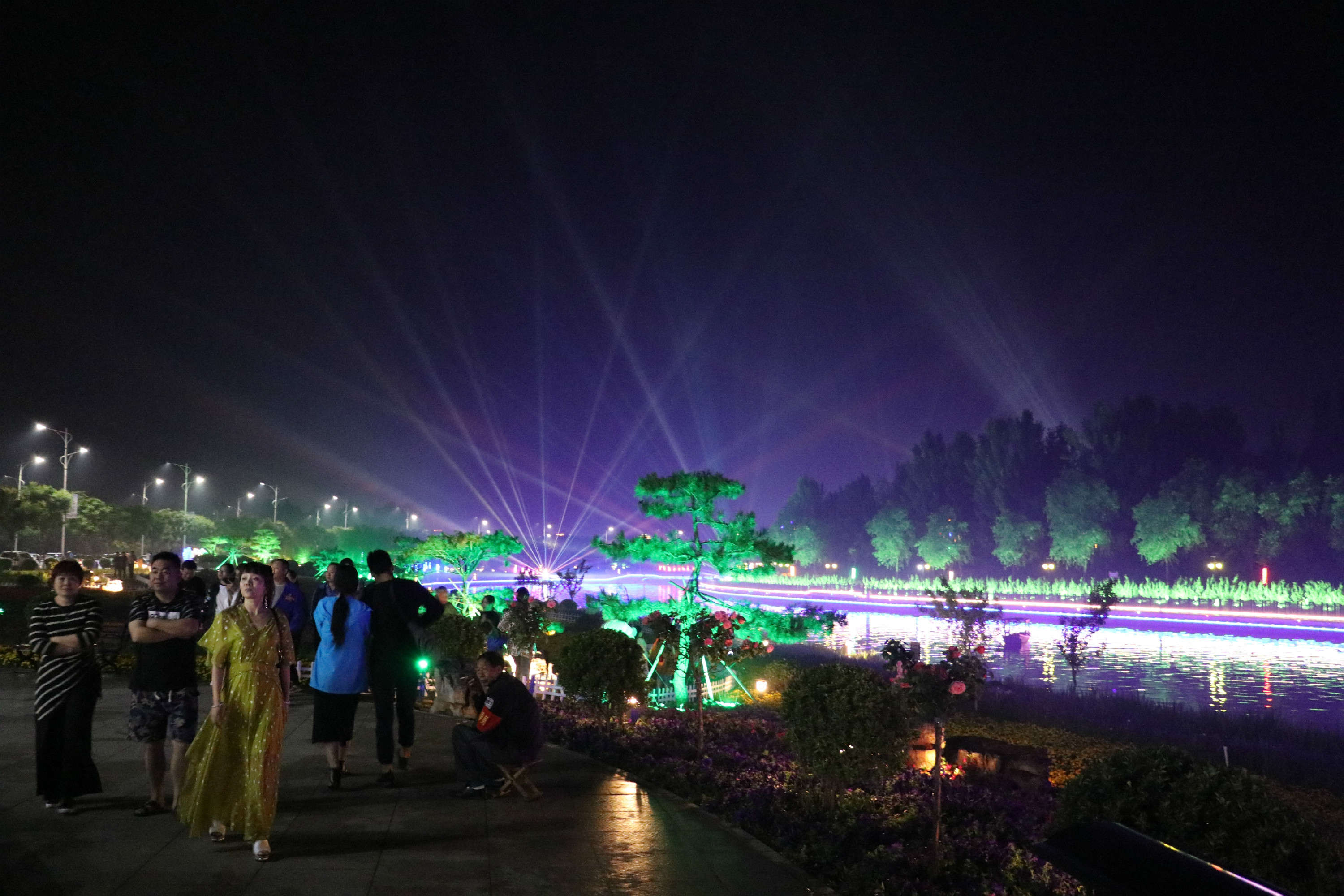 Luquan has carefully crafted its night-time appearance to attract tourists from neighbouring Shijiazhuang (Image: Feng Hao)
Skills training
Hao Zhushan has defended the policy of forced demolitions as essential to motivate cement factory owners to establish different businesses. The local government also organised study trips and set up new industrial zones to attract high-tech and high-growth companies. Several firms in the tourism, manufacturing and vehicle maintenance sectors have moved in, including one specialising in low-speed wind-power.
More stringent environmental constraints are creating new business and employment opportunities in the area. Hebei Weilan New Energy Technology was set up in 2015 to manufacture air-source heat pumps. Following the overzealous coal-to-gas switch at the end of 2017, which left thousands of rural students to study without heating, it sold its technology to six schools through a government procurement agreement. The company has since expanded to nearly 100 people. Sales manager Yang Baomin accepts that the transformation of Luquan to a low-carbon economy will be hard but is confident the market will expand and create jobs. "That is where the future lies," he says.
But if former cement workers are going to find work in new sectors then they will need to reskill. Technical training for laid-off employees is crucial and benefits employees, companies and the local government, says Zhang Ying, a deputy researcher with the Institute for Urban and Environmental Studies at the Chinese Academy of Sciences.
Herbal Heaven recruits and trains local women. Qi Huahua says it's much better than working at the cement factory – it's cleaner and pays better.
And Li Muyao, Herbal Heaven's technical directory, says that "industrial tourism" is also proving successful. "There's no entrance fee, but people come, and they eat and shop. If people are coming, there's money to be made."