Li Qiang has been trading waste in Beijing for 12 years without a business license. He started the application to get one last year, but like many others in the same line of work, he's still waiting.
China's waste handling industry is about to undergo a revolution. In early July the government announced that cities would put in place formal, market-based systems for the sorting, recycling and disposing of domestic waste by 2020.
In doing so it tacitly acknowledged that China's informal waste traders would no longer be needed. Currently this huge workforce of mostly migrant workers collects over one million tonnes of recyclable waste from Beijing's streets every year.
But as the city gets richer and living costs rise, the people who sift through discarded waste in search of recyclable goods are being pushed out, unable to find affordable accommodation. Meanwhile, some intermediate traders like Li Qiang hang on in hope of finding a place within the new system.
Waste experts
In 2006, after graduating from senior middle school, 18-year-old Li Qiang came to Beijing with others from his village. He rented a stall in a waste goods market for 2,000 yuan a month and started buying in plastics such as bags, film and drinks bottles. He also lived there.
It was more lucrative for Li than working in the fields back home in Gushi county, Henan province in central China. The area provides 90% of the labour in Beijing's waste recycling sector.
The recycling system the people from Gushi have created in Beijing is comprehensive and efficient. It's also unregistered and not legally recognised. Beijing produces over 20,000 tonnes of domestic waste every day, and this system efficiently removes anything reusable.
Li's market stall sits in the middle of the chain. Below him are the collectors, the people who ride three-wheelers through Beijing's streets and alleyways, picking up recyclable waste from a closely-held network of individuals and shops. Residents bundle the waste and bring it out to the collector, or have the collector come to them, and are paid.
The waste is broadly sorted into types and taken to traders such as Li. They sort it more carefully and package it up for transportation before selling it to a recycler from somewhere outside Beijing. At its peak the market had over 300 stalls like Li's buying and selling various types of waste.
"It's not as easy as just buying and selling what people throw away. I didn't realise until I started how much professional knowledge you need," says Li.
In his first year he lost 12,000 yuan. He didn't know how to sort the plastics properly. But he's gradually become an expert in waste and even teaches employees at shopping malls and supermarkets how to sort the waste they sell to him.
"Many old hands at this can tell what kind of plastic something is just by tapping it and listening to the sound. Hard plastics alone can be divided into over twenty different types," explains Chen Liwen, who works on waste issues for Nature University, a non-governmental organisation.
Benjamin Steuer, a graduate student at the University of Vienna, studies the circular economy in China. He says the informal sector has long held the lead in recycling products, including electrical and electronic appliances, plastics and metals. In 2010, Steuer says, private waste recycling networks saved Beijing 400 million yuan – and by 2014 that figure had doubled.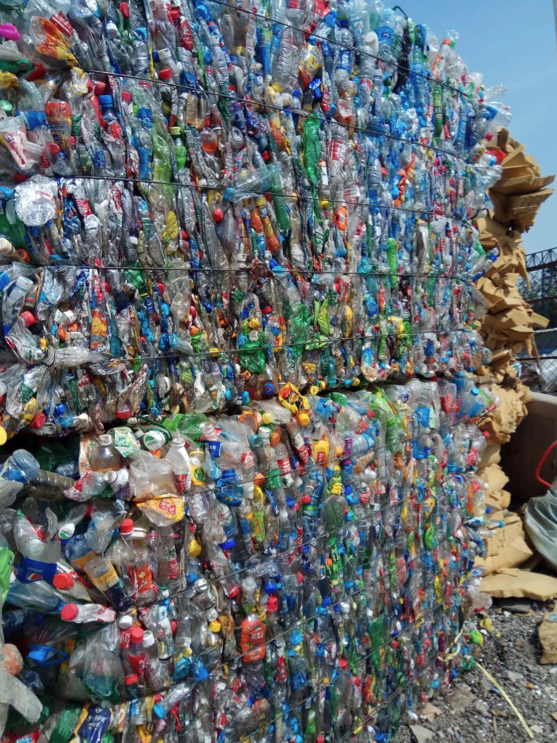 Two bundles containing a total of 45,000 plastic bottles, sorted and cleaned by Li Qiang and his workers. These PET plastic bottles can be processed into artificial fibres for clothing (Image: Li Qiang)
No longer welcome
Li Qiang's business expanded as he learned more about the trade and acquired contacts. By 2008 he employed four people to sort waste.
But as China's economic growth and urbanisation continued, and as residents produced increasing quantities of waste, Beijing has become less welcoming to workers in the informal economy.
Before 2003 China detained and returned migrant workers without formal employment. The waste collectors on their three-wheelers could be picked up by the authorities for "affecting public order" and sent either to a shelter or back to their villages.
When that system was abolished the recycling industry saw a brief boom. In 2014 the number of people working in the sector in Beijing peaked, with 300,000 employed across the system.

It feels like we're doing something illegal and everyone's out to get us
But that same year Beijing's permanent population passed 20 million. To curb population growth and pressures on transportation, resources and the environment, the city government produced a list containing dozens of "low-end" sectors to be prevented from expanding. One of these was waste recycling.
Beijing also started cracking down on illegal buildings and the small and cheap rented rooms that were affordable for migrant traders. The short-lived boom ended.
In 2014 Li Qiang's market was deemed an illegal building and knocked down. He was forced to move to an alternative market where his rent increased to 5,000 yuan. By this point his four employees had quit and returned home.
In 2017 the new market also closed down and Li had to move again.
"I've moved so many times, further and further away, yet the rent keeps going up," he complains. "It feels like we're doing something illegal and everyone's out to get us."
A question of environment and society
The informal nature of waste recycling networks makes them difficult to regulate: workers lack health and safety protections, trucks are overloaded, and recycling workshops pollute. None of those issues can be solved by a private system alone.
But does it make sense to curtail the informal sector and push informal workers out of Beijing when the government's preferred formal alternative has not yet taken shape? Shouldn't we look at what's valuable in the informal system and make use of it, rather than ignoring it completely?
In his long-term observations of Beijing neighbourhoods, Zhou Jinfeng, secretary-general of the China Biodiversity Conservation and Green Development Foundation, has found that when informal waste collectors are prevented from entering an area then either a deal is agreed with a larger waste firm, or categorised waste bins are used to make the collector's role redundant. But if a single recycler has a monopoly over local waste it becomes pickier and won't take anything unprofitable – and the categorised bins are nowhere near as effective as an experienced collector at sorting waste.
The government cannot be accused of failing to respond to the threat of landfill sites encircling China's cities. In 2017 it launched an extended producer responsibility system that included a requirement for manufacturers to increase the proportion of recycled material in their products (to 20% by 2025).
It's early days for this initiative, and the transition from the old system to the new is still underway. Meanwhile it is important to ask how to provide assurances for workers in the informal sector who have made huge contributions to China's waste management but face upheaval. Can we rediscover rather than destroy the networks they have created? This is an urgent environmental question, but also a key social one.
"I've come to love this work after all these years, and the recyclers all trust me… if I can, and if the policies allow it, I want to keep doing this," says Li. "And if the sector does become more formal, I'm willing to pay more taxes."
Li Qiang requested that his real name be changed.