"Urbanisation and industrialisation have had a huge impact on the environment in China," says landscape painter Wu Ke, who looks erudite in a simple black suit, rimless spectacles and slicked back hair at the opening of his new show in London's swish Cookhouse Gallery.
"It is a reason why I wanted to do 'Another Shan Shui', I wanted to create the best natural environment that I could possibly dream of," adds the 48-year-old artist, who is surrounded by large canvasses of thick black ink depicting dramatic scenery in which the abstract outline of streams, rivers and mountains can just be made out.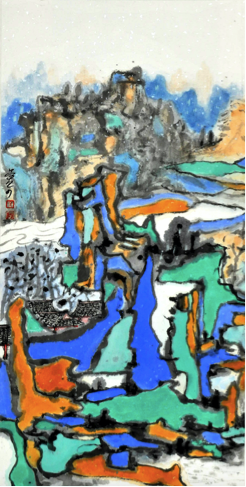 It is the Shanghai painter's first exhibition outside of China. His works, which fill the small, four-room gallery at Chelsea College of Art beside the River Thames, have drawn a crowd of 40 or so people.
The title of the show is Another Shan-Shui. The name pays homage to thousands of generations of traditional, landscape artists that have come before him.
A relative of calligraphy, the rise of Shan-Shui painting (which translates as "mountain-water") can be traced back to China's Liu Song dynasty in the 5th century AD when naturalist ink and brush paintings were highly prized by the emperor. Artists had status and were connected to important schools of philosophy and spirituality, in particular Taoism, which held that mountains were home to the immortals.
Today's Shan-Shui painters still cleave to the old traditions. Black ink on canvass is used and calligraphy remains a heavy influence. Studying the work of old masters is also mandatory. Some, including Wu Ke, even reference Taoism but his interpretation of the old art form is not conventional.
Far from being just "Another Shan-Shui" painter, Wu Ke's art is strikingly conceptual. His paintings are characterised by vivid colours – yellow ochre, turquoise and azure blue (though many are simply monochrome) – and blended brush strokes that imbue his work with a dream-like atmosphere.
Wu Ke has chosen to depict an idealised version of nature, rather than the environmental degradation brought about by China's industrial revolution of the last 30 years. He explains that his art is less about representation and more about reflecting an inner world that has the power to change the way people consider nature.
"Shan-Shui art is as much about inner will and emotion as it is about natural scenery," he says. "Ink and colour can inspire a viewer's imagination, triggering a reaction or reconsideration depending on their personal experience, understanding and cognition."
He is among a generation of Chinese artists who are grappling with the effects of rapid industrialisation on the land and society. From Xu Bing who re-interprets ancient masterpieces using debris and rubbish as materials, to Zhan Wan's steely rock installations that draw on horticulture, they are working across a range of media – collage, sculpture, photography – and coming up with very different responses.
For Shan-Shui artists, who have a particular affinity with nature, the impact of environmental damage is, perhaps, more poignant.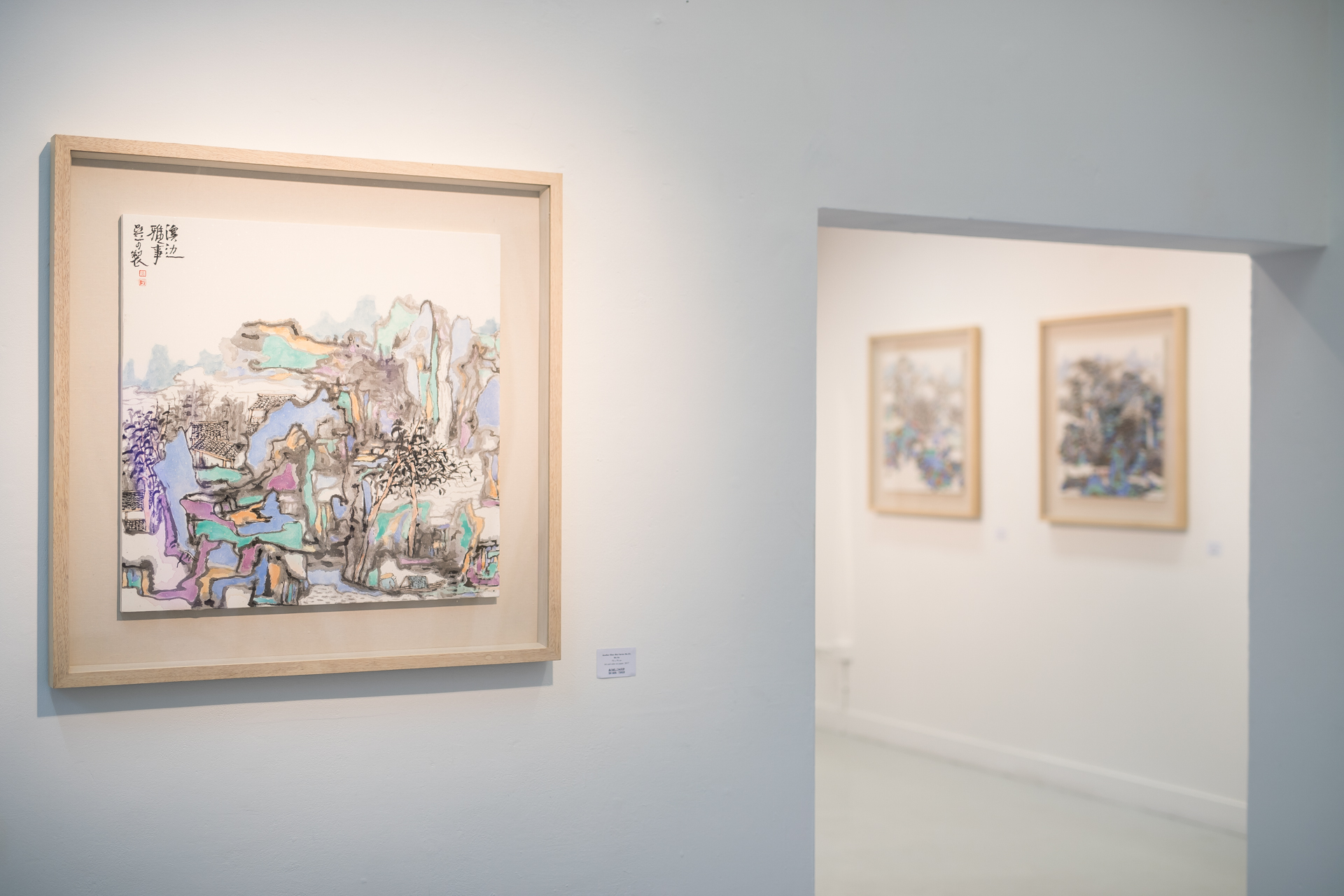 'Another Shan Shui' at London's Cookhouse Gallery is the artist's first outside China (Image: Aris Huang)
Turning inwards
Based in Zhujiajiao, a village on the outskirts of Shanghai famous for its picturesque scenery and winding canals, the artist is surrounded by inspiration yet he often prefers to paint from memory, or imagination, honed through years' of strict routine.
Each day, he starts work in his studio at 9am and finishes at 11pm. "Shan-Shui is repetitive," he says, dryly. "You have to be passionate about what you do." Living closed off has not blinded him to the uglier realities of development.
"Nature gives us life and the fundamental conditions for the survival of mankind," said the artist in a recent interview with e-magazine neehao.co.uk. "However, as children of nature, we all too often ignore and even trample and ravage the generous gifts of Shan-Shui because of our greedy desires."
Wu Ke may not be taking on environmental themes directly but his exhibition raises questions about artists who are.
"There are lots of Chinese artists who are dealing with the subject matter," says Dr Katie Hill, senior lecturer and expert in Chinese contemporary art at Sotheby's Institute of Art. Take, for example, Shanghai photographer Yang Yongliang, who creates composite landscapes using fragmented photos of urban space, reflecting a painting tradition that is hyper-modernised.
"Xu Bing engages in Shan-Shui in quite a conceptual way. Then you have Zhan Wang, whose amazing, sculptural rock forms relate back to traditional Chinese garden culture. There are lots of different manifestations," says Hill.
New technology is also transforming the way landscape artists work. It is widening the availability of tools -Yang Yongliang's collages, for example, would be impossible without software to manipulate digital imagery – while fundamentally altering humanity's relationship with nature.
In China's booming cities, artists are increasingly less exposed to the natural world and more immersed in the digital world. Social media has encroached on time and turned up the pressure on artists to nurture their online profiles and international fanbase.
Artificial Wonderland I – No.1 (part 1) 152 × 280 cm, Giclee print, by Yang Yongliang (Image: yangyongliang.com)
Post-industrial art
The most iconic artist to emerge from England's Industrial Revolution was Laurence Stephen Lowry (1887-1976). A former rent collector, his bleak depictions of billowing smoke stacks and factory towns in the north of England made him famous, though he was never part of the mainstream artistic establishment in his day.
In 2014, gallery owner Andrew Kalman helped take the first overseas exhibition of Lowry's work to Nanjing in partnership with ARTouch Consulting, in the hope that the paintings would resonate with Chinese audiences who might see an echo of their own economic development in the scenes.
While the direction of post-industrial art in China is still being decided, shaped by digitisation, rapid urbanisation and respect for tradition, Kalman believes that the advent of the Industrial Revolution in England led to the marginalisation of landscape art.
He believes that the modern British art establishment remains quite disconnected to landscape as a subject matter, calling it a "defunct tradition", with a few notable exceptions such as Peter Doig, David Hockney, Richard Long and Hughie O'Donoghue.
Wu Ke prefers his work to remain rooted in reality, regardless of what direction the genre takes. "Each time you see the same scenery you have a different response. I try to combine traditional skills and traditional ways of painting with the evidence before me."