Wood consumption has jumped 173% in China over the past decade, and restrictions on felling primary forest mean the country relies on wood imports for over half its demand. The manufacture and export of furniture from China has been linked with deforestation and habitat loss in Latin America, Africa and Pacific islands.
Managing forests sustainably is one answer to this problem, another is substituting wood with bamboo, a plant native to China that grows quickly and can be cultivated in a way that is both commercially profitable and environmentally beneficial.
The Chinese government has been promoting the ecological benefits of bamboo for a while now. In 2008, China launched the world's first bamboo carbon storage project and has promoted such schemes for inclusion in global carbon markets. In 2013, the national forestry authorities issued new plans calling for one million hectares of bamboo plantation by 2020, in the hope of employing 10 million people. It is not known whether the target will be met.
Manufacturers in Yong'an, Fujian province have been substituting wood with bamboo for over a decade, and over 100 firms now operate.
"We were exporting our bamboo furniture to France and the US very early on, and from 2015 onwards to countries like Jordan," says Xu Minhua, who runs Tenda Bamboo, a manufacturer in Yong'an. The company produces furniture worth up to 15 million yuan (US$2.1 million) every year.
In Yong'an, moso bamboo is the most common type used. It can grow over 20 metres tall and a forest is ready for year-round harvesting 5 to 10 years after planting. A new wood plantation takes several times longer to reach maturity.
China has boosted spending on scientific research in the forestry sector, which improved productivity by 25-30% by 2016, according to government figures, and on technologies that make bamboo usable as a construction material.
The best quality bamboo is grown in Zhejiang, Sichuan, Fujian, Jiangxi, Guizhou and Yunnan provinces and it's mostly processed into bamboo planks and paper. In Zhejiang, which is home to one third of China's bamboo, innovators have been winding bamboo to create industrial piping as an alternative to steel or plastic. Zhejiang, Sichuan and Fujian are also encouraging bamboo tourism.
Yet bamboo remains a niche product, accounting for no more than 2% of China's 700 billion yuan (US$100 billion) furniture market.
Wood products targeted
International furniture retailers such as Ikea, which cater to China's middle class, have noted bamboo's sustainability advantage. Liu Jiwei, formerly Ikea's China sustainability development manager, says the company's product design centre is enthusiastic about it.
The manufacture of wooden furniture can release large quantities of volatile organic compounds (VOCs), which can be damaging to health. This has resulted in stricter monitoring of wooden furniture manufacturers during environmental crackdowns, which in 2018, reduced the sector's output by 11.68%, and sales by over 200 billion yuan (US$26.8 billion) Major manufacturers cut production by 30%.
The processing of bamboo can also release VOCs but the sector is regulated separately from wooden furniture manufacturers, so it has not faced restrictions. Still, bamboo has failed to capitalise on the opportunity. According to Ikea's public relations department, the company's best-selling bamboo products are small household items such as iPad stands and bowls. For large products like tables and chairs, wood still sells far better. Low sales make it difficult for suppliers to reduce costs and compete on price.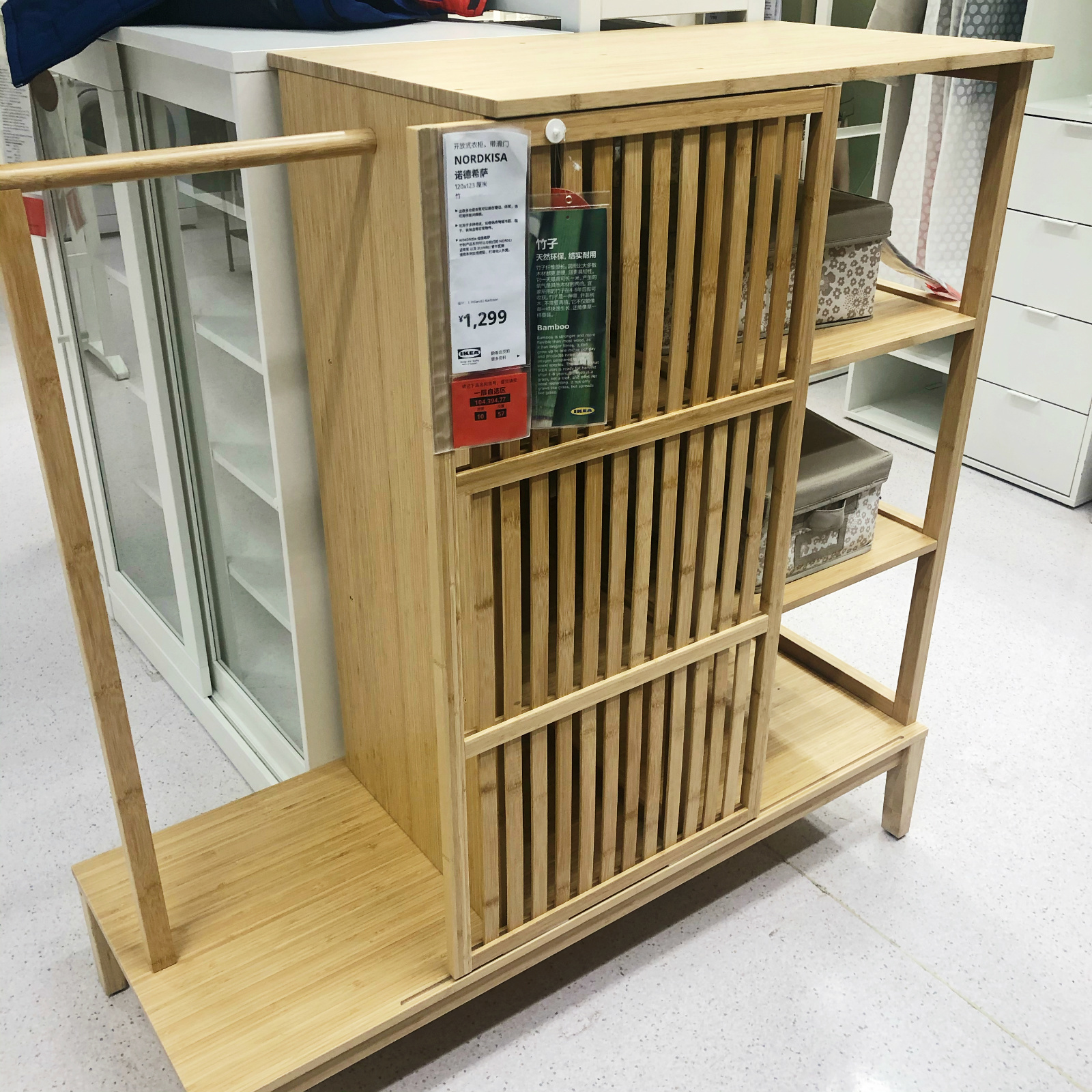 A bamboo wardrobe on sale in Ikea, Beijing. An environmental label is displayed, but the neighbouring wooden wardrobe offers more features and space for the same price. (Image: Wang Chen / China Dialogue).
What's holding back growth?
Most of China's bamboo furniture manufacturers are quite small, with almost 60% of the country's 12,756 bamboo-processing firms having a production value of less than 5 million yuan (US$700,000) a year. Less than 1% are large firms with output of 100 million yuan (US$14 million) or more. Smaller firms are more likely to struggle due to a lack of capital, technology and design expertise.
Li Yanxia, a senior project officer with the International Bamboo and Rattan Organisation, tells China Dialogue that harvesting and making bamboo planks is still labour-intensive. Tree plantations can usually be felled in one go because they are the same age whereas bamboo plantations consist of plants of different ages, which need to be manually selected for felling according to intended use.
Fei Benhua, deputy head of the International Centre for Bamboo and Rattan, has written that processing firms struggle to expand because the sector is composed of small labour-intensive workshops. These businesses lack the capital to invest in technological innovation.
Even after 20 years of development, the supply of bamboo furniture exceeds demand, says Ma Lichao, China director with the Forest Stewardship Council.
Rethinking design for bamboo
Li Yanxia thinks old ideas about bamboo are dampening consumer interest. Bamboo is still associated with crude handmade products found in rural homes whereas wooden furniture is regarded as superior.
However, technological advances over the past decade have increased the availability of high-quality bamboo planks on the Chinese market. Li showed photos from a budget hotel chain that uses bamboo furniture. When the bamboo is cut into strips, glued and compressed, it can be indistinguishable from wood. "But a lot of consumers don't know it exists," says Li .
Shi Dayu, a bamboo furniture designer, thinks it should not be thought of just as a substitute for wood. "Simply replacing wood with bamboo will mean bamboo-specific designs aren't developed." Instead of processing bamboo into boards, like wood, he suggests making long bars or strips that correspond more with the natural characteristics of the plant. He argues that the large-scale manufacture of composite bamboo planks still entails environmental risks even if low-formaldehyde glues are used.
Fan Zhiyu, deputy secretary of the Yong'an Institute of Bamboo Industry, says formaldehyde-free glues can completely replace the usual industrial ones. "It's just a bit more expensive," he says. But he is confident the furniture made in Yong'an is safe: "Even if there are low levels of substances like formaldehyde, chemicals evaporate out from bamboo quicker than from wood, so it will soon disperse."
Environmental concerns
While developing the bamboo sector, China needs to be alert to poor plantation management practices. Research has found that long-term growing of moso bamboo can decrease levels of nutrients in the soil, with an associated fall in fungi populations. Other research has found similar issues with the bamboo found in Zhejiang.
Ma Lichao says that many parts of China have a long history of bamboo cultivation, but only recently has the potential for profit been realised – leading to harmful practices such as excessive use of fertiliser and plantation expansion. "That can have a widespread effect on the state of the soil and impact on microorganisms and organic material."
To encourage better practices, in 2010 the Chinese government worked with the European Commission to run a number of trial projects and then produced a handbook for the sustainable cultivation of moso bamboo, providing an approach for growers to apply.
Zheng Lingfeng, director of the Yong'an Forestry Bureau, explains that Yong'an insists on FSC certification for local firms, and mixed cultivation. The broadleaf trees planted amongst bamboo plants help retain soil fertility and reduce pests and diseases.
Ma agrees that mixed cultivation of bamboo and broadleaf trees is a more sustainable practice as bamboo monoculture is not ecologically stable. "Bamboo is a pioneer species – anywhere it grows naturally, you'll eventually find broadleaf trees following."