The last year of the 2010s was certainly eventful from the perspective of China's Going Global strategy. Beijing held the 2nd Belt and Road Forum in early 2019 as both a celebration and a moment of reckoning, as China's signature global development programme was questioned by some host countries on its financial sustainability and from the international environmental community on its green merits. A correction of course (the publication of a Debt Sustainability Framework and the creation of a green coalition) was presented at the forum as a response to international concerns. But the rest of the year still saw major controversies erupt in different parts of the world. These surrounded, for example, a power plant in Kenya, a resource–infrastructure swap deal in Ghana, and a river dredging project deep in the Amazon forest.
Zhang Jingjing started practicing law in the late 1990s, helping Chinese pollution victims win cases against polluters. She is one of the few Chinese lawyers on the overseas investment scene who stands side by side with affected communities. Based out of the University of Maryland Law School, over the past few years her nascent legal initiative, the Transnational Environmental Accountability Project, has been involved in a number of legal battles centring on China-related overseas projects. In one of those cases, her amicus curiae brief, delivered for the first time by a Chinese environmental lawyer at an Ecuadorian court in Cuenca, played an unprecedented role in bringing about a historic court order to suspend mining activities at a gold mine operated by Chinese mining company Junefield.
I spoke with Zhang Jingjing recently to get her take on the year ahead. Her insights about the evolving legal landscape surrounding a few high-profile Chinese outbound investment cases and the Chinese Supreme Court's new interest in Belt and Road cases are as refreshing as ever.
Tianjie Ma: In the past two years you have been deeply involved in a case in Guinea, West Africa, where a consortium of Singaporean and Chinese companies leading one of the world's largest bauxite mining operations is affecting the livelihood and environment of local communities. Could you share with us the latest developments with this case?
Zhang Jingjing: Chinese businesses have been very active in Guinea's bauxite mining sector. SMB, the consortium that consists of Singapore's Winning Shipping and two Chinese companies [Shandong Weiqiao Group and Yantai Port Group], entered Guinea in 2015 after their bauxite supply chain got cut by an export ban from Indonesia in 2014 due to heavy pollution caused by the business.
Since the operation began, SMB's activities have been shrouded in controversies over impact on the environment and livelihoods in local communities. The mining roads, full of heavy-duty vehicles transporting reddish bauxite ores, create large amounts of dust pollution. Open pit mining disrupts the local hydrology, dwindling precious drinking water resources for villages and polluting water from wells and boreholes that villagers depend on. Mining areas were never, or poorly, rehabilitated with recovered topsoil and vegetation. Those existing problems have barely been resolved yet. SMB, pressured by a major anti-mining riot in 2017, is still updating an Environmental and Social Impact Assessment (ESIA) of their existing mining sites. And despite this ongoing situation, big Chinese investments are pouring into the sector, with Chinalco and Henan International Mining all lining up to enter the scene on bauxite.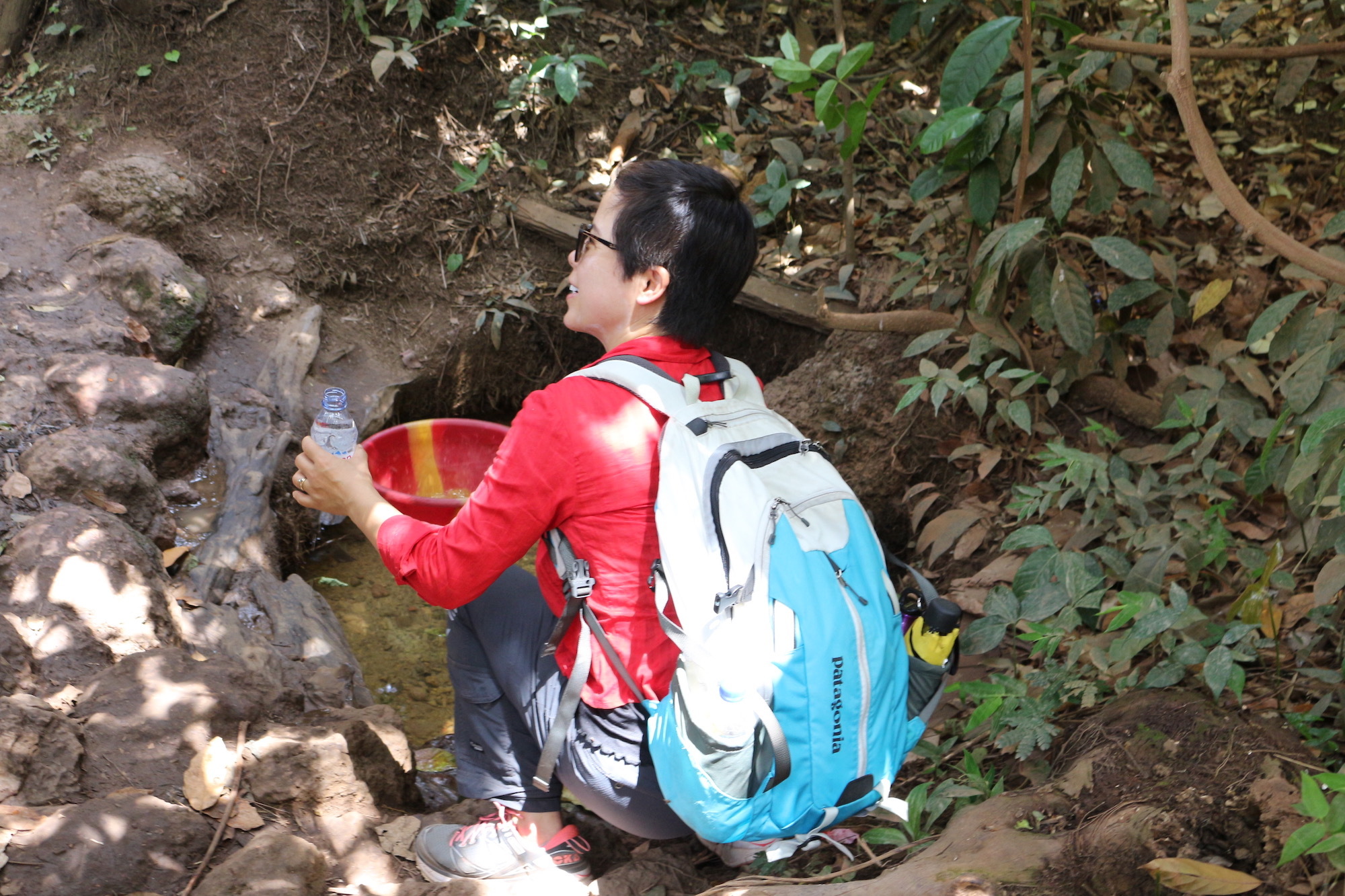 Zhang Jingjing inspecting a borehole in a village affected by bauxite mining in Boke, Guinea. Image provided by Zhang Jingjing
What is on the horizon for SMB and other Chinese bauxite involvements in Guinea in 2020?
SMB is set to expand its operations this year with new mining sites, a planned aluminium refinery, and new railway construction. Land acquisition and other preparations are already underway. ESIAs for the new mining sites and railway construction are already being carried out but so far information about the expansions is scant.
This represents a major upgrade of its operation from a purely extractive nature – mining bauxite and then shipping ores all the way back to China – to a more value-added business of aluminium making. What's important is the possible model for that business. Shandong Weiqiao Group, a member of the SMB consortium, is China's largest aluminium maker and is known for its unique model of captive coal power plus aluminium electrolysis (an extremely power-intensive process). Captive power, self-generated electricity unconnected with the power grid and not subject to grid dispatching, helps keep costs low (a crucial component for the model) but is highly controversial in China for staying outside the environmental regulatory regime on the power sector. Weiqiao Group's captive power plants in China are known for pollution problems. If this model is now exported to Guinea, we can certainly expect much more significant environmental impacts.
Are there efforts to make SMB accountable for its practices in Guinea?
Local communities and civil society groups have been making complaints to the consortium about pollution. Unfortunately, such complaints have now been internalised as a kind of routine for the companies. SMB prepares small compensations to be doled out when complaints are made. It has also initiated Corporate Social Responsibility (CSR) projects that provide small scale livelihood support for affected local communities. But these cannot substitute legal obligations to minimise and mitigate negative impacts.
Guinean civil society is even more concerned after SMB recently won a bid to develop the controversial Samandou iron mine located in a key biodiversity hotspot area, given the consortium's previous environmental record in the bauxite sector.
Guinea adopted a relatively modern Mining Code in 2011, incorporating some of the good practices from regulatory regimes of other African countries. It provides relatively strong protection to affected communities but is poorly implemented in reality. The country also has a basic Environment Act in place. However, Guinean NGOs and communities have never initiated any legal challenges to corporate ESIAs, nor have they had experience bringing environmental lawsuits to the court. With the massive inflow of Chinese investment into bauxite and iron mining, both Guinea's governance capabilities and the capacity of its civil society to safeguard community interests are put to great test.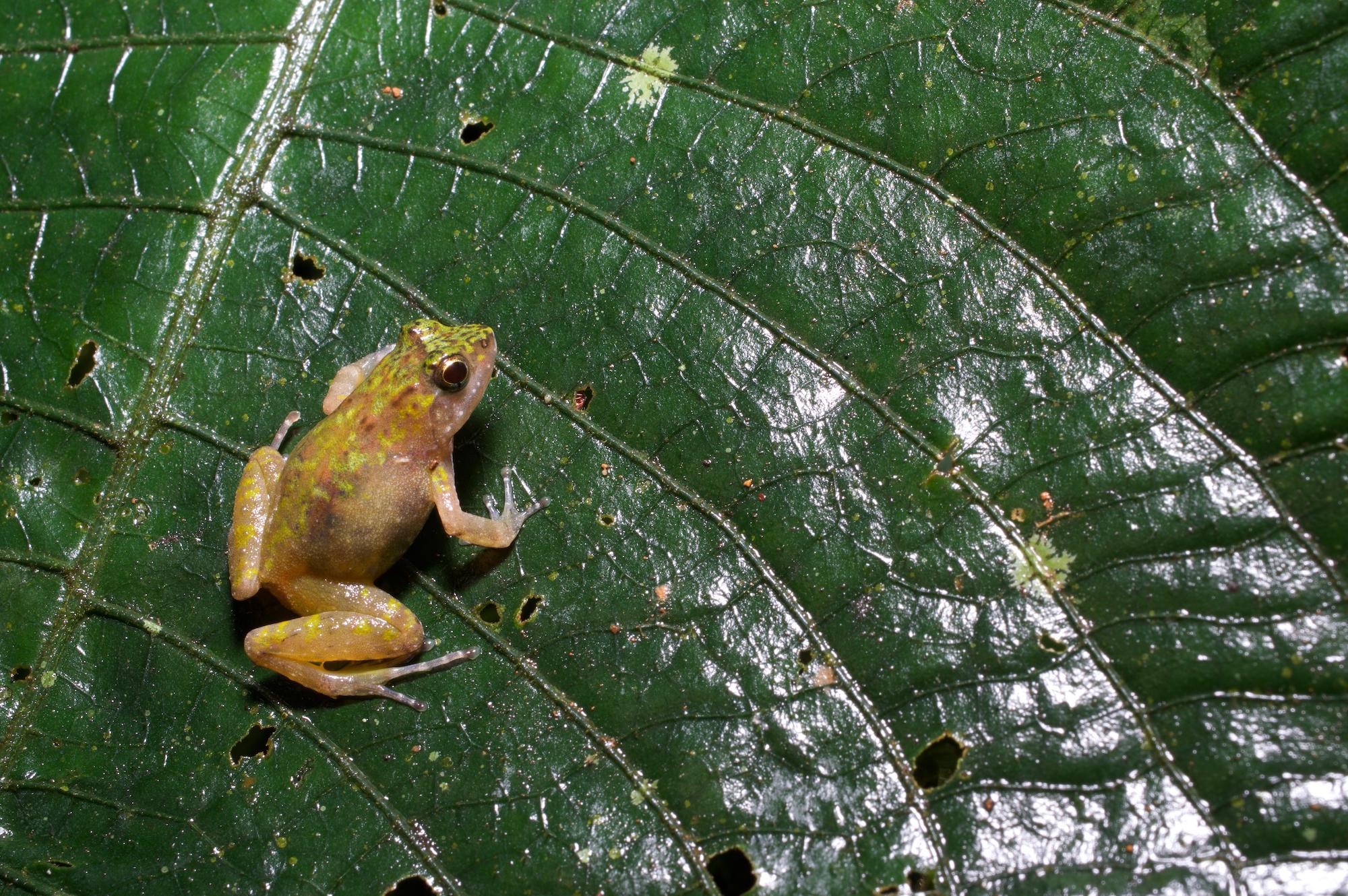 A puddle frog on a large leaf at night in the Atewa Range Forest Reserve, Ghana. (Image: Alamy)
In the past year, another bauxite mining project has garnered much more international attention. In exchange for Chinese supported infrastructure, Ghana plans to open up the precious Atewa forest for bauxite mining, using the ores as repayment for the US$2 billion deal. What is the prospect for this project in 2020?
It is almost certain that the project will encounter fierce opposition for its environmental and social impact. Ghanaian society is still very much traumatised by the havoc wreaked by Chinese small-scale gold miners (galamsey). Today you can still see the scarred landscape left by such illegal activities. Even though the individual Chinese miners were not part of any national strategy, they nevertheless shaped the Ghanaian impression of Chinese investment and would definitely overshadow the massive resource–infrastructure swap deal.
Unlike Guinea, Ghana's governance capabilities are more advanced, and the country has an active civil society, including a great number of environmental lawyers. They are already mobilising to challenge the deal through legal means.
The company behind the Ghana deal, Sinohydro, is also currently at the centre of another major infrastructure project in Peru. The Amazon Waterway project aims to dredge the Amazon river to facilitate transportation and commerce but has met with strong opposition from indigenous groups for its potential impact on fisheries and local culture. How is this case being handled in Peru?
The project's Environmental Impact Assessment (EIA) is being challenged from multiple angles now by indigenous groups, which will likely affect the timetable of this major infrastructure programme that Peru and Brazil have planned for over two decades. Even though reports are saying that approval of the EIA is imminent (as early as April this year), I have learned that local civil society will keep challenging it. Lawsuits might be on their way.
A tidal wave of 'climate litigation' is coming
A few Latin American countries, including Peru, have enshrined indigenous rights in their constitutions, particularly the right to be informed and consulted before projects like this can go ahead [Free, Prior and Informed Consent, FPIC]. It is therefore unsurprising that local groups are now challenging the EIA for lack of prior consultation with indigenous people and have sent the case all the way to the Supreme Court in Lima.
None of the legal actions are directly targeting the Chinese company. Rather, their objective is to revert administrative approvals and decisions made by host country authorities. If those challenges are successful, they will invariably delay the progress of the project and bring losses to the developers. This is a prospect that Chinese investors in the region should be aware of.
You have been following a few other cases in 2019, including legal challenges to coal power projects around the world. What signals have you picked up from them?
A tidal wave of "climate litigation" is coming. Kenya's Lamu power plant case, in which Chinese companies are deeply involved, is but one outstanding example of how a combination of lively civil society and an independent judiciary can become a formidable obstacle for environmentally questionable projects.
Globally, with climate change becoming an increasingly urgent concern, climate litigation is set to become more commonly used by communities and activists to challenge not only coal power but also government policies allowing such projects. In the past year, Indian farmers and fishermen have brought the International Finance Group (IFC) to court in the United States for funding a coal power plant in Gujarat. Bosnia-Herzegovina's China-funded Tuzla 7 coal power plant is also bogged down by legal challenges.
Just a few weeks ago, the Dutch Supreme Court delivered a historic ruling ordering the government to cut greenhouse gas emissions 25% below 1990 levels by the end of 2020, after NGO Urgenda sued the Dutch government. Those developments around the world foreshadow the bumpy legal roads ahead if China continues funding and building coal power plants overseas.
So far, those legal battles have all been fought in host countries. But people often wonder, can China's own legal system be activated to make Chinese investment accountable overseas?
In transboundary cases, it is a commonly accepted principle to give host countries jurisdiction over lawsuits on environmental and social impacts. This is because their judiciary can more easily ascertain facts concerning damages and infringements on their native ground.
China does need to install higher level outbound investment laws and regulations
This doesn't mean China's regulatory regime has no role to play in injecting responsibility into its overseas investments. In fact, a host of policy items have been promulgated to steer outbound investment towards a more sustainable path. The 2017 Guidance on Promoting Green Belt and Road, published jointly by four ministries, calls on Chinese companies to abide by host country laws, global treaties and international high standards. But such policy items are often mere aspirational statements without binding force. The very few binding rules, such as the National Development and Reform Commission's (NDRC) Measures on Outbound Investment, are low-level departmental rules with limited force. So China does need to install higher level outbound investment laws and regulations to introduce accountability to its companies going global.
What is really encouraging is that at the end of 2019, China's Supreme People's Court issued a groundbreaking opinion on how the judiciary system should support the Belt and Road Initiative, stating that China should "proactively contribute its judicial resources to global environmental governance". More specifically, it calls on the Chinese judiciary to strengthen environmental public interest litigation and tort litigation to "stop environmental violation" and "enforce liability for damages".
If these words are meant genuinely, the opinion in effect opens the doors of Chinese courts to environmental public interest litigation and tort cases on damages happening outside China's borders, particularly along the Belt and Road. China's judicial resources, and its experience with trying domestic environmental disputes, are now accessible by communities affected by Chinese investments in countries with underdeveloped environmental governance. This is certainly the best new year present I have received as a Chinese environmental lawyer and an offering that I am keen to activate in the coming year.