There is an encouraging trend in the insurance industry of leading companies shifting away from coal power. Seventeen major insurers have ended or limited insurance services for coal projects and at least 35 insurance companies have divested from coal since 2017, according to the latest report from the Unfriend Coal network, which advocates an active role for financial institutions in the low-carbon transition.
The current trajectory of coal combustion is incompatible with the Paris Agreement, leading UN Secretary General Antonio Guterres to call on the global community to stop building new coal plants by 2020. If we are to avoid climate breakdown then China's support for renewables over coal will be essential because it is one of the world's leading investors, financiers and insurers of energy projects.
However, Sinosure and most of China's commercial insurers have not joined this movement yet. They risk becoming insurers of last resort for an industry that has no future.
Insurers shifting away from coal
As capital providers and risk managers, insurance companies have an eminent interest in avoiding runaway climate change. "A 2C [hotter] world might be insurable, a 4C world certainly would not be," said Henri de Castries, the former CEO of insurance giant AXA, in 2015.
Companies that have taken action to withdraw from coal currently make up 46% of the non-life reinsurance market and include the world's largest insurance and reinsurance companies. They also include many of the global insurers with the experience and resources to assess the long-term risks of new coal projects.
In Europe, all major international insurers other than Lloyd's have ended or limited insuring coal projects. "If we are not leading the charge on climate change, who would?", asked Allianz CEO Oliver Baete, whose company has lost billions of dollars from natural disasters in recent years. Mario Greco, CEO of Zurich has said: "It is simply the right thing to do".
The changes are having important effects on the coal industry. Insurance brokerage Willis Towers Watson has found that "insurers' retreat from underwriting coal business has left coal-fired generators with a significant reduction in available capacity". With less insurance available for coal companies, premiums are increasing. Meanwhile, renewables developers are benefiting from an influx of insurance capital that is lowering premiums.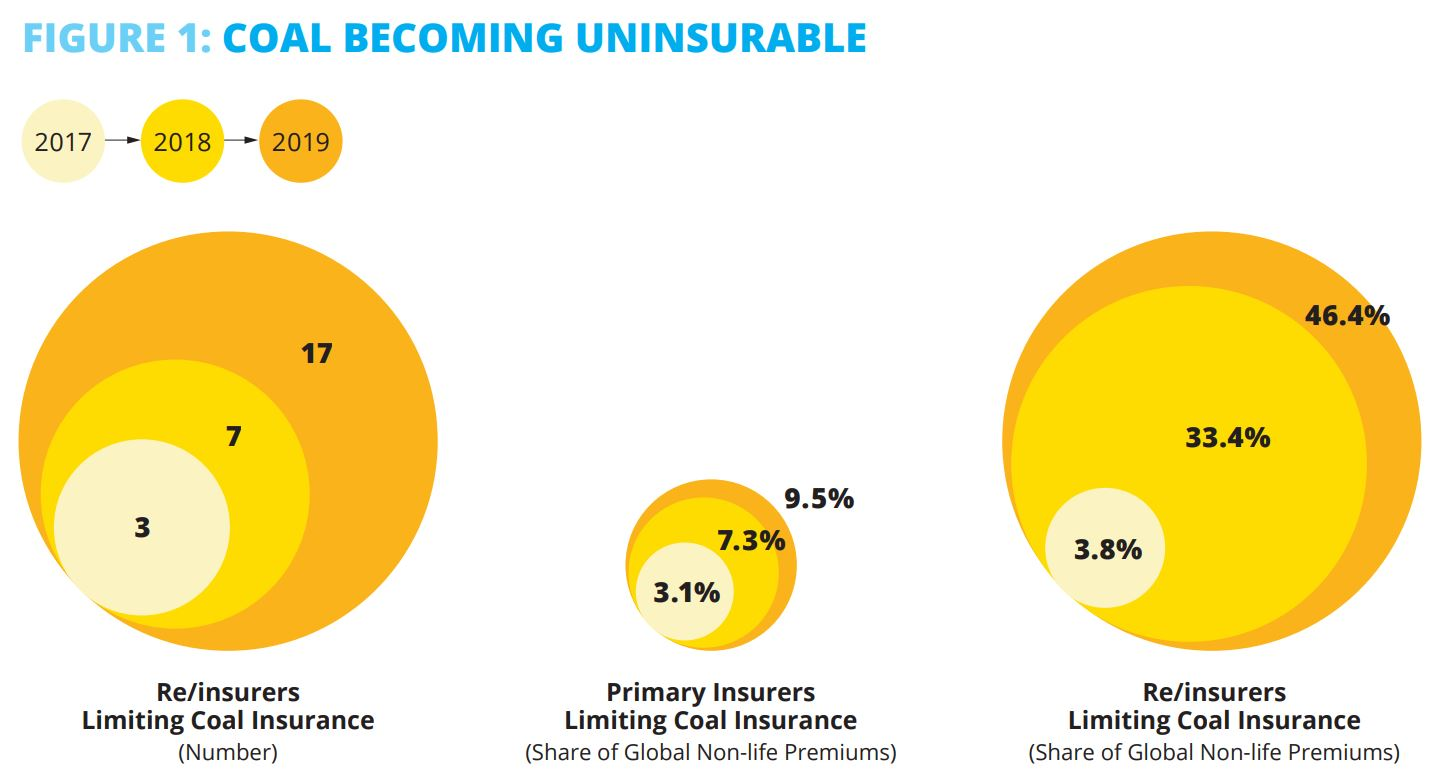 Source: Unfriend Coal, 2019
The role of Asian insurers
About 80% of coal power under construction or in planning is located in Asia. If this is completed, global society has no chance of reaching the goals of the Paris Agreement, to which the region's governments have committed. Insurers from China, Japan, Korea and other Asian countries have a critical role to play in supporting Asia's transition to a low-carbon society.
The Chinese government has made a number of commitments to greening its foreign investments, known collectively as the Belt and Road Initiative (BRI), and its insurance industry. In September 2015, the government stated: "China will strengthen green and low-carbon policies and regulations with a view to strictly controlling public investment flowing into projects with high pollution and carbon emissions both domestically and internationally."
The guidelines for establishing the green financial system, approved by the State Council in 2016, "encourage and support insurance institutions to innovate green insurance products and services". And at this year's Belt and Road Forum in Beijing, President Xi Jinping said the BRI needs to "promote green infrastructure construction, green investment, green finance, and protect the common home for the sake of human survival". However, unlike banks, Chinese insurers do not have to follow green standards.
What do these commitments mean for coal insurance?
China is a leading financier and insurer of both renewable and non-renewable power projects. According to Finaccord, an insurance market research company, the world's top 10 coal insurers include the Chinese carriers PICC, CPIC, Ping An and Alltrust. Among those, Ping An is the only one to have joined the UN Principles for Responsible Investment. Ping An also appears to be the only Chinese insurer so far to issue a coal phase out policy. This defines conditions under which the company "will consider restricting to underwrite" coal projects and will "gradually reduce the coal investment percentage by 30% before 2030".
Coal is a sunset industry becoming riskier to insure
According to analysis by Global Energy Monitor, the new conditions allow Ping An to insure 67% of coal projects currently in the global planning pipeline or under construction, including 81% of the projects in China and 55% in the rest of the world. In practice, Ping An can continue to insure most of the projects that meet the Chinese government's guidelines.
Chinese insurers taking a business-as-usual approach to coal risk undermining the climate action taken by other insurers. For example, PICC expressed an interest in Poland's coal expansion projects after European insurers declined to insure them. The projects contradict the EU's calls for its member states to phase out all carbon emissions by 2050.
Sinosure's critical role
Sinosure is an export credit insurer administered by China's finance ministry rather than a commercial insurer. By covering a broad range of commercial risks, Sinosure still acts as an important risk manager of many coal projects under the Belt and Road Initiative. Sinosure had underwritten 28 gigawatts of coal power capacity worldwide by the end of 2018 – more than the capacity of all but eight countries.
Coal is a sunset industry that is becoming riskier to insure. Most governments now require coal plants to utilise more efficient "ultra-supercritical" technology that is more complex to build, and companies with weak finances often cut corners on safety. Wind and solar are becoming cheaper than coal power in large parts of the world. Moreover, governments facing public pressure to act on climate are less willing to subsidise coal and are being forced to abandon projects due to legal actions.
Chinese and international observers claim that Sinosure does not have adequate systems in place to manage these risks. This may create a situation in which Sinosure is left with a global portfolio of "stranded assets" whilst contributing to unmanageable climate breakdown.
While they consider next steps, Chinese insurers could as a minimum strengthen their risk assessment of coal projects and avoid expanding their presence in the coal sector by filling the gaps left by other insurers.