Ant Forest turns an Alipay user's environmentally friendly actions into "green energy", which they can then use to plant and nurture a virtual tree. When the tree reaches a certain size, Alipay will plant a real one.
In September, Ant Forest won two United Nations awards for scaling up climate action.
"Ant Forest uses technology to link people and the environment, enabling everyone to participate in action to save the planet, and that has a huge impact," said Inger Andersen, executive director of the UN Environment Programme.
The forest that went viral
The mini-app went live in August 2016. Many low-carbon actions can win green energy including: walking (smartphone pedometers corroborate it), riding shared bikes, teleconferencing and declining single-use cutlery when ordering food deliveries – all of which reduce, even if to a small degree, resource use and carbon emissions.
That green energy feeds the virtual trees of Ant Forest. And when a user's tree is big enough, they can opt to have Alipay plant a real tree or adopt a patch of protected land. Different trees – saxauls, lemon trees, Chinese white pines – require different amounts of energy to plant, depending on how hard they are to grow in real life. Users receive a virtual certificate once the tree has been planted. The actual planting and growing of the trees is funded by Ant Forest and carried out by local governments, specialist organisations and local farmers.
It is a social app. Green energy given to a user will disappear if not "collected" within 72 hours. And users can help out friends by collecting their energy before it expires, or by "watering" their saplings. For the users, low-carbon lifestyles become about real trees, rather than abstract concepts, while Alipay gets more user activity.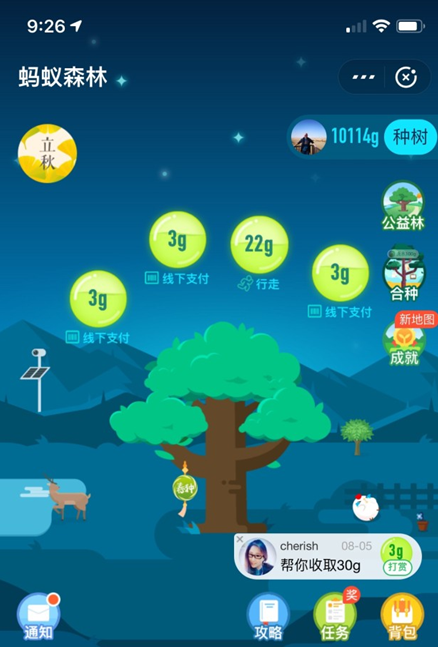 Ant Forest mobile phone screenshot (Image: Alipay weibo)
The app was an instant success: within six months it had over 200 million users, and this April it passed the 500 million mark. More and more services are sharing data with Ant Forest, including mobile phone recyclers, e-conferencing providers, e-reader services and "green" packaging manufacturers.
By August 2019, Ant Forest had planted 122 million trees in places like Gansu province and Inner Mongolia, offsetting 7.9 million tonnes of carbon emissions, according to China's ministry of ecology and environment.
One 25-year-old masters student said she had accumulated 12 certificates since joining Ant Forest in 2017: "I used to go hiking back then, so I got lots of green energy. And I think it's pretty cool to have a tree I planted somewhere in the desert."
From virtual energy to real forests
There is a disconnect between how well many Chinese people understand climate change and how much action they take. In a 2017 study by the China Climate Communication Centre, 90% of respondents said they accepted climate change, but only 27.5% were willing to pay for their emissions. Wang Binbin, who carried out the study, said: "More accessible approaches are needed to guide the public to act – and those actions need to be very easy to take."
Wang Ling, an Ant Forest employee, told China Dialogue that they had never expected to acquire hundreds of millions of users: "Everyone wants to do good, but is limited by their circumstances. Urban white collar workers might care about nature and the environment, but not have time to go tree-planting. Ant Forest allows people to make real change through tiny choices, increasing environmental awareness and improving local environments."
To make the process more tangible, Ant Forest provides satellite photos of its tree plantations, and arranges site visits and spring tree-planting expeditions.
Alipay's huge user base – over 1.2 billion strong – gave Ant Forest a solid foundation and its success has benifted Alipay too. Six months after Ant Forest launched, Alipay's active users per day had jumped 40%.
Deng Guosheng, deputy director of Tsinghua University's Institute for Philanthropy, believes that companies that use corporate social responsibility initiatives to seek customer approval or even extra profits can help achieve environmental aims – a sustainable win-win approach.
Other experts question how long artificially planted forests can survive in deserts without huge amounts on scarce water resources. Others think restoring degraded forests as a far more sustainable strategy. However, the trees planted in China's north-western deserts – such as the saxual (Haloxylon ammodendron) – are very tolerant of dry weather, and innovative techniques are being employed to minimise the need to irrigate them.
How far can Ant Forest reach?
Ant Forest's public participation model is already being tried in other countries.
In July, a version of Ant Forest launched in the Philippines, a country badly hit by deforestation in recent decades. The mobile payments platform GCash plans to plant 365,000 trees within 365 days. According to Wang Ling, GCash Forest already has 1.3 million users and planted its first batch of trees on 12 October.
Deng Guosheng thinks the "tech + environment" model has its limitations. First, Ant Forest users tend to be young. Data released in 2017 showed that 60% were under 28, with less than 20% over 50.
"Young people get more involved with these approaches, they understand how it works. But older folk, or those in rural areas, don't participate so much," he said.
Carbonstop, an emissions management consulting service, pointed out that Ant Forest's way of carbon accounting was lopsided. While low-carbon activities such as cycling are recorded, high-carbon ones such as driving an SUV are not. This leads to a situation where individuals with vastly different carbon footprints are rewarded equally. Serious carbon accounting needs to consider the entirety of a person's emissions footprint, Carbonstop argues.
Deng said the time and money Alipay has invested in Ant Forest is more than most environmental projects could hope for, and so it remains to be seen how easily its success can be replicated. "But its innovation should be recognised," he said. "And I hope everyone will work to find more diverse environmental approaches."