In June 2018, public demonstrations swept through major towns in six provinces, catching the Vietnamese government off guard and pressuring it to postpone a law on Special Economic Zones (SEZs).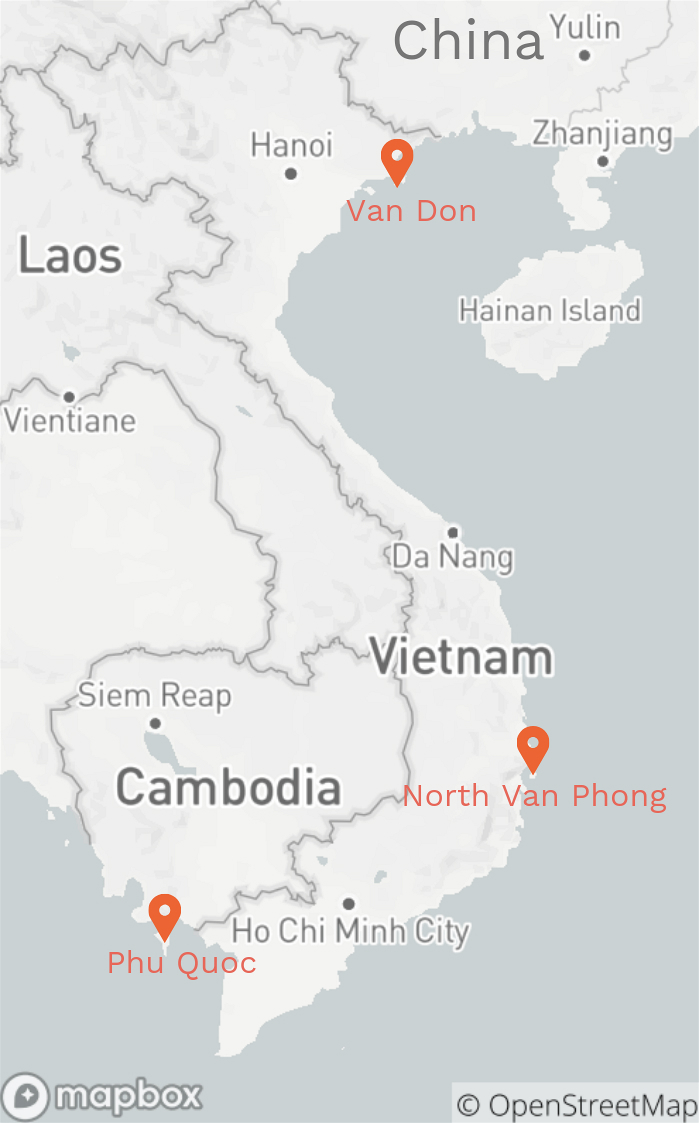 The Vietnamese government argues that if the law is passed by the National Assembly it could spark new investment and economic reform. Nguyen Van Phuc, former head of the National Assembly's Economic Committee, told the business community last May: "Investors highly appreciate this law as it mirrors Vietnam's radical change in the mindset of investment attraction."
But the Vietnamese public fears that Chinese companies would be the main beneficiary of the new set of investor incentives, including for the first time the offer of 99-year leases.
The law aims to establish three SEZs ­– also the first of their kind in Vietnam – including the strategic locations Van Don, North Van Phong and Phu Quoc. Several Vietnamese intellectuals have warned that these locations could pose national security threats to the nation if they fall into the wrong hands.
China is Vietnam's top trading partner although it represents only 5.8% of total foreign investment, ranking seventh and far behind Korea and Japan.
Gambling on SEZs
The Vietnamese government sees new SEZs as an important driver of economic growth and development, despite questionable results from existing ones.
Government advisor Võ Trí Thành a senior economist at the Central Institute for Economic Management (CIEM) said: "The purpose of developing SEZs is to create a leading edge for the country's growth in the face of a scarcity of resources, and political and social complexities."
Vietnam has already established 18 coastal SEZs with up to 325 state-supported industrial parks throughout the country. However the majority of the agricultural land taken for this industrialisation remains unused.
Vietnamese academic Nguyen Minh Quang at Can Tho University, and co-founder of the Mekong Environment Forum, has noted that the majority of these projects are riddled with poor performance and mismanagement, accompanied by severe environmental degradation and land waste.
The Ministry of Finance estimates Vietnam will need US$70 billion to develop the three new SEZs. In the case of of Phu Quoc Island, foreign investors would be expected to furnish 41% of the capital, with Vietnam providing the rest.

Huynh The Du, an expert on public policy from the Fulbright Economics Teaching Program (FETP), has highlighted the cost burden on the national economy. Speaking to Vietnamese daily Tuoi Tre Du he commented: "It is necessary to examine whether the benefits brought by the SEZs are higher than the costs."
By current estimates, Vietnam would be lucky to raise $10 billion in income.
In his article published in Vietnam News, government advisor Vo Tri Thanh seemed to accept the high-risk factor with his exhortation that "Vietnam must dare to play and bet on the success of SEZs".
In spite of the unimpressive track record of such projects, government ministers have talked up the projects as "mini-Singapore hubs based on green, high-tech, and knowledge-based" businesses and industries.
However, leading economist Vũ Quang Việt, a former UN staff economist and former advisor to reformist prime minister Vo Van Kiet is not convinced. He warns that the "special zones would hardly attract any form of clean hi-tech industries…for the draft law mainly focuses on property and casino markets".
Writing in the Straits Times, Võ Trí Thành, senior economic advisor at CIEM, concedes that "the lack of transparency and preventive measures in dealing with troubles prior to the project implementation has caused some social disorder, such as land fever in the areas of special economic zones".
It is unclear how the government will implement its policy statements about stopping land-grabbing from poor farmers and real estate speculation.
Pollution scandals
The backlash against proposed SEZs may also reflect legitimate concerns about the environmental record of Chinese investment in Vietnam.
In 2009, the first major protest was against a Chinese corporation (a subsidiary of Chinalco) exploiting a bauxite mine in the Central Highlands of Vietnam. Bauxite extraction through open-cast mines produces a toxic red sludge that can cause serious pollution if it washes into streams and rivers.
Ho Chi Minh's right-hand man and war hero General Vo Nguyen Giap endorsed the protests and called on the prime minister to cancel the Chinese deal.
A Chinese-owned electric generator factory was at the centre of a demonstration in Phan Ri Cura, Bình Thuận province last May. According to local people the company had stripped local hills of all vegetation and left scores of children with dangerously high levels of lead in their blood.
Put on hold
The plethora of complaints and problems generated by Vietnam's SEZ experience cannot easily be fixed. Many Vietnamese economists argue the country needs to attract more responsible hi-tech investment, rather than casinos and resorts particularly favoured by Chinese investors.
But this did not deter Vietnam's prime minister Nguyen Xuan Phuc from appealing for more Chinese investment at the International Import Expo of China (CIIE 2018) in Shanghai.
In fact, Vietnam is most likely to gain more Chinese investment as a by-product of the US-China trade war. Dr Paul Chamber, a lecturer at the College of ASEAN Community Studies, Naresuan University, told chinadialogue: "China increasingly needs Vietnam in order to avoid US sanctions and is eager to take advantage of Vietnam's lower wages in the manufacturing sector and its most-favoured-nation trading status."
If the government is to retain political legitimacy in the face of public anxiety and fear over rapidly increasing Chinese investment, they have to develop a new paradigm for dealing with an old headache – the longstanding dilemma of balancing antagonism over unresolved water conflicts with the necessity of peaceful cooperation and coexistence with the regional superpower sitting on their norther border.
The Vietnamese public are also deeply worried that with Chinese capital and investment fast expanding in the region, China's soft power can also imperil their hard-won struggle for independence.
The approval and ratification of the SEZ law had been delayed until May 2019 but now appears more likely to be put on the back-burner. Pham Chi Lan, an economic advisor to several former prime ministers, commented: "I don't think the government will bring it back to the National Assembly this year, it is just too controversial."