More than 500 vessels carrying Chinese flags could soon dock west of Uruguay's capital Montevideo after Shandong BaoMa Fisheries Group was given the go-ahead to construct a duty-free zone comprising a port, shipyard and factory to process and freeze fish.
The US$200 million project is to be installed on a 28-hectare plot in Punta Yeguas, a mostly rural area with a public park, angering local residents. Conservationists say the port threatens the South Atlantic marine ecosystem, which is already plagued by excessive and illegal fishing, because it will enable vessels to prolong expeditions.
Port plans seen by Diálogo Chino show an 800-metre dock berthing ships carrying up to 50,000 tonnes of cargo. As a free-trade zone, the area would permit vessels to operate outside the Uruguayan government's control.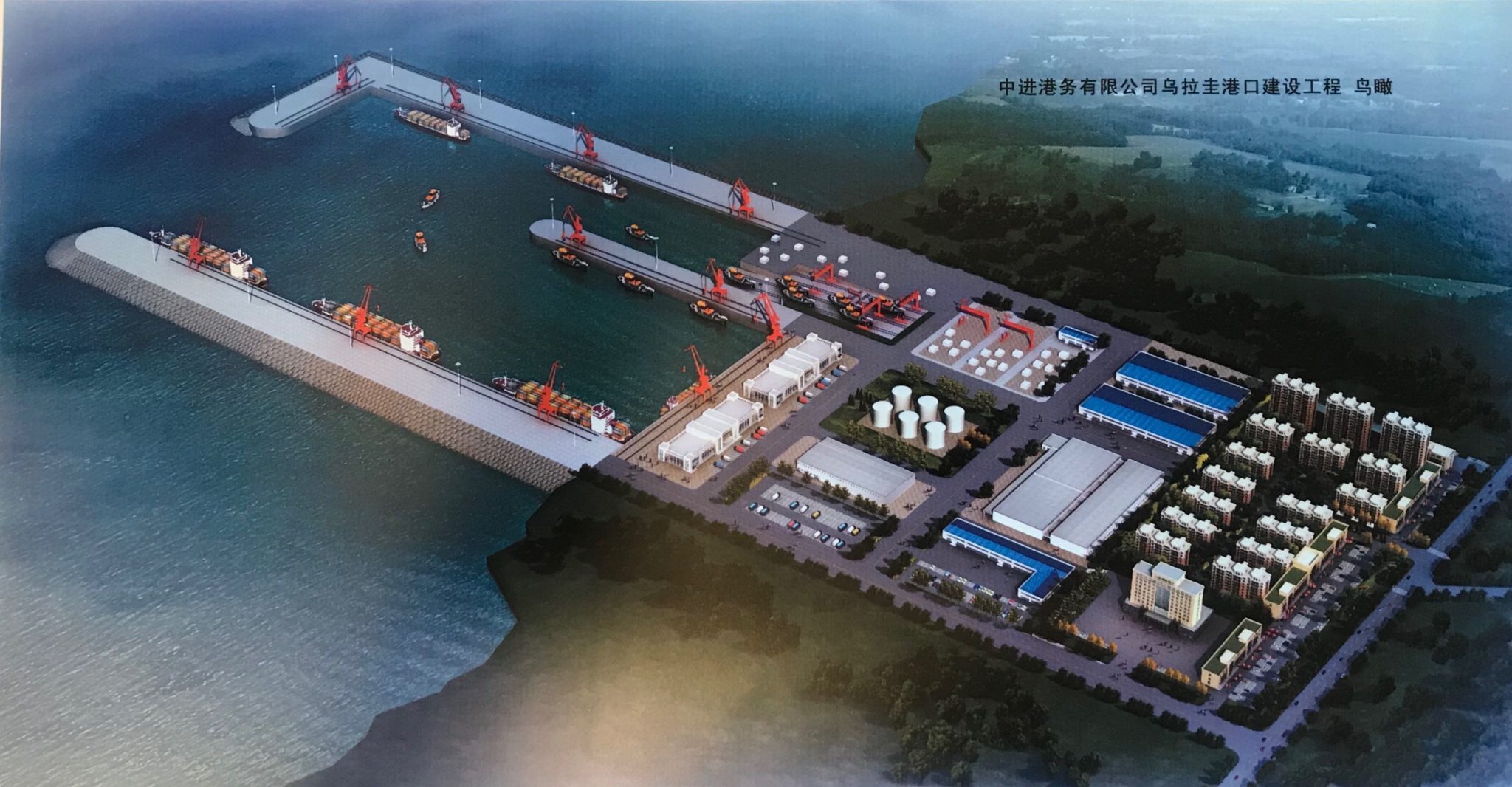 Plans for the port show a 500-metre dock, shipyard and factory (Image: Fermín Koop)
"Chinese boats are those that benefit most from undeclared fishing in the South Atlantic," said Rodrigo García, founder of NGO Oceanosanos (Healthyoceans). "We ask ourselves what guarantees this project gives us. It is one of the places with the greatest biodiversity on the planet and it could be affected."
International fishing fleets, many illegal and unregistered, regularly fish off the coasts of Uruguay and Argentina in search of large squid populations. The cephalopod is a key link in the food chain.
Other fish, dolphins and albatrosses are frequent by-catch and their marine environment is impacted by the pollutants fishing boats discharge.
Risky place
Montevideo is the second most visited port in the world by vessels fishing illegally, according to reports from Oceanosanos and fellow NGO Oceana. It is also a high-risk location for fishermen themselves. Uruguay's National Ports Administration (ANP) has recorded an average of one crew death per month on illegal boats since 2013.
"We respect fishing, it provides work for many people. Any ship can enter Montevideo's port, except criminal ones," said Juan José Domínguez, vice president of the ANP. He added: "You would need global policing to control what could be going on with fishing. We are only spectators."
Jian Hongjun, president of Shandong BaoMa, presented the port project in Montevideo in December along with Uruguayan partner CSI Ingenieros. Yet in order for it to advance they must first change the area's registered land use from "rural" to a port.
Shandong BaoMa has around 4,000 employees and specialises in fishing, fishmeal processing and port terminal management. They have also ventured into building infrastructure for mining operations.
Diálogo Chino contacted both Shandong BaoMa and CSI Ingenieros but did not receive a response.
"It is a coastal area that is not productive. The closest thing you have is an irregular settlement of people and small farms," Gabriel Otero, mayor of Montevideo's Municipality A, where the project will be situated, said of the site.
"The project will generate 300 construction jobs and will further develop the area," he added.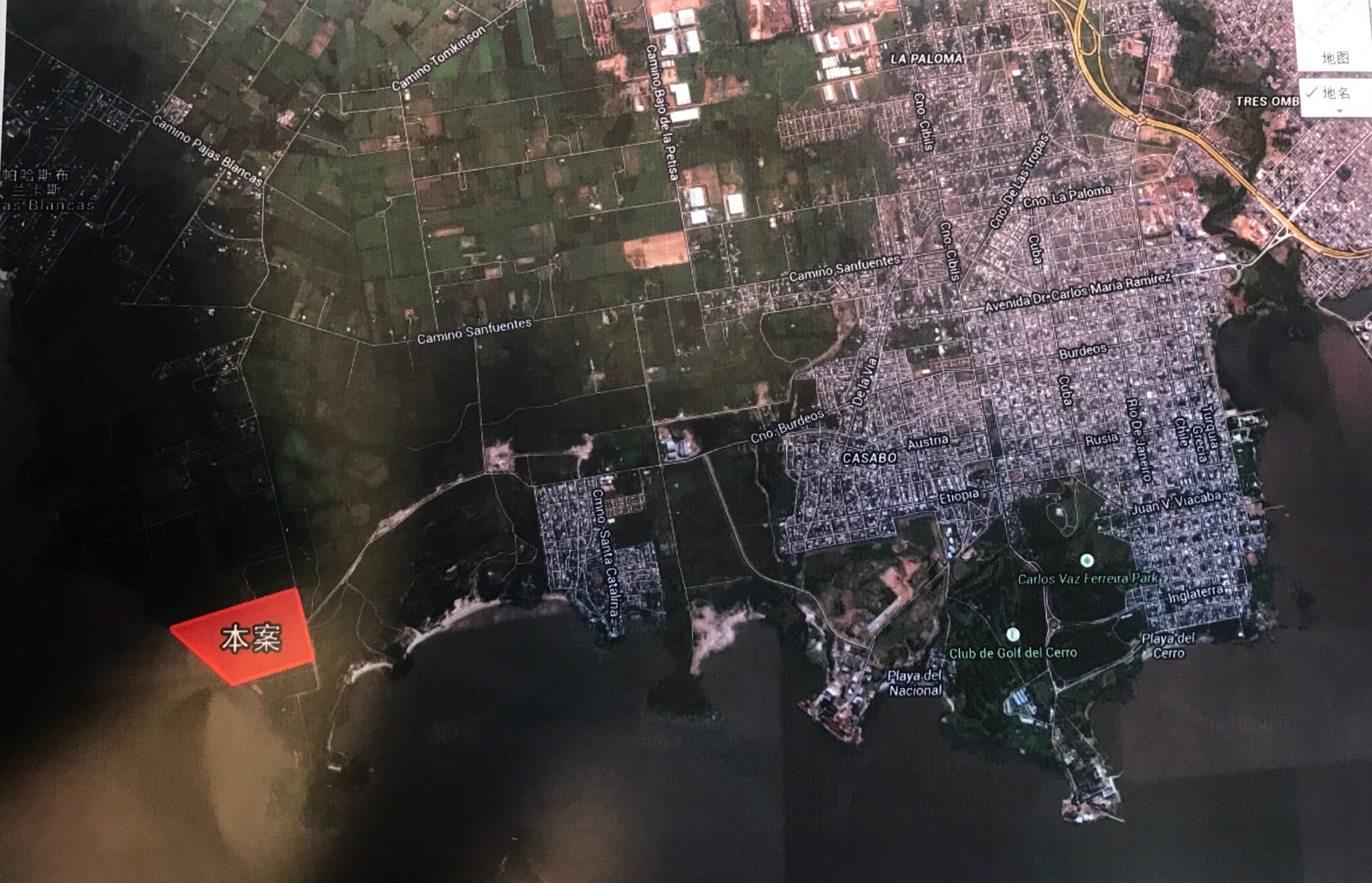 Plans show the port's location, marked 'project' in Chinese (Image: Fermín Koop)
The port will sit aside the Santa Catalina and Pajas Blancas neighbourhoods and the 113-hectare Punta Yeguas park, which the local municipality recovered for public and recreational use in 2006. It contains some of the most beautiful beaches in the city.
Opposition swells
Local residents have begun organising in opposition to the project with the hope of stalling it. They have requested meetings with various government bodies to get more information and have stressed the social and environmental impacts the port would have.
"We heard about all this through a news article, all done behind our backs," said local resident Nieves Cancela.
"That's why we started to get together. They are deciding on common goods that belong to all of us and they are selling them for hardly any money to curry favour."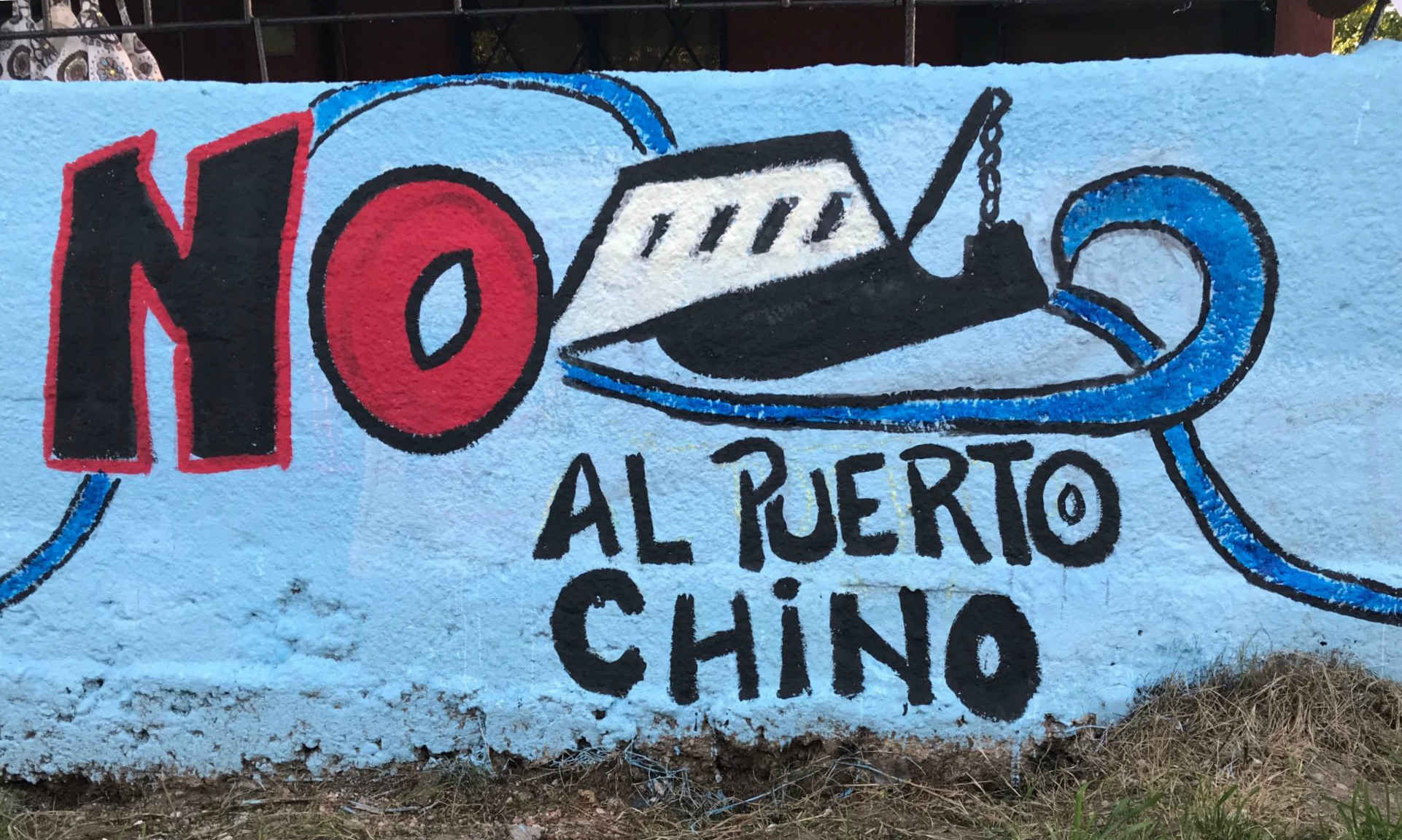 Residents are organising in opposition to the port (Image: Florencia Lay)
José Martínez, a resident and port worker, said: "I have lived in the area for 40 years and I have a sense of belonging and respect for the place. The social and environmental damage of projects of this type is never taken into account."
Artisanal fishermen are also concerned. Luis Soria, a local resident and fisherman, said his work has already been affected in recent years by illegal fishing and overfishing. He claimed the port will have further negative impacts.
"We will not be able to fish any more in the area. It will restrict sailing and we will not be able to get close. It's a loss for us," he said.
Close relations
Shandong BaoMa's decision to invest in Montevideo demonstrates the increasing diplomatic proximity between Uruguay and China. Since his inauguration in 2015, Uruguayan President Tabaré Vázquez has sought closer relations and hopes to sign a free trade agreement.
In 2016, Vázquez and Chinese counterpart Xi Jinping signed a "strategic partnership" agreement. In 2018, Uruguay became the first country in South American regional bloc Mercosur to ink an agreement under the banner of China's Belt and Road Initiative (BRI), a major global connectivity plan. The accord could open the door for more investment in Uruguay.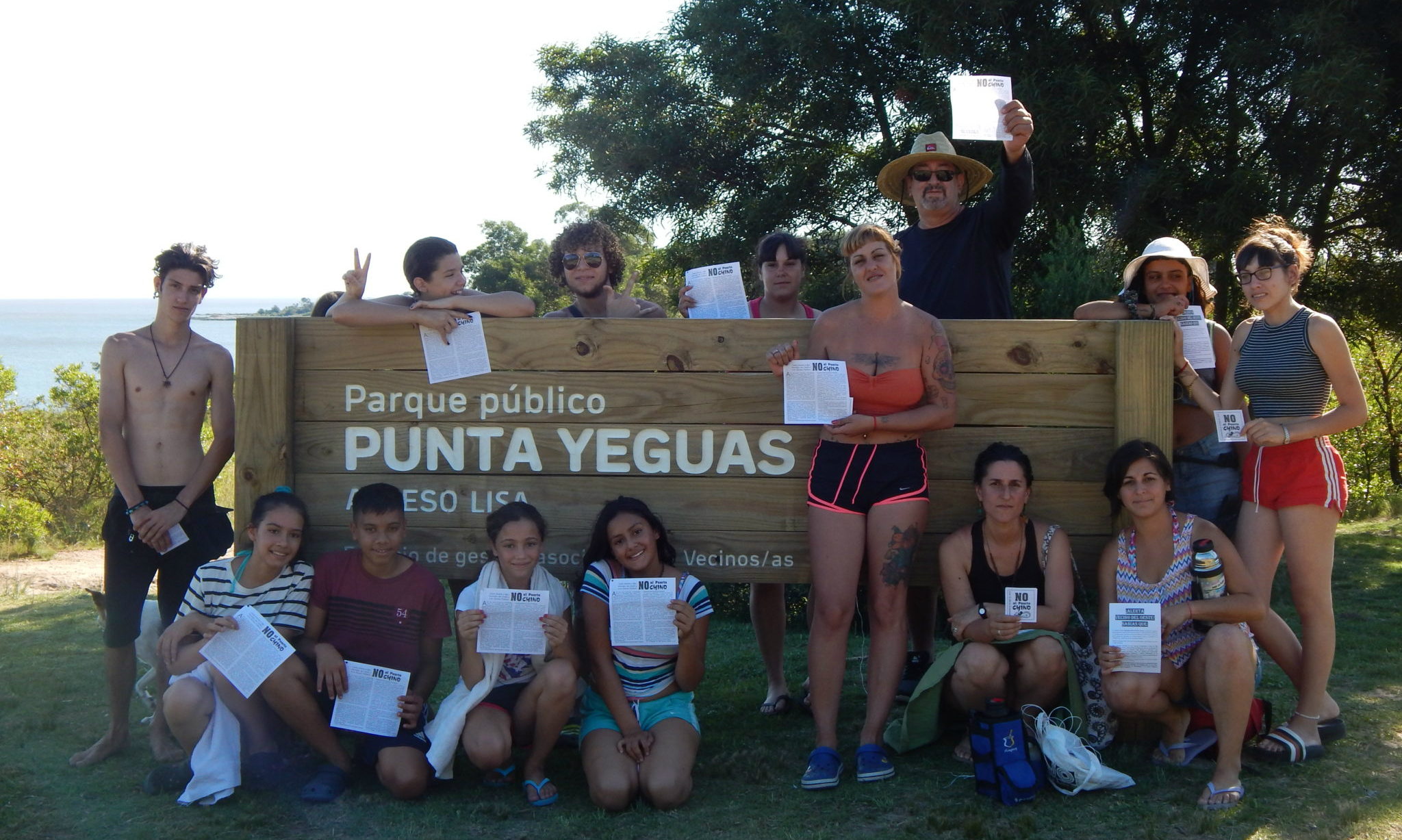 Residents are campaigning against the port (Image: Florencia Lay)
"I have asked the Chinese ambassadors many times why they value Uruguay," said Gabriel Rozman, president of the Uruguayan-Chinese Chamber of Commerce. "They already do a lot of business with Brazil and Argentina but they need a safe place where the legal part is very clear and that's what you have in Uruguay."
China was Uruguay's main export destination last year, with sales exceeding US$2 billion (including from free trade zones). On average, exports to the Chinese market increased 12% year-on-year between 2012 and 2017.
Uruguayan exports consist mainly of products such as soy, wood, premium meat, wool, fish and milk. China sends Uruguay industrial goods such as motor vehicles, chemical products and plastics.
Uruguay XXI, the country's investment and export promotion agency, offers tax incentives for investors in Uruguay such as Shandong BaoMa. Uruguay did not respond to a request for comment from Diálogo Chino.
"We have the possibility of a deep-water port on the Atlantic, something that Argentina and Brazil cannot have. Brazil's ports have capacity problems and Argentina's cannot take in large ships. Montevideo has a lot of potential," Rozman said.
This article was first published on Diálogo Chino