After three years of struggle, Josué Ribeiro is finally hopeful again.
He used to have a construction job on the Comperj project, the site of an oil refinery in Itaboraí, Rio de Janeiro. But in 2015, as Brazilian prosecutors untangled a massive corruption scandal involving Petrobras, the state-owned company behind the project, construction ground to a halt. Thousands were fired, including Josué.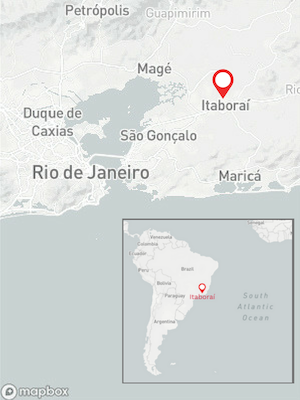 But in March last year things started to look up. Petrobras hired a consortium led by Chinese company Kerui Petroleum to build a natural gas processing unit at the site. Slowly, workers returned. Then, in October, Petrobras signed a contract with China National Petroleum Corporation (CNPC) to resume construction of the refinery. Under the deal, CNPC would control 20% of the new facility.
Though many celebrate the revival of economic activity after years of crisis, not all share the enthusiasm. Environmentalists are concerned about the pollution of air and waterways in Guanabara bay, an area where contamination threatens the extinction of dolphins, a symbol on Rio's state flag. The refinery also raises questions about the long-term benefits to a region already highly dependent on oil.
According to some estimates, Comperj will create between 8,000 to 10,000 jobs. Around 800 are already working. Josué hopes he will soon be one of them.
"This year, I'm confident I'll get back in there," Ribeiro said. "I think them [the Chinese] coming here will work out really well. I even think 20% is too little for them. Because Brazilians… Unfortunately, there is a lot of corruption."
A symbol of the downfall
Petrobras started building Comperj in 2008, bringing hope of development and employment to the region. Over 30,000 were employed at Comperj at the peak of construction. Back then, the government promised the project would bring over 200,000 direct and indirect jobs by its completion.
"I had a stable life," Ribeiro remembers. "I got married, I built my house, I bought a car."
The city's explosive upward trajectory paralleled Brazil's. The economy grew by over 5% that year.
Then, in 2014, came Operation Carwash, a widespread corruption investigation that indicted over 100 top politicians and business executives. Petrobras was at its centre. By its own calculations, the company had paid at least US$3 billion in bribes.
The investigation jailed many powerful men, including former president Luiz Inácio Lula da Silva, who was arrested last April under charges he still fiercely contests. Projects suspected of harbouring corrupt activities halted. One study estimates the investigation's impact on Brazil's GDP to be around US$35 billion.
Itaboraí was among the cities hit hardest by Operation Carwash.
"In a period of two months or so we lost 15,000 jobs in Comperj alone," says Paulo César Quintanilha, president of a local union for Comperj workers.
The union estimates there are 17,000 people without jobs in Itaboraí today. According to a report by news website G1, 700 shops have closed, real estate prices fell 45% and levels of violence have shot up.
"Itaboraí became a ghost town," says Quintanilha.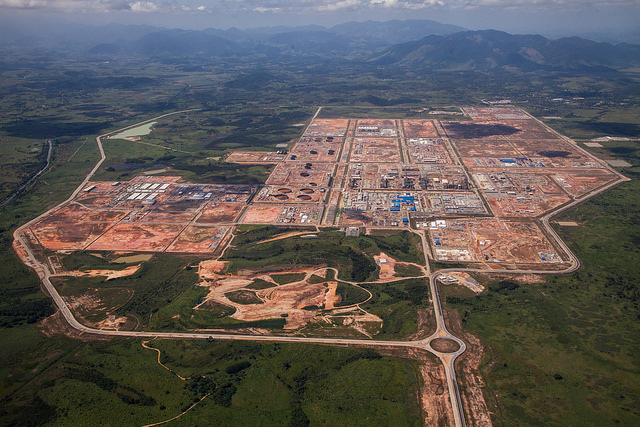 Construction is restarting at Comperj, which used to employ thousands. (Image: Ministerio de Planificación)
Now, Quintanilha is only cautiously hopeful. Hiring has restarted slowly, mainly in Kerui Petroleum's consortium with Método Engenharia, a Brazilian engineering company. The company now employs 500 people but says it should hire 2,000 more by the second half of 2019.
Every morning, hundreds of men and women like Josué wait for good news outside the local unit of the National Jobs System.
A few streets up, at the entrance of Kerui's building, young men come and go with paperwork in hand. They are being hired. None wanted to talk to Diálogo Chino. They fear losing their cherished jobs. "I don't know how the company will feel about me giving interviews," one said, as he left for a medical exam.
Strengthening bonds
Chinese investors have shown interest in a number of projects like Comperj that stalled because of Operation Carwash.
For Charles Tang, president of the Brazil-China Chamber of Commerce, the new investments show just how much China is willing to back Brazil. In the first quarter of 2018, Chinese investment in the country more than quadrupled compared to the same period of 2017, reaching US$1.3 billion.
"There are so many big projects halted, basically getting rusty," he said. "Then comes China once more willing to believe in Brazil and invest. That's the story of Comperj."
CNPC's investment in Petrobras isn't its first. The two companies are already partners in the massive Libras oil field, located in ultra-deep waters off the Brazilian coast. However, Comperj would be China's first refinery in the Americas.
"This is a sector that receives very little attention and this movement shows it could attract new companies," says Edmar de Almeida, an economics professor at the Federal University of Rio de Janeiro who studies the energy sector. "We need more investment in refineries."
Almeida says most foreign companies invest in oil exploration and extraction in Brazil, not refining. Refineries are a riskier because they rely on internal factors such as uncertain market demand for fuel and prices, which are often regulated by the government. But Brazil needs them. Though the country is self-sufficient in oil, it still imports diesel and gasoline.
The bet on Comperj will buy CNPC a lot of credit with Petrobras, according to Almeida. The partnership could be good for China to keep exploring oil reserves in Brazil, where, he says, conditions are better than in countries in the Middle East, where politics can be even more volatile, and the US, where competition is too fierce.
Big environmental costs
While many celebrate the return of jobs to Comperj, environmentalists are worried. Comperj's location aside Rio de Janeiro's Guanabara Bay makes it especially risky.
For decades, the bay has suffered from contamination by another refinery, the Duque de Caxias Refinery, or Reduc. In 2010, the head of a local environmental agency told the press he had identified Reduc as the biggest polluting agent in the state of Rio de Janeiro. Heavy shipping traffic and nearby towns' informal sewage systems also plague the bay's environment.
Comperj sits on a relatively clean spot and the management of environmental risks will be closely watched.
Researchers nicknamed the nearby Environmental Protection Area of Guapimirim "Noah's Arc" since it safeguards many species facing ecological oblivion.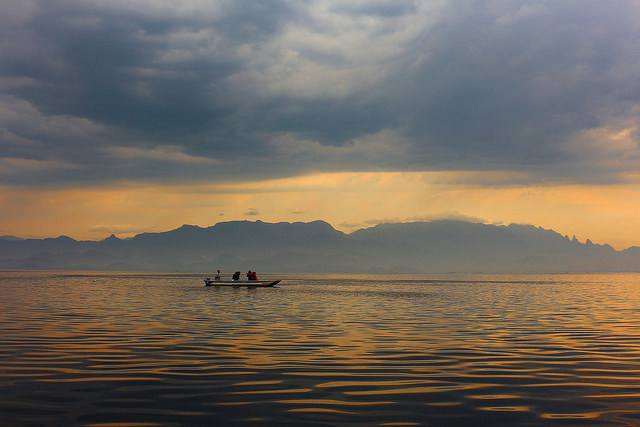 The Environmental Protection Area of Guapimirim, in the Guanabara Bay. (Image: Filipo Tardim)
"If one day, we can reduce the sewage spillage and industrial residues in the bay, it's expected that it will recover," says Breno Herrera, a former head of the Guapirim protection area who wrote his doctoral thesis about Comperj. He says Guapimirim could provide a vital arena for the regeneration of species including the endangered Guiana dolphin, whose numbers have depleted as a result of pollution.
Herrera says Petrobras failed to recover native vegetation in the region that would mitigate Comperj's impact. Petrobras denies this. He hopes CNPC will be more responsive to pressure from environmental campaigners.
Herrera admits the region needs jobs. However, aside from construction work, he says there are opportunities for the town in replanting trees and cleaning rivers.
Furthermore, in many countries around the world, job creation linked to renewable energy projects is growing faster than in traditional fossil fuels. In the US, the solar workforce increased by 25% in 2016, while employment in wind power increased by 32%, according to the US energy ministry.
China is the main motor behind this growth, building and financing renewable energy technology across the world – including in Brazil, where Chinese companies own hydropower plants and are increasing their stake in the wind and solar sectors.
According to a 2018 report by the International Renewable Energy Agency, Brazil is one of the six countries that benefits most from the transition to renewable energy, with 893,000 jobs created. Brazil is the leading employer in the biofuels industry.
Right now, however, economist Almeida says Itaboraí needs Comperj to lift it out of an urgent economic and social crisis.
"Ideally we would have high-tech companies, and everyone would be working in air-conditioned rooms, filing patents and winning Nobel prizes," he said. "But this is what we have."
This article was originally published in Diálogo Chino.