Cage nets for commercial fish farming are now a common sight along the rivers of north-eastern Thailand's Isan region, especially the Phong, Chi and Man. The most widely farmed species is Nile tilapia, with production more than doubling from 83,780 tonnes in 2002 to 185,902 tonnes in 2017.
This expansion has been driven by government loan incentives provided by the Bank of Agriculture and Agricultural Cooperatives to smallholders who hold contracts with agribusiness groups. Those working for the big conglomerates were considered lower risk, and so more able to access finance and new technologies.
But environmentalists and farmers have warned that the dependence on fish farming and the unequal relationship with agribusiness is damaging their interests and the food on which everyone depends.
Drought-prone climate
Neither Thailand's Isan plateau region nor Nile tilapia are well suited to intensive fish farming, according to Witoon Lianchamroon, director of NGO BioThai. "Tilapia does not get along with the ecosystem of the region, which often faces prolonged drought and a lack of fresh water."
Witoon, who has worked for sustainable agriculture in the region for decades, says the people of Isan traditionally raised a variety of fish in ditches and paddy fields, letting them feed naturally on water plants and plankton. The fish provided farming families with a source of protein and either their main income or an extra one after the annual rice harvest.
Intensive fish farming… will destroy the diversity of people's most accessible source of protein."
Most Thai fish farms are small: there were around 200,000 in 2017, of which about three-quarters are in the northern provinces, according to the fisheries department.
Local media expect to run stories on pollution and fish die-offs every year, says Sumalee Suwanakorn, a local journalist. "Tilapia is very sensitive and can easily be shocked and die if the water level or temperature changes," she says. "They regularly have serious problems in every drought and rainy season when river water levels are too high or too low."
She adds: "The situation is worst in the dry season. Authorities try to control it with restrictions or bans on farming during that period in certain areas."
Unequal relationship
Yutharin Vijitranon, 66, a villager from Ban Dong Phong in Khon Kaen province, says he has seen many of his neighbours fail at farming Nile tilapia over the years.
He blames "slave" contracts with big companies that reduce farmers to "labour following orders; not allowed to make any decisions like how to raise the fish, or when to sell."
Vijitranon decided to farm co-operatively with neighbours. They raise other fish species and mostly sell to the local market. "We are lucky to have survived until today," he says.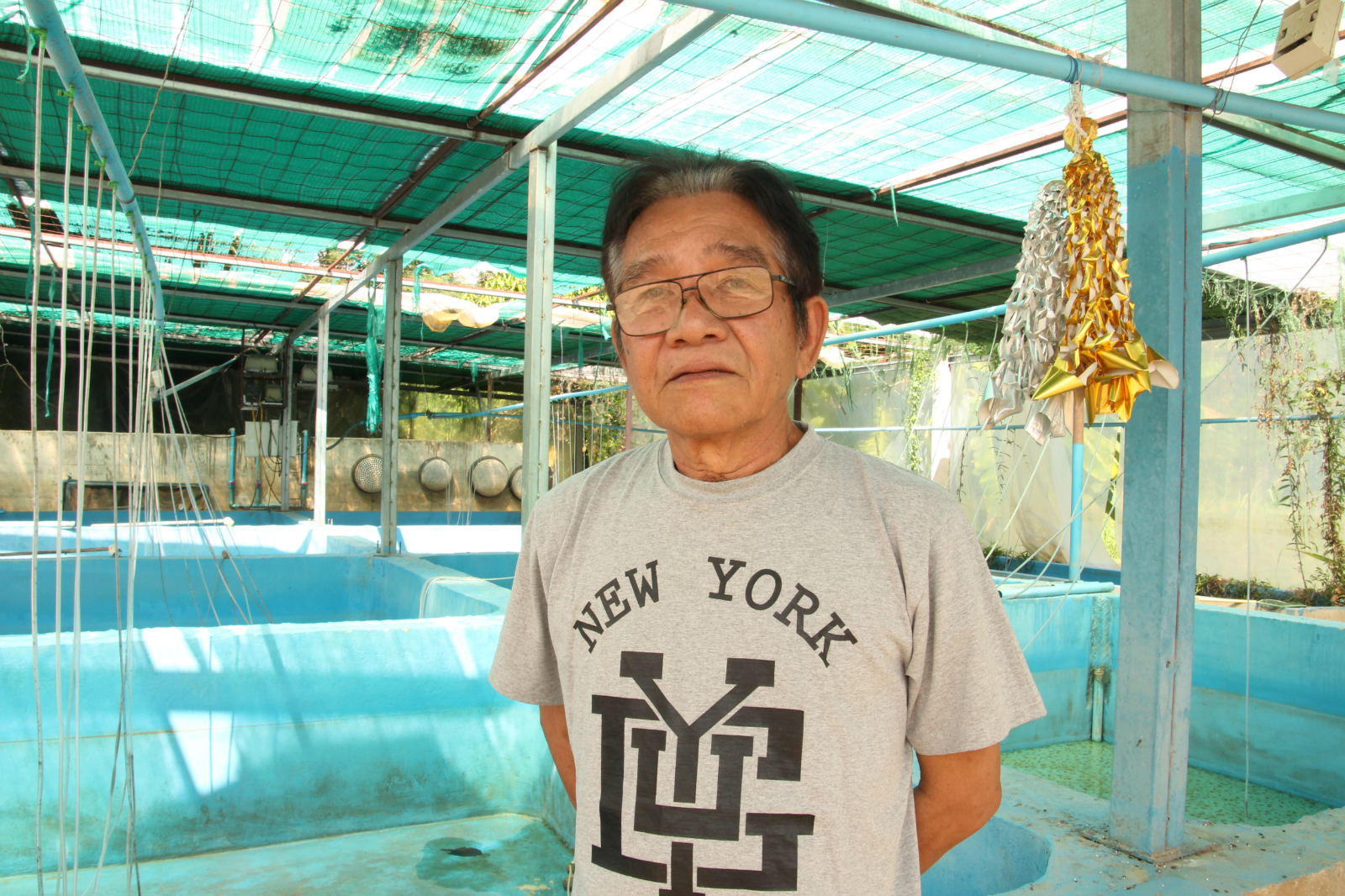 Yutharin Vijitranon, 66, a fish farmer in the village of Ban Dong Phong, Mueang Khon Kaen district. (Image: Phornpan Seekapa)
Witoon argues that incentivising a fish farming monoculture in cages and ponds is making farming less sustainable because farmers must depend on agribusiness for feed supplies.
Research on subcontractor fish farming by Chainarong Sretthachua of Mahasarakham University supports the claim that producers are dependent on the company for inputs, technology and marketing.
Worse, they have to work full-time for the company yet their labour cost is not counted as an operating cost.
Agribusiness firms involved in freshwater fish aquaculture promote the industry by telling farmers they can make 4,000 to 5,000 Thai baht (US$120-150) in three months. This seldom happens though because farmers must bear the risks of production without deciding when to sell the fish or at what price, Chainarong says.
He adds that companies often delay purchasing the harvest from contract growers, resulting in higher costs as they must buy more fish feed from the company. This accounts for more than 50% of small producers' costs, according to research by Sumeth Panchamlong of Thailand Alternative Agriculture Network.
The boom in freshwater fish production follows a familiar pattern which has been seen in the government's approach to developing poultry and shrimp farming.
History repeating
Witoon of BioThai remembers how during the 1990s many paddy fields were converted to shrimp ponds and polluted with brackish water as well as chemicals and antibiotics.
"Once black tiger prawn was promoted we lost the fertile rice cradle in the central region. I am afraid that we are about to lose natural waterways and our sustainable livelihood to intensive fish farming, and for a monoculture that will destroy the diversity of people's most accessible source of protein," he says.
The development of the poultry and shrimp industry in Thailand demonstrates the agribusiness sector's strategy of monopolising the feed and food chain. One prominent example is Charoen Pokphand Group.
CP Group succeeded because it integrated agro-industry and food-selling. Starting in the 1950s, the group attracted smallholders to sign contracts for raising broiler chickens by supplying feed and technology, and then marketed the products too. By the 1970s, it had monopolised the Thai poultry industry and had begun expanding internationally.
It used the same strategy for shrimp production in the 1980s, supported by the government, which saw it as a way to expand Thailand's food export industry.
By 1997, contract-farmed shrimp aquaculture had pushed demand for shrimp feed up from around 5,000 tonnes in the early 1980s to around 700,000 tonnes. CP Group produced 70% of the total, seven times more than the second largest producer, according to research by John Falvey of the University of Melbourne.
CP is the largest of 13 companies registered with the Thai agriculture ministry as "aquaculture contract-farming operators".
Witoon says, "CP owns all the production factors, particularly fish breeding stock and fish feed, so it can determine the fate of growers. Moreover, it controls markets through its market network and food retail outlets."
Witoon and Chainarong both see fish farming as a viable industry for Thailand, but object to the effects of monoculture on the environment and the way contracts are structured.