As the global policy framework to reduce chemical harm nears expiration in 2020, countries are considering whether it can be succeeded with a "Paris Agreement style" instrument.
The Strategic Approach to International Chemicals Management (SAICM) was created in 2006 as a non-binding framework to help countries produce and use chemicals by 2020 "in ways that minimise significant adverse impacts on the environment and human health".
At a roundtable organised by the Swedish Embassy and the Raoul Wallenberg Institute in Beijing, Baskut Tuncak, the United Nations' special rapporteur on human rights and toxics, suggested that countries adopt a post-2020 global framework. This should consist of a mix of legally-binding obligations and voluntary measures that could be reviewed periodically – a template inspired by the Paris Agreement on climate change.
Tuncak said that the process to achieve the 2020 chemical goal had "quite frankly, failed to be realised due in part to a lack of accountability at an international level for the commitments that had been made".
Paris-style framework
The sales of chemicals globally are projected to grow from 3.4 trillion euros (US$3.8 trillion) in 2016 to 6.3 trillion euros (US$7.18 trillion) in 2030, according to a presentation by Ule Johansson, senior advisor to the Swedish Chemicals Agency (KEMI).
Over 100,000 chemicals are circulating on the market. "No one really knows exactly how many," said Johansson. Many of these chemicals pose environmental and health risks.
Besides SAICM, there are international treaties that regulate chemicals with environmental and health concerns. The Stockholm Convention on Persistent Organic Pollutants, for instance, governs hazardous chemicals that do not easily degrade. The most notorious in the convention's blacklist for a global phase-out is the pesticide DDT.

It's necessary to have a combination of carrots and sticks

But experts believe the scope of such treaties is too limited compared to the size of the problem. The Stockholm Convention, after almost 17 years in existence, only manages to regulate a few dozen chemicals. Other treaties, such as the Minamata Convention on Mercury, target very specific substances.
"A stronger, more comprehensive system of global chemicals management is needed after 2020," said Tuncak, "what we have today is a patchwork of treaties to manage chemicals of global concern, based on outdated definitions".
He argued that a mechanism to phase-out chemicals of global concern, taking into account the global movement of chemicals through international supply chains, should be a core component of the future framework
The challenge is particularly urgent for China, which accounts for 40% of global chemical sales, and is expected to take up almost a half of global sales by 2030, according to the presentation by Johansson.
Tuncak's proposal for a global framework was echoed by Anna Lindstedt, Swedish ambassador to China, who previously served as Sweden's chief negotiator for climate change.
The Paris climate agreement shows that both top-down and bottom-up approaches could be the "best possible solution" for resolving complicated environmental issues, according to the ambassador.
"It's necessary to have a combination of carrots and sticks," said Lindstedt. Letting countries decide for themselves what to do and at what pace may bring more initiative than subjecting them to external finger pointing, she explained. Yet if the system is made completely voluntary, countries may shirk away from their responsibilities.
China's gap
At the roundtable event, Chinese experts agreed that the country's chemicals management system lags far behind international best practice. Currently, work safety and acute threats are seen as the priority, while long-term chemical risks to public health and the environment are largely unaccounted for.
Notably, there is an absence of regulation on "existing chemical substances", a legal term referring to the large number of chemicals in existence before China implemented measures for registering new chemical substances in 2010.
The 2009 inventory of China's existing chemical substances comprises more than 45,000 entries. Yet less than 3,000 substances are covered by regulations, the majority of which are explosives, flammables and acute toxics.
"Many commonly used chemicals are not obviously toxic or hazardous, yet can, at very low concentrations, present a chronic risk to health and the environment," said professor Liu Jianguo from Peking University's School of Environment. And yet there is no mechanism to assess or regulate them.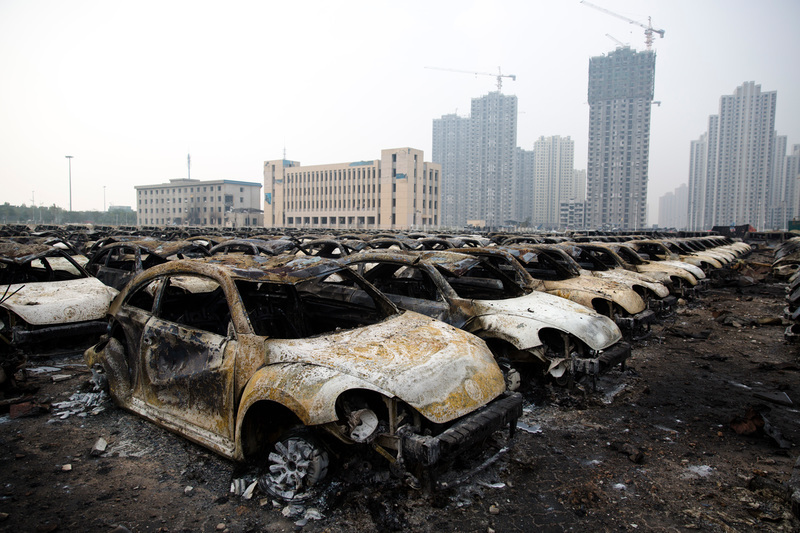 The Tianjin chemical explosion in 2015 was the result of inadequate storage of highly reactive chemicals (Image: Wu Hao/Greenpeace)
The lack of a robust chemicals management system increases the health and environmental burden on China, as hazardous chemicals and related industries, phased-out in developed countries, move into the country. This results in hefty economic and social costs, according to Liu, and creates a "significant barrier to the national strategy for sustainable development".
Mao Da, co-founder of Rock Environment and Energy Institute, a Chinese NGO, believed tighter international rules could force industries involved in producing and using chemicals to factor in the environmental and health impact into their businesses.
Different priorities
Obligations under global treaties have been important driving forces for China in establishing and upgrading its own chemicals management system in recent years, said Chen Huiming, a chemical policy researcher with the Chinese Academy of Inspection and Quarantine.
Yet Chen also admitted that a legally-binding, global framework seems out of reach without a global consensus on tackling the environmental and health risks of chemicals.
Hu Kehua, head of sustainable development at the China National Textile and Apparel Council, agreed. He said businesses in China are simply "not ready" for an international chemical treaty even if policy makers want to put more stringent regulations in place.
Hu made a comparison with the country's efforts to tackle climate change. The Chinese government only became a supporter of global action to reduce fossil fuels after its air pollution crisis and economic restructuring made it a domestic priority. "I don't think we've arrived at that stage yet on chemicals," he said.
According to Tuncak, a binary choice between voluntary and legally binding obligations is unnecessary. "It's more about giving countries clear obligations … while letting countries design their own system based on their needs and move at their own pace, but subject to some sort of international discussions."
The urgency of creating a successor to SAICM will only increase as 2020 nears. In March, delegates of SAICM failed to produce a draft post-2020 framework. Financing and accountability were two major areas of disagreement. The next formal meeting of SAICM will take place in February 2019.
"I'm optimistic that the global community will come up with something that is more robust than the non-binding SAICM," said Tuncak.
This is the fourth in a series of chinadialogue articles on the environmental regulation of chemicals in China. We are grateful to the Swedish Chemicals Agency for its support.