Within 24 hours of online retailer Tmall launching its Singles' Day shopping promotion in November, consumers had quickly snapped up goods worth 170 billion yuan (US$26 billion) in a frenzy of online spending.
Just three minutes into the promotion and shoppers had already spent 10 billion yuan (US$1.5 billion).
What started out in China as a celebration of being single has quickly morphed into a massive national shopping event that's four-times bigger than America's Black Friday.
Online retail giant Tmall, which is part of the Alibaba Group, has been one of the chief architects of the "shopping festival" phenomenon, and runs special promotions and flash sales that are broadcast live on television.
Users of Alipay, an online payment provider that's also part of Alibaba, reported 1.48 billion transactions at last year's event, up 41% on 2015. This resulted in 812 million deliveries.
What happened?
A decade ago, the idea that November 11 – then a tongue-in-cheek "Singles' Day" for the romantically unattached – would be appropriated by online commerce and transformed into a huge national shopping event would have been inconceivable.
Alibaba's first Singles' Day sale was in 2009. It encouraged anyone feeling lonely to indulge in a little retail therapy to cheer themselves up. The results were amazing. Taobao Mall, now Tmall, saw sales of 52 million yuan, ten times the normal daily sales volume at that time.
And so November 11 became the country's first shopping festival. While initially just for Chinese buyers and sellers, nine years later and foreign firms are now involved, eager for a slice of daily sales profits worth hundreds of billions of yuan.
Other online retail sites have followed suit, notably JD.com, which has its own event on June 18, albeit on a smaller scale. Between November 1-11 this year, JD.com made 127.1 billion yuan (US$20 billion) in sales.
But Singles' Day is only the first in a chain of seasonal shopping events. It's followed by the Great Online Shopping Festival, launched by Google India on December 12, then Christmas, New Year, Chinese New Year and finally Valentine's Day.
There are no holidays from consumerism, it seems.
Annual Singles' Day sales on Alibaba (100 million yuan)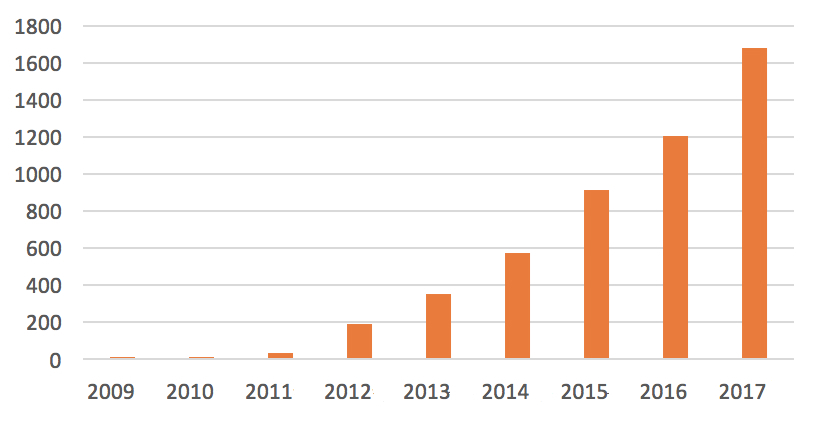 Source: Alibaba Group
No holiday for the environment
The surge in online sales over such a short period has alarming consequences for the environment.
According to the Xinhua Daily, Singles' Day creates 300,000 tonnes of packaging waste (assuming an average of 200 grams of packaging per delivery).
Liu Hua, pollution prevention campaigner for Greenpeace East Asia, told chinadialogue that November 11 orders on Tmall alone would create 160,000 tonnes of waste packaging.
Singles' Day creates 300,000 tonnes of waste packaging
The State Post Bureau estimated that last year's Singles' Day resulted in about 1.5 billion express packages being sent, almost double the reported 780 million packages sent between November 11-16 in 2015.
Wang Shi, manager of an incinerator facility in Beijing, told Xinhua that he saw around 200 tonnes of waste arriving in the days following the festival last year – more than the plant can process – with a noticeable increase in cardboard, plastic bags, bubble-wrap and postal bags.
Whose responsibility?
Online retailers and delivery firms are aware that the environmental impacts of packaging materials cannot be ignored. Some retailers, such as Suning, have introduced reusable boxes, shopping bags and bin bags but many consumers see reuse as too inconvenient.
In 2017, China's e-commerce mogul, Jack Ma wrote a note of thanks to the country's delivery drivers on his microblog following the festive period. He emphasised the environmental costs of mass packaging and transportation.
"In a few years we'll be sending a billion packages every day… shocking quantities of resources are used in packaging and even today much packaging causes pollution," he wrote.
Ma called on the logistics sector to support "green packaging" and "green logistics". His post got 68,000 likes.
The government is also getting involved. In March 2017 it set up a new body to oversee the environmental impacts of China's logistics sector. The deputy environmental protection minister Zhao Yingmin attended the opening ceremony in Beijing. Founding members included logistics technology firm Cainiao and the Alibaba Foundation, along with six delivery firms.
So far, 300 million yuan (US$46 million) has been invested in logistics upgrades to reign in ever-worsening pollution arising from the sector.
chinadialogue contacted Cainiao and the Alibaba Foundation to ask what action had been taken to target the November 11 events specifically, but had not heard back by the time of writing.
Excess consumption
The manufacturing industry that fuels shopping festivals adds to their environmental footprint.
A Greenpeace investigation, found that 60% of Chinese consumers admit buying products they don't need.
It found that the carbon emissions attributable to clothing purchased on November 11, 2016, stood at 258,000 tonnes. This would require planting 2.58 million trees to offset.
Festive sales are both a response to increased spending power among consumers and price-cutting and marketing by brands. The result is over-consumption.
It is expected that companies will put profit first. However, when profits depend on excessive consumption of resources and pollution these practices become incompatible with China's stated goal of sustainable growth.
Shen Xiaoye, head of the policy department at the Ministry of Environmental Protection's Policy Research Centre for the Environment and Economy, told chinadialogue that with China's economy growing and living standards improving, quality products and experiences are becoming important factors in decision-making.
Many consumers succumb to temptation though, buying products because they are cheap rather than needed, exacting an unnecessary environmental toll.
Consumption vs manufacturing
"In many ways there's a greater environmental burden from consumption now than from manufacturing," said Shen, adding:
"China's existing environmental policies are focused on manufacturing, on governance and businesses. But there are few laws on green consumption."
In 2015 the amount of domestic waste produced in Beijing surpassed the amount of industrial waste. In the same year, cities produced 2.68 times as much waste water as industry. In richer cities such as Beijing, Shanghai, Hangzhou, Guangzhou and Shenzhen, cars have become a major cause of air pollution.
China throws away more televisions, fridges, air conditioners, washing machines and computers than any other country. As of February 2015, China had 1.53 billion mobile phones in use, with 200 million mobiles thrown away annually.
Green consumption
However, there is hope of promoting greener consumption as Chinese people increasingly look for improved quality of life over ownership of cheap products.
A report by consultancy Syntao found that awareness and support for sustainable development was high among 10,000 survey respondents.
Over half said they would pay more for a sustainable product; and almost 90% said in-store promotions of sustainability would influence their decisions. But it is worth noting that over 80% of respondents had at least a university degree and represented the attitudes of the more educated urban middle classes.
After talking to environmentalists and watching documentaries on consumption and fast-moving fashion such as "The True Cost", Lynette, a Chinese woman, decided to delete the Tmall app from her phone. When November 11 came around she'd already gone six months without buying anything from the site.
"Over-consumption and logistics are already much worse than we imagine," she said. Now she asks herself if a purchase is essential before she makes it: is the product high quality, will it last, will she still like it in the future?
But Lynette is still in a minority of consumers.
Public environmental awareness is closely linked with education efforts – if green consumption ideas could be built into the November 11 sales then consumers might make more sustainable choices, according to Shen Xiaoyue.
"Unfortunately the media's coverage of the sales is about increasing consumption, rather than embodying green consumption ideals," said Shen.
How much longer can our single plant support our over-consumption?