Until recently, American businesses, particularly oil and gas producers, were leading efforts to slow action on climate change because it was seen to hurt their profits. But a shift has taken place. Big, old-fashioned businesses are pledging to electrify vehicle fleets and power facilities with renewable energy.
However, a new report from the think-tank InfluenceMap claims that some of the companies most actively lobbying government on climate policy are still opposed to action. So what's going on? Are businesses really going to save us from climate change or have their efforts to frustrate action become more sophisticated?
United in action?
President Trump's announcement that he would pull the US out of the Paris Climate Agreement was met with surprising opposition from US business leaders. Major companies across every sector of the economy supported staying in Paris, including the four largest companies – Walmart, ExxonMobil, Apple and Berkshire Hathaway. They argued it would protect their ability to compete in the global marketplace.
Some companies are genuinely betting on a clean energy future. The American clean energy industry generated US$200 billion in revenue in 2016, the same as domestic pharmaceutical manufacturing. Elon Musk's Tesla, sees a future dominated by electric vehicles, batteries, and solar energy.
On the flip side, according to InfluenceMap, fossil fuel companies such as ExxonMobil and Chevron, energy intensive companies like Dow Chemical, and utilities including Southern Company and Duke Energy all have negative "carbon policy footprints". This is because they are opposing regulation designed to reduce emissions in their industries. In the US, large companies exert political influence through a mixture of direct lobbying, political contributions, and through the work of powerful trade associations.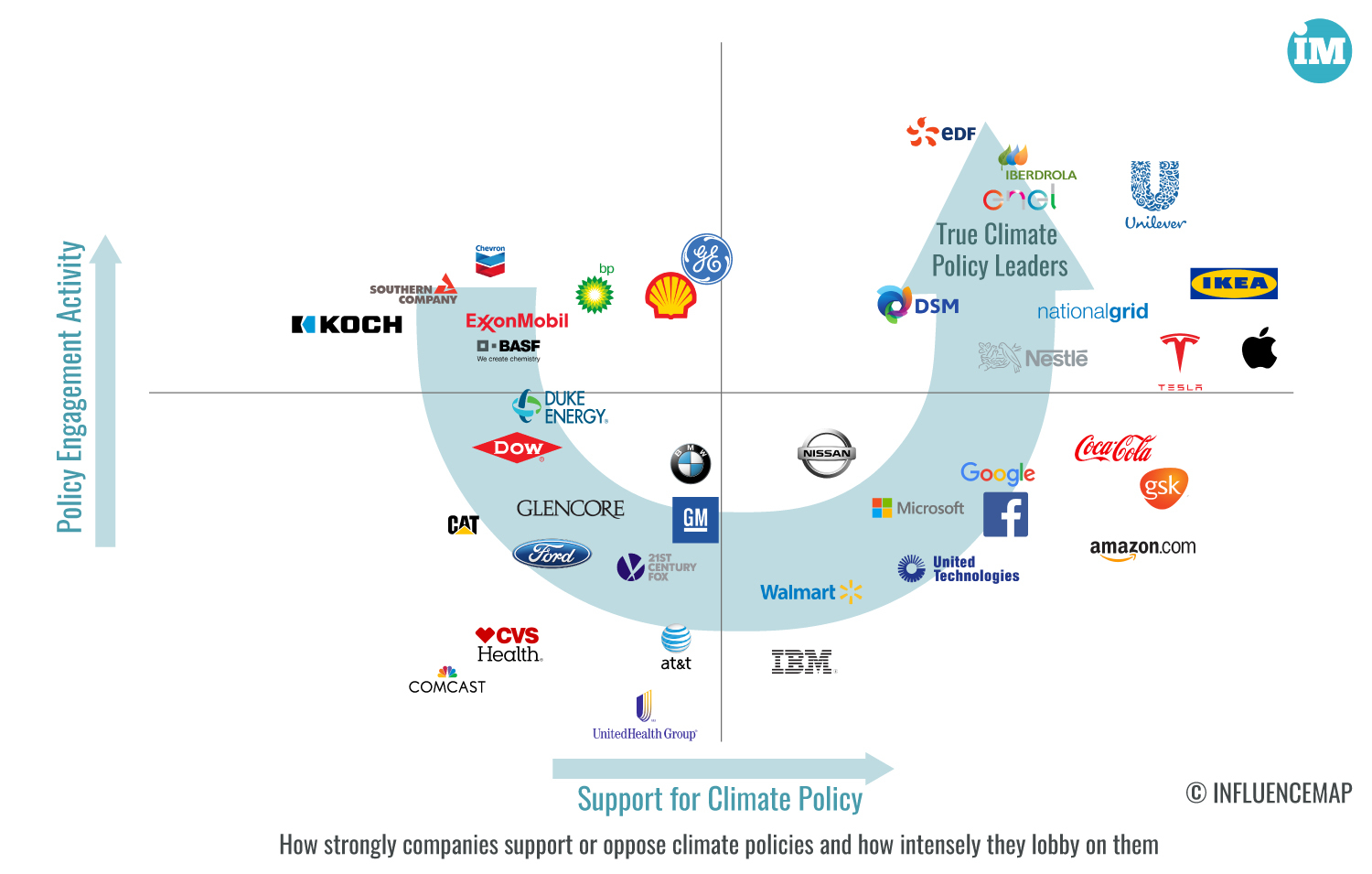 Slowing the transition
The shift to an economy powered by clean energy is likely to disrupt entire industries. Oil companies like Exxon and Chevron face the prospect of declining market share as consumers switch to electric vehicles. Those car manufacturers that fail to invest in electric vehicles are likely to suffer as well. Many companies must adapt or go the way of Kodak film and Blockbuster video, which failed to adapt to digital photography and video streaming, respectively.
For those companies struggling to adapt their businesses and innovate in new areas, slowing the transition, if not stopping it altogether, is a good strategy because it buys time. Indeed, recent history shows that large fossil fuel companies may be unable to shift away from their core business. Despite a very glossy public relations campaign, BP never quite managed to move "Beyond Petroleum".
The move to a low-carbon economy will also have knock-on effects for the ecosystem of companies and workers who provide services – from running oil rigs to pumping gas. It's not just large companies and investors that have political clout. In Trump's America, jobs matter, at least rhetorically.
The decline of America's coal industry offers lessons. Only a year ago, it seemed to be experiencing a "death spiral" resulting from competition from natural gas and stronger environmental regulations.
But President Trump's election was fuelled, in part, by a resentment at lost coal jobs. His administration has taken steps to slow coal's decline by scrapping Obama's signature climate policy the Clean Power Plan – "Did you see what I did to that? Boom, gone" said President Trump about the policy at a recent rally in Alabama. The government also published a study of electric grid reliability that arguably overstated the importance of coal plants in providing stable "baseload" power.
But for coal industry executives, these steps are not enough. The CEO of Murray energy reportedly asked President Trump to declare an emergency in the electric power grid that would temporarily exempt coal-fired power plants from environmental laws. He also asked for a two-year moratorium on plant closures.
Even so, this is unlikely to save the coal industry or help its workers, who still face losing their health and retirement benefits. A similarly messy transition in the much larger oil and gas industry would be economically and socially disastrous.
Climate risks
As well as the risk of being left behind in a transition to a clean economy, some fossil fuel producers now face potential legal liability for damages caused by climate change. This month three coastal communities in California filed lawsuits against 37 oil, gas, and coal companies for the ongoing harm they knew their fossil fuel products would cause and contributing to global warming and sea level rise.
To add to these problems, Hurricanes Harvey and Irma exposed a lack of preparation for stronger storms and more intense rainfall. A report by MSCI, a research organisation for investors, detailed how power producers, petroleum refineries, the chemicals and materials industries face significant flood risks.
For example, energy companies Duke Energy and Scana Corp have 13% of their power generation located in parts of the south-eastern US with more than a 1% annual chance of a flood event. A fire at a chemical plant 40 miles north-east of Houston, which had been flooded after Hurricane Harvey, brought these risks to life. The plant, owned by French chemical company Arkema, is one of 22 sites it owns that are exposed to climate change impacts, according to a recent disclosure.
In the absence of government action, it may be left to investors to push US businesses to take climate seriously.
Citibank is investing US$100 billion in clean energy and Bank of America just launched a clean energy bond worth US$1 billion. As well as rewarding the good actors, they are also increasing pressure on high-emitters to be more transparent about their plans for the future. For example, ExxonMobil and Occidental petroleum must both increase transparency on risks from physical climate impacts and legal liabilities following successful shareholder resolutions.
Money talks, even President Trump may be forced to listen.