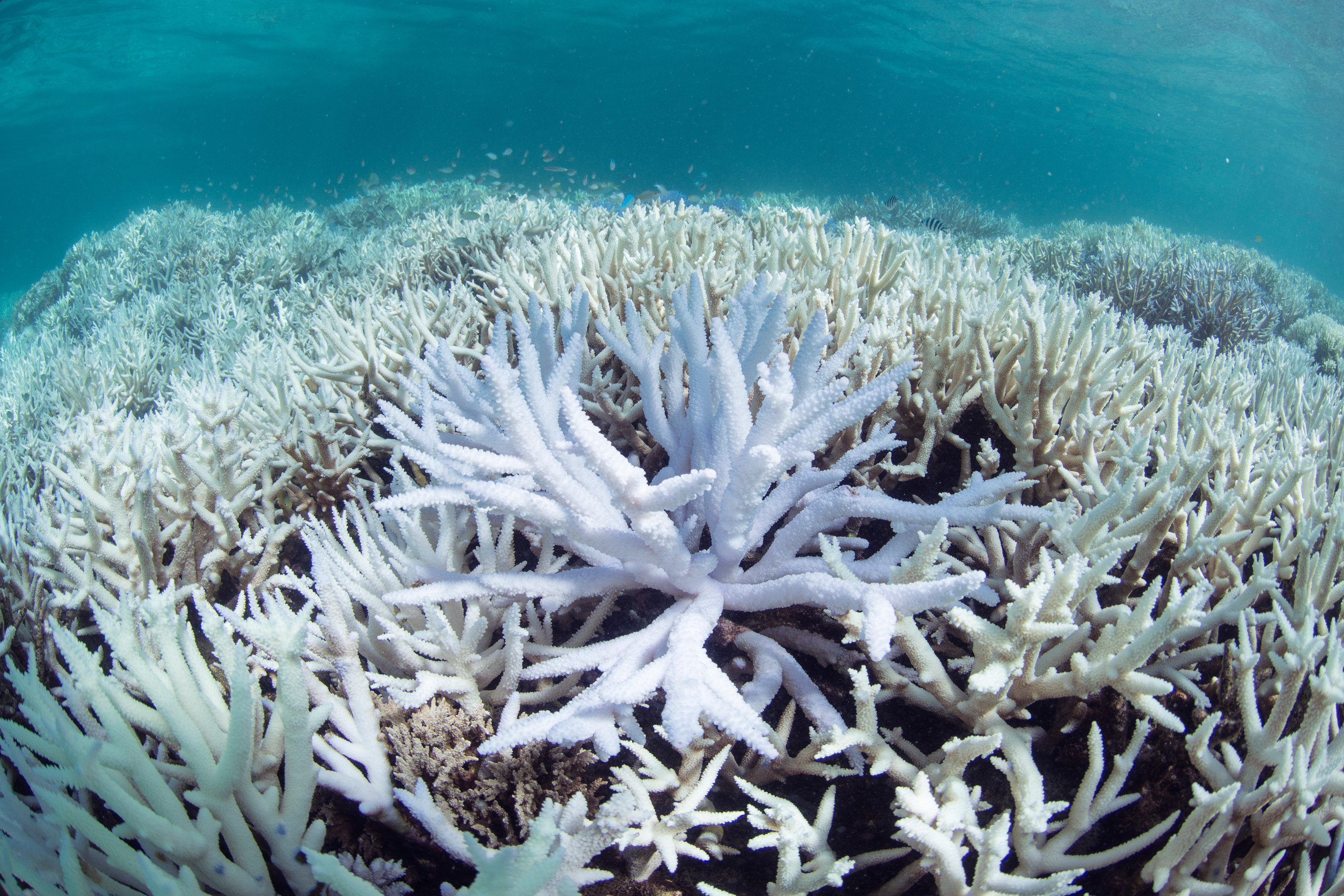 Australia's failure to reduce its greenhouse gas emissions combined with its push for new investment in massive coal mining projects is threatening the long term future of the Great Barrier Reef, according to a new report from the organisations Earthjustice and Environmental Justice Australia.

Last year, 22% of corals in the reef died, with die-outs affecting areas in the northern part of the reef that previously had seen little damage. The rapid decline in the reef's health is mainly a consequence of climate change, which is increasing ocean temperatures and acidification.

The report calls on the World Heritage Organisation to push nations to do more to protect their coral reefs, focusing on Australia in particular. The World Heritage Convention requires that Australia do "all it can ... to the utmost of its resources" to protect the reef. However, despite the clear evidence about the impacts of climate change on the reef, Australia remains one of the highest per-capita emitters of carbon dioxide and is continuing to invest in massive new coal mine projects.

"Instead of fulfilling its obligation to protect the Great Barrier Reef from future devastating coral bleaching events, Australia is failing to do its fair share to reduce its greenhouse gas emissions, and is unlikely to meet its inadequate commitments under the Paris Agreement," said Ariane Wilkinson, a lawyer at Environmental Justice Australia.

Australia is a signatory of the Paris Agreement, which calls on countries to limit global warming to 2C or 1.5C above pre-industrial levels. However, the country is not expected to meet its emissions reduction targets. Unlike other developed countries that have successfully reduced emissions over the past decade, Australia's emissions are projected to grow until 2030.

"If we are to reduce the risk of extreme temperatures we need to dramatically reduce global greenhouse gas emissions as quickly as possible," said professor David Karoly from the School of Earth Sciences at the Univeristy of Melbourne.

"In 2020 Australia's emissions are projected to be higher than now, higher than they were in 2000 and continuing to grow."

The report is particularly critical of government support for efforts to establish six new coal mines in the Galilee Basin in Queensland, which is believed to have recoverable reserves greater than 23 gigatonnes.

"The Australian government is actively and wilfully facilitating new fossil fuel infrastructure and exploitation of large new coal reserves that will lock in decades of emissions," said Wilkinson "We know that these new coal mines will sign the death warrant of the Great Barrier Reef."

Extent and severity of coral mortality to the Great Barrier Reef, November 2016


Source: ARC Centre of Excellence for Coral Reef Studies

Without urgent global action to reduce greenhouse gas emissions, many reefs could die out by 2050. This would be an enormous loss to Earth's biodiversity because of the role that reefs play in providing spawning, breeding and feeding grounds to marine life. Reefs support more species per square metre than any other marine environment. Unfortunately, it is not just the Great Barrier Reef that's under threat but corals globally.

"In recent years corals around the world have bleached and died because of ocean warming and acidification caused by climate change. From [New] Caledonia, to Hawaii to the Seychelles and Kiribati, reefs are bleaching," said Earthjustice lawyer and report author Noni Austin.

"Almost one quarter of the [Great Barrier] reef died in 2016 – this is an international tragedy and the plight of coral reefs becomes more dire every year. So corals may not actually survive beyond 2050 unless we take stronger action to tackle climate emissions."

The Great Barrier Reef contains about 3,000 reefs and 1,050 islands. About 70% of corals are expected to suffer significant damage by 2030.

The reef's water temperature last month was still about 0.9-2°C above the long term average for this time of year, indicating that further bleaching could occur in 2017. The report claims that bleaching events as happened in 2016 are likely to occur once every two years by the 2030s.


You can read the full report 'World Heritage and Climate Change' from Earthjustice and Environmental Justice Australia here.