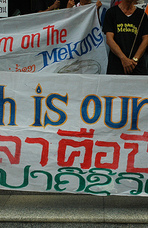 Despite fierce international opposition, a Laos government official confirmed publicly and unequivocally today that the country is moving forward with construction of the Xayaburi dam, the first mainstream dam on the lower Mekong River, as first reported on our partner site thethirdpole.net.
"The Laos government has decided to go ahead with the project," said Viraphonh Vivavong, vice minister of the Ministry of Energy and Mines, speaking at a panel in Vientiane. Construction on the coffer – the temporary structure that allows water to be cleared from a dam's worksite – will begin in early 2013, he added.
Critics of the US$3.5 billion, 1,260 megawatt dam in northern Laos say that its potentially disastrous effects on fish, sediment and water flows could affect people from northern Thailand to the Mekong Delta in Vietnam. The four countries of the lower Mekong region – Laos, Cambodia, Thailand and Vietnam – are home to 60 million people, up to 80% of whom depend upon the river for their livelihood.
China has already built four dams
on the mainstream of the upper Mekong. "Xayaburi is a milestone," said Witoon Permpongsacharoen, director of the Mekong Energy and Ecology Network, to Viraphonh. "If we start building dams on the lower Mekong, all the blame we have for China will move here."
The dam is one of 11 proposed along the mainstem lower Mekong. Building all 11 dams would slash the river's fish supply by 16%, a loss of US$476 million each year, according to a
study published in August
by the World Wildlife Federation. If all of the 88 dams slotted for the Mekong river basin are completed, by 2030 fish stocks could drop by 40%.