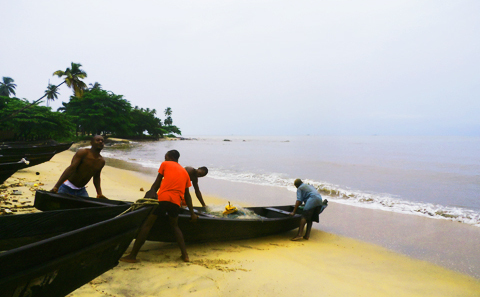 On the southern coast of Cameroon, West Africa, Chinese expertise is putting the finishing touches to a new mega-port that could create a boom in development in Central Africa.

China Harbor Engineering is building a US$567 million multipurpose seaport, with Chinese workers engaged in almost every aspect of daily activities in the port from engineering to truck driving. China not only intends to build the entire Kribi Deep Seaport, but also manage its future shipping operations.

It's a project that has created mixed feelings among locals.

"The Chinese want to do everything themselves," A Kribi based truck driver Emmanuel Nkob told chinadialogue. "I am a qualified driver but no opportunity was given to us locals to be employed. They bring everything from China."

The first phase of the port is 96% complete and has a current manpower of 1,125 people, about half of them Cameroonians mostly employed as menial labourers. This phase of the project, which goes operational this July, comprises a 16 to 25-metre deep harbour, with capacity to receive vessels of up to 100,000 tonnes.

According to Mthuli Ncube, chief economist and vice president of the African Development Bank (AfDB) the agreements between African nations and China have in effect, created "a barrier to employment creation" as China imports its own labour.

"The port would have been an opportunity for local Cameroonians to gain skills in diverse domains such as engineering and other skilled work, but Chinese practices are not favourable to the government fight against unemployment in Cameroon," says Anselm Mengjo, an economic policy analyst in Cameroon.

But Chinese engineers on site say Cameroonians lack the necessary professional training and that cultural differences make it more difficult. "Firstly, we have language differences so we prefer to bring Chinese who can better understand us, secondly it is very difficult to find qualified workers in Cameroon," Li Meng, a Chinese engineer, explains.

"We are trying to reduce the lack of experienced professionals by urging firms to engage in training their own workers to fit the need of the industry and we do the same with Chinese investors," says David Esseck Sany, director of training and professional orientation in the Ministry of Employment and Vocational Training.



The new Kribi Seaport in Cameroon could create a boom in development in central Africa (Image by Nfor Kingsley Monde)

Cameroonian law prescribes a policy of, as far as possible, hiring 70% Cameroonians and only 30% foreigners on any project. But according to Sany, most companies present in Cameroon – Chinese or otherwise – do not respect this recommendation, nor the desire for transfer of technology and skills to the local population. Meng, like others, argues that Chinese project managers have to deal with very strict timelines so it is difficult to recruit and train people before work starts.

"I have worked as a builder with the Seaport project since 2012," says David Wanja, "but it has not always been easy dealing with our Chinese bosses. On my contract, I was supposed to have access to housing, holidays and a minimum pay of 3,000 francs (US$6) for eight hours work, but it is not respected. We get 2,000 francs (US$4) daily with working hours that extend right into the night."

Samuel Bate another employee with the port says, "Chinese people do not have holidays and do not respect our own holidays. Most times we work on Sundays."

Illegal timber exported to China

China's impact in Cameroon has also suffered criticism due to high volumes of timber illegally exported from the African state. Environmental groups are now calling for safeguards to be established in logging projects.

According to a report from the Center for International Forestry Research, much of China's timber comes from countries experiencing high levels of illegal logging. For several years, China has been the leading export market for Cameroonian logs that remain unregulated by the partial log-export ban. Cameroon has signed the Voluntary Partnership Accord with the EU, commiting to fight illegal logging and illicit commerce of timber, but China's continued import of illegal wood from Cameroon might jeopardise these goals.

Cameroon's log exports to China increased from about 29% to 65% of its total log exports between 2003 and 2009.

A recent study by Greenpeace Cameroon highlighted how a US multinational in Cameroon created a front company in order to illegally export timber, much of which was destined for China.

"China is a quick and easy destination for illegal timber from Cameroon. There is a high amount of timber from these illegal sources at Douala seaport destined for China," Brendan Schwartz of Greenpeace International told chinadialogue.

China does not require the same standards of timber quality as more demanding markets such as the EU, says Schwartz. This has a direct environmental and commercial impact on Cameroonian forests.

"China is the biggest growing investor in Africa," adds Durrel Hallesson, WWF Cameroon's Business and Industries Policy Officer. "Any new investment should think of environmental and social impacts. Unlike western investors with a well-defined framework under which they do their investments, this is not visible in Chinese outward investments. We are trying to work with China to reduce its ecological footprint in Cameroon and globally."