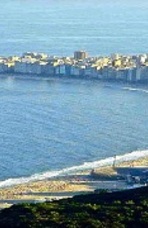 This week, politicians, policymakers and civil-society figures descend on Rio de Janeiro for the 2012 Earth Summit. Twenty years on from the original United Nations Conference on Environment and Development in 1992, the conference aims to "secure renewed political commitment to sustainable development". Leila Mulloy asked a group of people from activism, academia and business for their message to policymakers.

"No more business as usual"

Gisbert Glaser, senior advisor, International Council for Science

My first message to policymakers would be about the urgency to act now; that there has only been limited progress during the last two decades in implementing sustainable development. Overall, human impacts on our natural environment and climate have become much worse, and pressures on the environment are such that they may cause fundamental changes in the Earth's system and move us beyond safe natural boundaries.

Also, major social and economic challenges persist, such as bridging the development divide between [global] north and south and alleviating poverty. We will also need to increase global food production by 50% to 70% by the year 2030 and, thereafter, even more. We need to meet this challenge and, at the same time, ensure sustainable resource management.

My second message would be that we need to act on a totally different scale. There must be renewed political commitment by government leaders to implement sustainable development, and not in the "business as usual" way of taking incremental steps that we have seen in the past 20 years. We must scale up all measures to implement sustainable development. Society needs to be "greened" in terms of its production and consumption patterns, the economy also needs to be transformed to a greener, more equitable model.

Thirdly, innovation (technological and other) and societal transformation driven by new knowledge from science are the paths to sustainable development. For new knowledge to be generated, Rio+20 and policymakers need to support research for sustainable development and international scientific cooperation. At Rio+20, policymakers should strengthen the science-policy links and acknowledge the nexus of science, technology and innovation as important drivers of sustainable development. Rio+20 should be a milestone in the development of a new participatory paradigm for scientific engagement with society.

"Declare 30% of the oceans Marine Protected Areas by 2020"

Peter Raines, chairman, Coral Cay Conservation Trust

By 2010, the Convention on Biological Diversity called for 10% of the world's Exclusive Economic Zones – seazones over which a state has special rights regarding the exploration and use of marine resources – to become Marine Protected Areas, or MPAs. Then, the World Parks Congress called for 20% by 2012, a date also agreed on for a well-managed network of MPAs by the World Summit on Sustainable Development and the OSPAR Commission. Today, just over 1% of oceans are under MPA designation and less than 6% of coral reefs are under effective protection.

Coral reefs are particularly important as they are the most biodiverse and productive ecosystem on Earth, providing direct food security and livelihoods to over 500 million people, and indirectly to millions more. However, destructive activities – overfishing, pollution, climate change – mean that something approaching half of coral reefs have been destroyed or are in critical and irreversible decline. Do nothing and, by 2055, over 90% of coral reefs could be lost forever, leading to a global humanitarian disaster.

Recently, 260 of the world's leading marine scientists made an urgent call for more and larger MPAs and a figure of 30% has emerged as the area believed necessary to avert permanent damage. Policymakers at Rio must declare that, by 2020, an ecologically coherent, well managed network of strictly "no-take" MPAs, closed to all fishing and covering at least 30% of the world's oceans will be established. And they must adopt the highly successful "mega-MPA" approach to coral-reef protection of the Indian Ocean's Chagos Islands, a biodiversity hotspot.

"Halt the unsustainable economy of nuclear energy, oil and coal"

Yong Rong, head of policy and public affairs, Greenpeace East Asia

Top leaders from around the world are meeting to discuss and agree on "the future we want".

The future we want is fair, peaceful, just and green.

A fair, green economy is achievable, but it requires urgent action. Promoting sustainable practices is essential, but governments must first make a decisive end to unsustainable practices. An economy based on nuclear energy, oil and coal, genetic engineering, toxic chemicals and the overexploitation of our forests and seas will never be sustainable or green.

In order to achieve "the future we want", governments have been negotiating and preparing for two years, since the first preparatory committee meeting in May 2010 ahead of the Rio+20 summit. We appreciate the efforts, but while negotiators are fighting for their own countries' interests, the earth cannot wait.

The outcome of the conference cannot simply be a re-wording of principles, or the penning of new terminologies. What we want is something real and practical. If we cannot get clear commitments on issues such as achieving clean and safe energy for all, or zero deforestation by 2020, we must at the very least ensure the launch of a High Seas Biodiversity Agreement and a UN Environment Agency are finally delivered at Rio.

"We can learn from past successes"

Chloe Corbin, Survival International

World leaders have to recognise tribal peoples' rights as they prepare to meet in Brazil to discuss sustainable development. The conference describes sustainability as the "guiding principle for long-term global development". However, for this to work, it is crucial tribal rights are not ignored, and that the environment within which they live is properly protected.

A lot has changed since policymakers gathered in Rio 20 years ago. Not least, Brazil's rapid rise to become one of the world's strongest economies. But with this new title comes the responsibility of developing sustainably, of developing without destroying Brazil's rare environment and its natural resources.

Twenty years ago, in an historic move, Brazil created the Yanomami Park. It secured the survival of a tribe facing genocide. Legally recognising their land was significant. It gave the Yanomami a right to self-determination, upheld their ancestral rights, and protected their environment. Two decades on, the Yanomami are largely safe. Gold mining continues in some regions and they still face health problems, but their case is known, they have set up their own organisations and their rights are vigorously defended.

At Rio+20, Survival International wants policymakers to learn from the importance of the Yanomami Park – and now turn their attention to helping Brazil's Awá tribe. Their land, like the Yanomami's, is protected, but illegal logging permeates their forest – crushing their numbers. Now, only 450 exist.

As Brazil continues to develop, and as the world's demands on resources continue to soar, it is vital policymakers do not forget the peoples and their lands from which we have so much to learn about living sustainably.
"Sustainable development must respect human rights"

Lyla Mehta, research fellow, Institute of Development Studies; adjunct professor, Noragric, Norwegian University of Life Sciences

Policymakers need to be committed to sustainable development that is just, fair and improves marginalised people's lives without compromising ecological integrity. There are no signs of this happening.

The so called "green economy" remains wedded to economic growth paradigms and could even legitimise large corporations gaining control over poor people's land, water and livelihoods in the name of sustainability, and the so called food, water and energy nexus.

At the moment, negotiations appear to be failing and a series of commitments around human rights are being watered down. For example, several states in the "informal informals" are resisting an explicit reference to the human right to water and sanitation. Without a commitment to this human right, it will be difficult to improve the lot of those who currently lack access and suffer exclusion. Unless politicians overcome their national self interest, I fear that Rio+20 may be irrelevant and could well be the last global summit on sustainable development.

"Scale up successful partnerships"

Andrew Slight, head of external affairs, PepsiCo UK & Ireland

Governments should commit to working in partnership with the private sector, and others, to respect, protect and fulfil the right to water and sanitation by 2020 in a way that is compatible with climate and food-security goals.

Green growth, or indeed growth of any kind, will only be possible if we are able to tackle the growing water challenges of the twenty-first century. Nearly three billion people live with severe water scarcity. Businesses are already being impacted by water scarcity. Analysis suggests that the world will face a 40% global shortfall between forecast demand and available supply by 2030.

The vast majority of the water we consume – more than 70% globally and as high as 90% in developing countries – goes to agriculture. Already, the lack of food security and access to safe drinking water affects more than 800 million people in the world. So the catalyst for action by governments, business and other actors is clear.

Rio+20 must provide the clarity, consistency and ambition to inspire change and scale-up already successful partnerships such as the Water Resource Group 2030, a consortium of businesses and the World Bank that contribute new insights to the increasingly critical issue of water resource scarcity. It can do this by committing to working in partnership with the private sector and others to respect, protect and fulfil the right to water and sanitation by 2020 in a way that is compatible with climate and food security goals.

"We must pay the 'true' price for food"

Ann-Marie Brouder, principal sustainability advisor, Forum for the Future

Our organisation is seeking to identify the features of the food system that are driving its inherent inequality, and then devise appropriate solutions that are scalable and can shift the system on to a more sustainable path.

So what have we learnt and what would we recommend to the policymakers?

Time to work together: Policymakers at Rio need to understand the issues and interests pushing the food system down an unsustainable path, and then explore how they can work collaboratively with NGOs and businesses to develop and implement solutions.

Time to support the growers: There is a fundamental imbalance within the food system between different parts of the value chain. All too often, the dynamics of the value chain mean that producers lose out, impacting on their wellbeing and prosperity and limiting the supply of food.

Time to connect people with their food: Millions of people are disconnected with where and how food is produced. This can make people reluctant to pay the "true" price for food or to reduce food waste. Policymakers could do much more to engage citizens with food, from supporting citizens to grow food, to understanding the impacts of what they eat, to providing clear, sensible food labels.

Time to understand our ecosystems: We need policymakers to take seriously the threat posed by the loss of ecosystems and the resources and habitats they depend on. As well as their other benefits, the loss of ecosystems critically affects our ability to produce enough food now and in the future.



Leila Mulloy is an intern at chinadialogue's London office.

Homepage image by Andrew Griffith