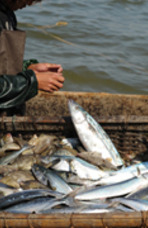 Feng Jie's first reaction on hearing that she'd been selected as "Journalist of the Year" at the 2012 China Environmental Press Awards was "Wow!" Her second was to recall how a Swedish journalist friend had been envious. In her friend's Scandinavian city, journalists might report on high levels of PM2.5 – "fine" pollution particles less than 2.5 micrometres in diameter – on a single street. In China, such small-scale (though hazardous) pollution wouldn't even be news. The country's environmental reporters and their editors have much bigger stories to worry about.

The China Environment Press Awards were founded in 2010 by chinadialogue and the British newspaper The Guardian in response to the emergence of environmental journalism in China. The honours aim to encourage a growing body of environmental journalists and to promote environmental protection. This year is the first in which a prize for the best Chinese environmental journalist has been presented.

Looking through the articles submitted for the awards in any given year provides a glimpse of the environmental problems that China was facing at the time. The most in-depth and influential reports, naturally, were often those on the most severe problems.



Feng Jie, 30, won her award for three stories written for Southern Weekend covering offshore oil (the Bohai oil leak series); air pollution in cities ("Testing the air for the motherland"); and urban water shortages ("Water crisis in China's northern cities: transfer or desalinate"). These touched on some of the key areas involving environmental protection in China: oil, smog and water shortages.

For years, China's city-dwellers have been breathing air that is "healthy by China's standards, unhealthy by America's". While people stay indoors to avoid choking outside, official air quality remains "good". With the people and officials so out of step, Feng Jie wrote "Testing the air for the motherland", about environmental NGOs and urban residents buying their own air-testing equipment, taking readings on the streets of Beijing and then posting the results online.

Her report was soon widely available and spurred unofficial testing in a number of cities. Meanwhile, the government, which had long worried that a new standard would undermine earlier achievements, announced that it would include PM2.5 levels in national air-quality standards. The public would know the truth about the air. Feng's article and other media reports on PM2.5 levels can be seen as China's people and public opinion bringing about policy change.

The most significant and long-running environmental incident in China in 2011 was oil spillage in Bohai Bay. Rumours of two leaks at China's largest offshore oil field first circulated in online forums and on microblogs, but operator ConocoPhillips, its partner China National Offshore Oil Corporation (CNOOC) and offshore regulators all initially remained silent.

Feng Jie arrived on the scene on June 30, 2011, several days after the microblog reports first appeared on June 21. She sought confirmation of the incident from insiders at the State Oceanic Administration (SOA), CNOOC and the local government – and was the first to publish in print what had been circulating online.

Reaction when the cover-up eventually ended was explosive and over the next six months almost every Chinese media outlet carried extensive coverage of the Bohai oil spillage.

This was not China's first offshore oil leak – just the first to be made public. But Feng and Southern Weekend were not content to just expose the fact that leaks had occurred. With a 26-year history and almost 10 million readers, Southern Weekend has become China's most respected newspaper by repeatedly reporting the story behind the basic facts.

Over the next six months or so, Feng Jie and her colleagues continued to investigate the cause of the spillage, its scale and its environmental consequences.

Some media reports angrily pointed the finger at the American company ConocoPhillips, said CNOOC was shirking responsibility and that the Chinese government was not doing its job. But Feng's series of four articles continued to draw on specialist knowledge and hard facts obtained through investigative journalism, not emotion. Her efforts were not wasted: Southern Weekend identified the cause of the leakage as a sub-sea build-up of pressure due to improper well management – two months before the official investigation made the same findings.

The Bohai articles won widespread praise for cool and objective reporting, even from those who were criticised. That respect and trust paid off in follow-up reporting, as it became easier to obtain interviews; sometimes Feng was even given privileged access. She was able to interview key SOA officials even before the oceanic agency's first press conference on July 5.

"My editor's always asking which key people I've interviewed or what facts I've got," she says. "We all agree that catching the public mood is important, but you need to get as close as possible to the actual sources of information if you're going to give your readers the facts they want.

Feng Jie is from Guyuan in Ningxia, in the north-west of China, a region known for its poverty. There, huge numbers of rural residents lack water and survive by collecting rain or hauling water on donkey carts. Feng's father was an engineer, her mother a technician, and as a child Feng Jie and her sister roamed at will through the remote city. Her father encouraged his children to do what they wanted and very rarely interfered – not that it would have done any good.

In 2000, Feng Jie took the university entrance exam, ranking top in humanities in Guyuan and in the top 10 in Ningxia. This achievement allowed her to enrol in the school of journalism at Renmin University. From there, she went on to obtain a master's degree at the Communication University of China. In 2006, after six years of education in journalism, she went to work for the China Economic Herald.

That was the first year in which China set a binding target of a 10% reduction in emission of major pollutants. It was also the year that China set ambitious new energy targets. (Installed wind-energy capacity doubled in 12 months, for example.)

Working for the China Economic Herald – a heavyweight financial newspaper managed by the National Development and Reform Commission – taught Feng Jie how officials think. She made friends with a number of government employees who came to trust her and would share inside information with her. Communicating well with officials would later help her years later when she reported on the Bohai leaks.

While a CNOOC insider had confirmed a leak, Feng still didn't know the hard facts. An hour before her reporting deadline, she finally persuaded an insider to divulge the details of where and when the leak had happened, and how bad it was.

To confirm the facts, Feng Jie went so far as to barge into an SOA department head's office before the first report went to press. Her action didn't seem to do her any harm – within 30 minutes of leaving, the SOA called to say there would be a press conference in early July. That was the first official response to the media.

But there was no happy ending for many people whose livelihoods were disrupted by the spillage. In February 2011, during the Chinese New Year holiday and as the fish-farmers affected by the leaks were waiting to hear if their complaints would be heard in court, the ministry of agriculture and ConocoPhillips quietly signed a one billion yuan (US$160 million) "all-in" compensation deal.

That plan blocked the fish-farmers' plans to sue, and made ConocoPhillips promises of compensation and environmental funds worthless. An article by Feng Jie about the compensation scheme was withdrawn after a post-publication government banning order.

Another story by Feng Jie, on the water crisis in Chinese cities, looked at the relationship between China's much-heralded South-North Water Transfer Project and seawater desalination.

China's environmental journalists have now acquired their own professional judgement and have individually started to track various environmental topics: climate change and energy, or biodiversity, for example. Undeniably, however, much reporting is still in response to breaking news, particularly major pollution cases

Analysis of the environmental articles published in recent years shows that most are about the impact of hydroelectric dams or the harm done by chemical plants to people living near them or along area river banks.

But 2011 saw a shift: from localised pollution, or the fate of one river, to the dirty air and water shortages that harm us all; from a short-lived focus on breaking news to sustained reporting on pollution.

Speaking of the pollution and environmental damage that she reports on, Feng Jie says: "It's as if this is a golden age for China's environmental journalists. But it's not something I'm happy about."

Liu Yuan is a Beijing-based journalist.

Homepage image from 新闻摄影 (newsphotography) shows fishers on Bohai Bay