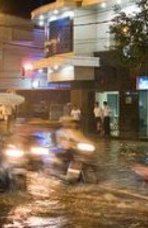 A new report by the international development organisation Oxfam highlights just how vulnerable Vietnam will be to huge setbacks in the country's poverty alleviation programmes as a result of climate change.
Vietnam is regarded as one of the few developing countries in the world that is on track to meet most, if not all, of its Millennium Development Goals. Official statistics show that it has an enviable record in reducing poverty.
From 1993 to 2006, the poverty rate fell dramatically from 58% of the population to 18%, meaning that 34 million Vietnamese had risen above the poverty line.
But in its report, Vietnam: Climate Change, Adaptation and Poor People, Oxfam argues that rising sea levels, more intense typhoons, higher temperatures and increased flooding and drought threaten to drag millions back into poverty.
Oxfam is not the first international organisation to draw attention to Vietnam's vulnerability to climate change. The November 2007 UN Human Development Report heavily featured Vietnam, stressing that flooding and increasingly intensive storms threaten to slow human development progress in major population areas.
A 2007 World Bank report on sea level rises (SLR), The impact of sea level rise on developing countries: a comparative analysis, concluded that a one-meter rise in global sea levels by the end of the century would affect the country's GDP as well as over 10% of Vietnam's population.
According to the report, the one-metre rise has the potential of having an impact on a higher percentage of Vietnam's urban areas than any other east Asian country. In addition, a higher percentage of the country's wetland areas and agricultural land will be affected.
Oxfam's particular contribution was to collect a wide range of testimonies from poor farmers living in two provinces that are very vulnerable to climate change extremes: Ben Tre in the south's low-lying Mekong Delta and the coastal Quang Tri further north, which is traditionally the area most vulnerable to flooding in the country.
People in Ben Tre and Quang Tri are used to living in extreme weather conditions, but all those questioned agreed that weather patterns had changed over the past 20 to 30 years – causing it to be harder to make a living and survive.
In the Mekong Delta, where enough rice is produced to make Vietnam the second-biggest rice exporter in the world, some rice farmers cannot grow their crops because the water is too salty, partly as a result of climate change.
Typhoons have become more intense and have tracked further south so that they have become commonplace in Ben Tre, which was once typhoon-free. Typhoon Durian in December 2006 claimed 18 lives in the province. An additional 700 were injured and a total of US$200 million-worth of damage was caused, which is equivalent to about two-thirds of the province's total exports from 2001 to 2005.

Further north in Quang Tri, unpredictable weather means farmers have less time to grow crops, and seeds can be washed away by the heavier rainfall. Livestock has also been lost to increasingly severe flooding, while the hotter dry spells make it even more difficult for farmers to make a living.

For example, 46-year-old farmer Ho Si Thuan, who lives in Quang Tri, told the Oxfam researchers: "Twenty years ago, being a farmer seemed extremely easy as the weather was predictable. It wasn't so hot in the dry season and there was less flooding. Last year, our first crop of rice was affected by early flooding. We could only harvest 200 kilograms, and it was poor quality so we had to feed it to the pigs. This year, it was very cold and the rice seedlings died."
The Vietnamese government and the international community are investing considerable time, effort and expertise into a National Target Programme (NTP). According to the draft NTP, changes to Vietnam's climate are already taking place:
*There has been an annual temperature rise of 0.1º Celsius per decade between 1931 and 2000, and of between 0.4º C and 0.8º C in the country's three main cities from 1991 to 2000.
*Wide regional variations in rainfall have been recorded, but the annual volume has remained largely stable. However, the localised intensity and unpredictability of rainfall has increased, leading to severe flooding.
*There have been more droughts in the south in recent years, which have tended to last longer.
*The sea level has risen between 2.5 to 3.0 centimeters per decade in the last 50 years.
*Typhoons have reduced in number in the last four decades, but they have become more intense and are tracking further southwards.
Over the last 18 months, Vietnam has suffered unusual weather events throughout the country including storms, floods and drought affecting tens of thousands of people.
In November 2008, more than 80 people lost their lives in the worst floods to hit Vietnam in 25 years. Heavy rain fell in the central and northern parts of the country for over a week, leading to severe flooding in the capital Hanoi and nearby provinces.

More than 500 millimeters of rain fell in Hanoi, turning streets into rivers. Floodwaters inundated more than 100,000 homes and destroyed nearly 2,400 square kilometers of rice and vegetable crops.
During the main flooding season in 2007 and 2008, there was heavier flooding than usual in the central provinces, the highest tides around Ho Chi Minh City for 48 years and the longest cold snap ever recorded in northern Vietnam. This cold snap lasted 38 days and caused US$30 million of damage to crops and livestock.
Climate scientists in Vietnam say that the recent extremes of weather are evidence of the El Niño/La Niña weather patterns becoming more intense, a pattern they say they have observed over the last 50 years. Many scientists argue that more intense El Niño/La Niña events could occur this century as a result of global warming.
Climate models suggest slightly different outcomes for Vietnam over the course of the century. However, there is broad consensus that if there is no major international effort to reduce global greenhouse gas emissions, then:
*The average temperature is expected to increase by between 1º C to 2º C by 2050, and by 2º C to 3º C by 2100.
*Rainfall patterns will vary from region to region, but rainfall and droughts are likely to increase both in intensity and area of impact. Rainfall is likely to be less predictable.
*Typhoons are expected to increase in intensity and be subject to more unpredictability. They may also continue to track further south, increasingly affecting southern Vietnam.
*By 2070 the flow of the country's two main rivers, the Red River and Mekong River, is expected rise from 7% to 15% during the flood season, leading to more severe flooding.
Vietnam has a number of advantages in terms of adapting to climate change. The country has a long history of dealing with natural disasters, particularly flooding and typhoons. Vietnam has strong institutional experience at the national, provincial and commune levels. Also, national mitigation strategies have long existed to reduce the risk of disasters, such as the construction of dykes and flood corridors. Finally, the one-party political system makes long-term planning easier.
But awareness of the threat from climate change amongst provincial leaders is patchy. Current budgets for disaster and risk reduction are also inadequate. Building dykes, for example, is very expensive and may not be the best way of dealing with sea level rises.
The financing challenge involved in mitigating climate change is huge for a developing country like Vietnam. The government has set aside US$750 million for protection and the building of dykes between 2010 and 2020. But this figure does not take into account the impacts of climate change, which will require far more funding.
Oxfam's plea
Oxfam believes that outside funding assistance is required in Vietnam, and argues that it is rich countries, which are most responsible for climate change, that should lead the way in committing to such adaptation funding.

Steve Price-Thomas, Oxfam's director in Vietnam, says: "Clearly, climate change is already happening and turning people's lives upside down in Vietnam. The futures of millions of poor people in Vietnam and around the world depend on the right decisions being taken in Poznan so that we can support people who are living – through no fault of their own – on the frontline of climate change."
Oxfam is calling for rich countries to lead the way in the United Nations' negotiations toward a post-Kyoto climate-change agreement. The organisation wants a cut of at least 80% in global emissions and a commitment to large-scale international funding so that poor communities like those in Vietnam can adapt to the changing climate.
James Painter is a freelance journalist and consultant specialising in climate change and the media. He contributed to the Oxfam report.
Homepage photo by aoketton