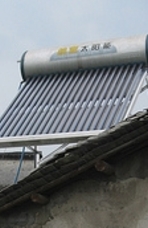 In November 2005, Chinese president Hu Jintao enthusiastically welcomed participants to the Beijing International Renewable Energy Conference. "China attaches great importance to the utilisation and development of renewable energy and considers it one of the most important instruments to promote socio-economic development," he declared. "It is an indispensable measure to deal with the increasingly serious issues of energy and environment."
China has good reason to view renewable energy as indispensable. In 2006, the country's power-generating capacity soared by about 20%. The world's second-largest electricity consumer after the US, China added some 100 gigawatts (GW) of new capacity – roughly the equivalent of Thailand and the UK's total capacities combined. This year, in order to keep pace with rapid economic growth and avoid electricity shortfalls, it is expected that China will add about 90 GW.
The vast majority of this electricity, nearly 90%, is produced by inefficient coal-fired power plants. But despite having rich coal reserves – and until recently being a net oil exporter – China today spends billions each year on foreign fossil fuels, last year importing nearly 50% of its oil needs. Air and water quality are already pressing concerns, and coal-based energy production exacerbates the pollution, having a major impact on agriculture and health. China also faces increasing international pressure to limit its greenhouse-gas emissions, which the Netherlands Environmental Assessment Agency claims are the biggest in the world, the country having recently surpassed the US.
Concerns about energy security, environmental quality and global warming are driving China's aggressive push for a sustainable energy future. Government policy is ambitious, calling for the country to quadruple national gross domestic product (GDP) by 2020, while 'merely' doubling energy consumption from 2000 levels. Striving to meet this goal, the nation's leaders emphasize both improved energy efficiency and renewable energy resources.
They have set bold targets. China's 11th Five-Year Plan (2006-2010) calls for a country-wide energy efficiency improvement programme with a target of reducing energy consumption 20% per unit of GDP by 2010. And in January 2006, just a few months after president Hu's remarks, China's landmark Renewable Energy Law came into effect. The law itself does not set targets, but since its passage an ambitious objective has been set: by 2020, China aims for 20% of its electric power capacity to come from renewables, excluding large hydropower. In 2005, this figure stood at just 8%.
The 20% target represents a major leap forward for China, and industry experts believe that it is attainable – perhaps even ahead of schedule. With the surges in China's energy demand, there is a need to further tap the nation's abundant renewable energy potential from solar, wind and other sources. Not only are these prodigious resources a partial answer to the demands of China's growing industries and cities, but they are also a promising source of electricity for the millions who live without power in China's underdeveloped countryside, particularly in the remote western regions. There, renewables can provide clean, reliable and affordable energy while contributing to sustainable livelihoods.
China has already had great success with rural renewable electrification. As of 2005, excluding large hydropower, China was the world's largest renewable power producer. Most of this capacity was in small hydropower – the country has more than half of the global total. Full rural electrification is planned by 2015, primarily through small hydropower and off-grid photovoltaic and wind installations.
Both domestic and international companies have been attracted to China's rapidly-expanding wind power sector. Wind energy capacity is targeted to reach 30 GW in 2020, which is likely to make China the world's largest wind power producer. "This poses huge potential," says Han Juanli, Marketing Manager for Azure International, a Beijing-based advisory and investment firm specializing in sustainable energy technologies. "The government's goal is ambitious but achievable."
Challenges and limitations
But there are major challenges to China's renewable energy development. "The Renewable Energy Law is a framework," explains Dr He Ping, Energy Programme Manager for UNDP China. "The country still needs regulations, and the regulations are very challenging work." Often they are seen as too general to be practical; policy uncertainty continues to be a barrier to market entry.
Another challenge comes from China's weakness in the area of technology and know-how. For now, with the notable exceptions of household solar water heaters, micro- and small wind turbines, and photovoltaics, renewable energy equipment is largely imported, resulting in higher costs. Lack of financing mechanisms is another hurdle for would-be renewable energy developers, as risk averse state-owned banks are reluctant to make the necessary loans.
Biodiesel, another promising renewable power source, is in a very early stage of development. By 2020, capacity is slated to reach 40 times that of 2005. PetroChina, along with other leading Chinese oil and gas conglomerates, isentering the field. In mid-April, PetroChina began building an experimental biodiesel production plant in southwestern China. "These companies want to be like Shell and BP – leading investors in renewable energy in addition to oil and gas," says Han, who worked with PetroChina to develop their "new energy" strategy.
The new facility will contribute to research and development, a key challenge for the biodiesel sector. Many experts are concerned about food security, fearing competition between oil and food crops. "We need to do a lot of work on resource and land assessment," says Dr Wang Zhongying, Director of the Center for Renewable Energy Development of China's Energy Research Institute. "We don't know how much non-food cropland is available for the biodiesel industry."
A potentially promising avenue for biodiesel is woody energy plants which can be grown in mountainous areas unfit for food crops. As part of a larger Green Poverty Alleviation initiative, UNDP and China's Ministry of Science and Technology are supporting a biodiesel production project in China's poor, biodiverse southwest. By encouraging farmers to cultivate the native Jatropha curcas tree, they aim to produce fuel, reduce poverty, combat soil erosion and environmental degradation, and improve the fragile local ecosystems.
The Nature Conservancy (TNC), among other organizations, has been successful in using different renewables – primarily biogas – to similar effect. In 2001, TNC started a rural alternative energy programme in Yunnan Province, a biodiversity hotspot. TNC collaborates with local communities, government, and NGOs to set up solar-powered water heating systems, micro-hydropower systems, and household biogas digesters that run on agricultural waste. Some 10,000 alternative energy systems have been installed, improving quality of life and conserving local ecosystems.
The government is heavily involved in this sort of rural electrification, and it is widespread. In 2005, China was the world leader in solar hot water capacity and there were some 17 million Chinese biogas users. By the end of 2010, as specified by the government, the number is expected to reach 40 million. Environmental NGOs like TNC have an important role to play in helping reach government goals and in mainstreaming biodiversity conservation into rural development practices. "We want to work where fuel collection threatens biodiversity conservation, so we work in more remote rural areas," says Xia Zuzhang, Director of Operations for TNC's China Programme. "We've significantly cut demand for wood and improved indoor air quality."
The micro hydropower systems that TNC installs are relatively small – nothing bigger than 10 kilowatts – and the "environmental effects are almost negligible" according to Xia. But the ecological impacts of large installations and even of small hydropower, as opposed to micro-, can be dramatic. China has tremendous untapped resources in this sector, which is also mature in terms of technology and local experience. But while environmental impact assessments are required of all large-scale Chinese hydropower projects, many are unsatisfied with these assessments and with the enforcement of regulations -- or lack thereof. Given that the government aims, by 2020, to increase hydropower generating capacity by nearly 200 GW from 2005 levels, mitigating the environmental impacts of installations is yet another crucial challenge China faces.
But for all the hurdles on the road to China's sustainable energy future, that future nonetheless looks bright. "China faces a big challenge. We have to leapfrog the developed countries, to develop new technology, new ideas, a new approach," says Dr Yang Fuqiang, vice president of The Energy Foundation and head of its Beijing-based China Sustainable Energy Programme. "We are leading the way for the rest of the world's developing countries – finding a sustainable path."
Rachel M Wasser is a Princeton in Asia Fellow based at IUCN, The World Conservation Union's Beijing office. She is also a global correspondent for green lifestyle blog TreeHugger.com. This article first appeared in World Conservation, the magazine of the World Conservation Union.