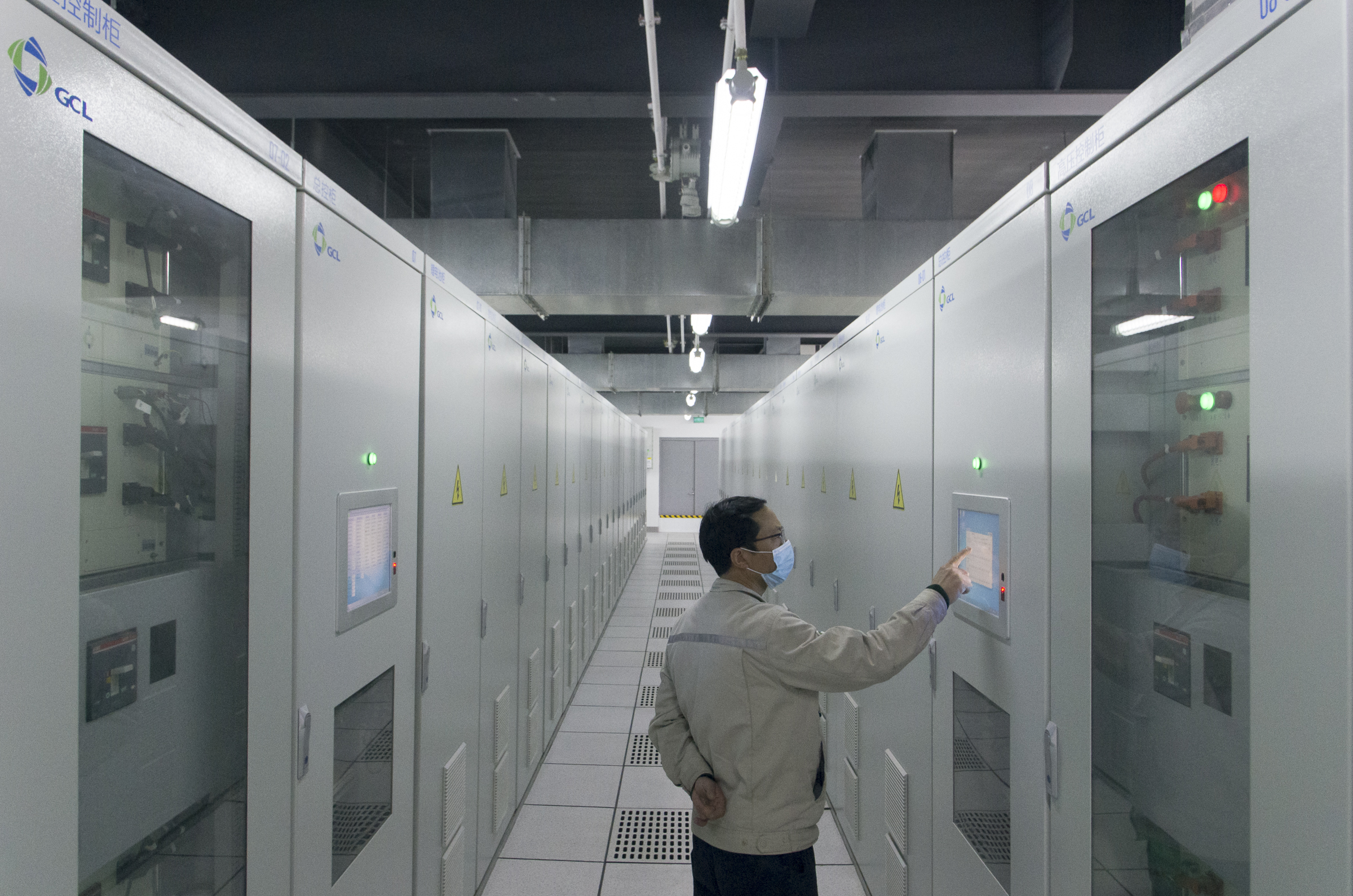 Beside a sprawling solar panel factory in the eastern Chinese city of Suzhou stands a drab two-storey building that few people ever enter. Inside, stark rows of batteries store cheap electricity while the city sleeps each night. In the morning, when energy use and prices go up, the batteries release their power to the factory next door, reducing its electricity bill.

When this demonstration project started operating in 2017, it was a proof of concept for energy storage, an industry that was about to receive explicit support from the national government and which seemed sure to grow alongside renewable energy for decades to come.

Two-and-a-half years later, stalling reform, shifting policy and a slowing economy had put the sector in crisis even before the coronavirus pandemic struck. "It's gotten very difficult to do energy storage," says Paul Man, general manager of Anxin, an energy storage company, which is part of the Golden Concord energy conglomerate that owns the Suzhou solar panel factory. "If government policy doesn't change, energy storage won't be doable in China."

According to industry group China Energy Storage Alliance (CNESA), newly installed battery-powered storage capacity shrank by nearly a quarter year-on-year in 2019. Companies whose sole business is energy storage "are under enormous pressure to survive, regardless of the epidemic," says Wang Si, senior policy research manager at CNESA. "Some smaller companies will go bankrupt."
Energy storage is, in theory, an attractive proposition. It can help keep down the energy costs of businesses and improve an electricity grid's stability and flexibility. On a larger scale, energy storage will be crucial in moving countries from predictable but polluting fuels like coal to fickle but climate-friendly alternatives. In times with little wind or sunshine, giant batteries can keep the lights on. The Suzhou facility, at 10 megawatt-hours, has the capacity to power 1,600 homes for a day.

After the Chinese government gave official support in October 2017 by releasing its first national policy document on energy storage, newly installed electrochemical – battery-powered – energy storage capacity surged from 120.9 megawatts in 2017 to 682.9 megawatts in 2018, according to figures from CNESA. (There are various other storage technologies, but batteries receive the most interest for their flexibility in scale and location.)

But over the past year or so, the operating margins for the dominant business models — storage installed where electricity is consumed, transported, or produced — have each become all but untenable, Man explains sitting in Golden Concord's spacious head office.

Electricity price cuts

As with the Suzhou facility, businesses can install storage to benefit from cheap night-time electricity. The bigger the difference with the daytime rate, the bigger the benefit. In China, electricity prices by and large are set by the government and cannot float freely as in other countries. Facing slower economic growth, the government has sought to help businesses by lowering their electricity costs, first by 10.6% in 2018 and by another 10% in 2019. Ostensibly to weather the coronavirus pandemic, prices were lowered a further 5% in February for the first half of 2020.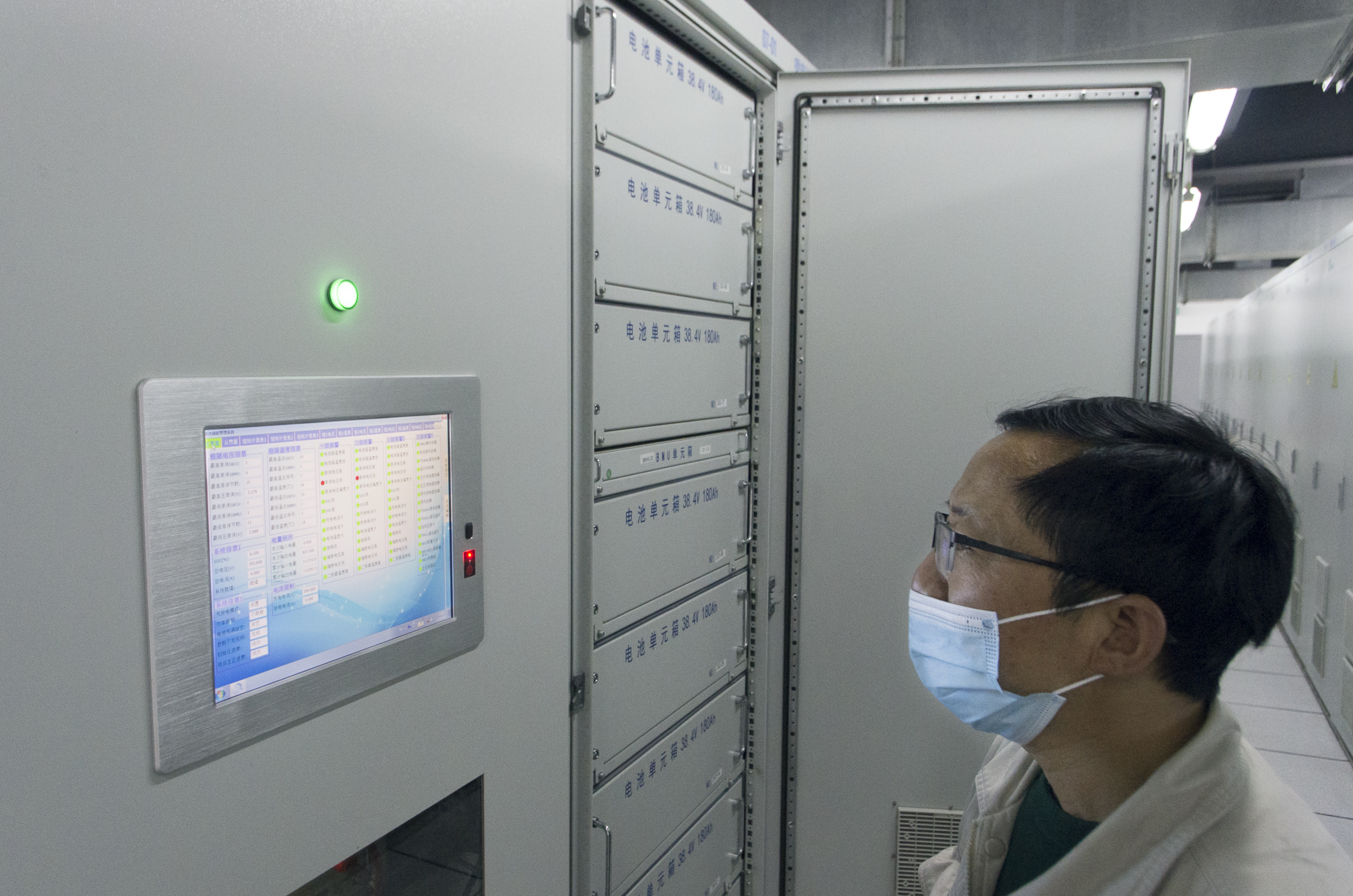 A control screen inside the company's energy storage plant in Suzhou, April 3, 2020. (Image: Kevin Schoenmakers)

These price cuts decrease the gap between peak and downtime prices, and have created a situation where such energy storage projects cannot find investors, Man says. The demonstration facility in Suzhou, for example, wouldn't be financially viable if it weren't for a steep discount on electricity from the government, he admits.

Though China has made some steps towards liberalising its energy markets, the pace of reform might slow to guarantee low prices through the difficult times ahead, says Yuki Yu, founder of clean energy consultancy Energy Iceberg. "If you look at the international experience, oftentimes in the short-term market reforms can jack up prices."

No central investment

Storage can also be linked up to the electricity grid to soak up excess supply and jump in when demand is highest – so-called valley filling and peak shaving. Most energy storage in China operates this way, chiefly in the form of pumped hydro, where water is pumped into an artificial hillside lake using excess power and released through a turbine to generate electricity when needed. China is already the global leader in pumped hydro. Through the state-owned State Grid Corporation of China it is building many more stations, including one in the mountains north of Beijing that will be the world's largest upon completion.

But the State Grid is no longer able to invest in energy storage. "We will probably have losses of two billion yuan [US$280 million] for 2019, mostly because of policies that cut the regular commercial energy prices," an anonymous State Grid official told China Energy News in December. The government's powerful National Development and Reform Committee last year said the grid could no longer include storage costs in its transmission and distribution fees. In a blow to the storage industry, the State Grid then told subsidiaries to no longer "start development of gridside electrochemical storage facilities," and "don't arrange new construction of stored hydro energy storage projects," according to an internal document that became public.

"This policy wasn't directly aimed at energy storage," says Yu. As part of ongoing reforms, the government put a stop on many of the grid's expenditures to determine its true transmission and distribution costs. Storage became collateral damage. How long this situation will last is unclear. "Even though investing in storage makes a lot of sense for the grid," Yu says, "it is at odds with the current priority of lowering the electricity price."

Pairing storage with renewables

Finally, energy storage can be paired with wind and solar farms. One rationale is it can store energy that might otherwise be curtailed. Because much of China's renewable energy is won in the country's sunny and windswept north and northwest, far from the country's population and manufacturing centres, much renewable energy went unused in recent years. In 2016, 43% and 38% of wind energy in the provinces Gansu and Xinjiang was curtailed, respectively. But the government has since managed to reduce the issue, thereby diminishing the potential returns of storage. Last year, curtailment figures for Gansu and Xinjiang stood at 7.6% and 14.0%, still China's highest.

Nevertheless, as renewables make up an increasing share of China's energy mix, experts believe more such facilities will be paired with storage — as is already encouraged or required in some provinces. Electricity from wind and solar is not as uniform as that from coal-fired power plants and therefore harder for the grid to use, a problem that storage can solve, Energy Iceberg's Yu says. Storage is also key to making electricity from renewables suitable for long-distance ultra-high-voltage power lines, which are part of the government's "neo-infrastructure" investment plan to counter the current economic downturn.

China's energy storage market is still "really early stage," Yu says, and so instability is to be expected. Other countries are experiencing hiccups, too. In Europe, growth slowed last year because of a lack of support from governments. South Korea's market for storage has been hit by a spate of battery fires. For now, Chinese companies for whom energy storage isn't their sole business are focusing on supplying batteries for projects abroad or for other purposes. Another item in the neo-infrastructure plan is a faster roll-out of China's 5G telecommunication network, large parts of which will require batteries for back-up power.

But China's young storage market still holds much potential, and the right policies will be key to unlocking it. Wang says CNESA is working with the government on the energy storage goals to be included in China's 14th Five-Year Plan, an all-important policy document that will cover 2021 to 2025. He hopes for concrete measures, such as subsidies similar to those that helped China's solar power and electric vehicle markets get off the ground, or a liberalised energy market. "To be frank," Wang says with a wry laugh, "we've been waiting on this for ten years."